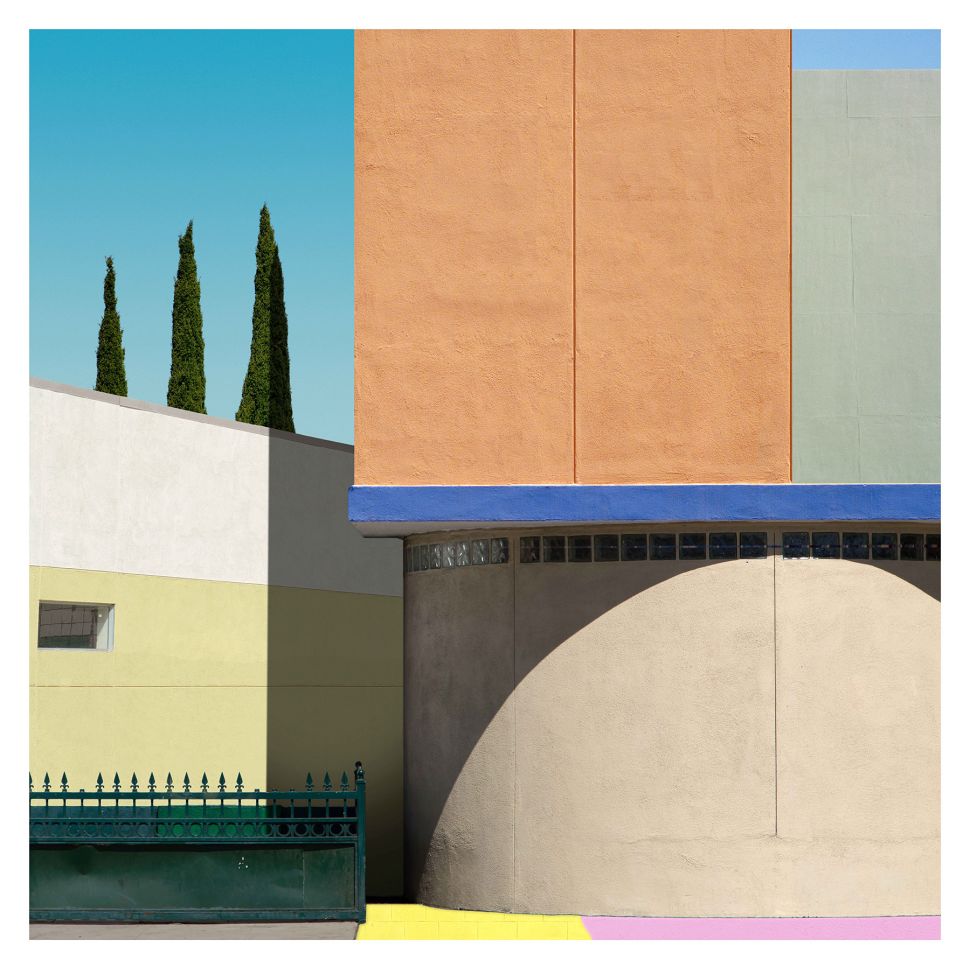 The clean lines and colorful, minimal shapes in George Byrne's photographs belie the busy, messy time in Los Angeles that led to their making. The Australian-born Byrne arrived in the city in 2010, after years of traveling. "I was personally in a very strange place when I got here," he says. "No idea what I was doing with my life." He played guitar and sang in bands, worked in a cafe, chauffeured a fashion designer who'd lost her license due to a DUI, acted in short films, wrote jingles, shot private portraiture, and maintained other odd jobs. The city afforded him cheap housing, as well as time and space to practice his art. Los Angeles served Byrne—who describes it as a "wild west, rugged, run-down, dusty, pastel sort of wild place"—with a heavy dose of photographic inspiration.
Now, New York gallery Olsen Gruin is rewarding Byrne with his first solo exhibition in the city, opening September 14. Titled "New Order," it'll comprise 15 new photographs of Los Angeles landscapes and architecture. In Echo Park, a gray concrete staircase meets a dense concrete wall the color of chewed bubble gum. Beyond, two walls of the same hue butt up against yellow-green grass, which meets a curved gray curb. The forms all seem to be moving clockwise like a colorful pinwheel. Byrne trained his eye on many such unremarkable corners and urban strips, rendering them with new mystique. "These places, they don't scream for attention," he says. "They wink at you."
Some pictures are composites of many drum scans. A drum scanner lets Byrne scan photographic negatives at the highest possible resolution, creating enormous files to merge together. For Blue Awning with Pink, Byrne joined multiple pictures of a larger area, picking and choosing his favorite elements to create the illusion of one small, colorful locale. In the final print, a shadow slants under an azure awning. A fuchsia post juts out of the sidewalk in front of the wall, meeting its dark shadow at a 90 degree angle. Red paint covers the sidewalk curb, and white and yellow lines mark the gray street in front of it. If the final picture doesn't look quite real, it's also difficult to tell just how it's contrived.
Consistent within Byrne's images is a soft, gentle light he attains by shooting in the late morning or early afternoon—he likes to photograph when the sun is at a 45 degree angle, "at full strength but not directly overhead." More prosaically, he's also limited by Los Angeles traffic.
Byrne often shoots the same locations with different cameras, during different seasons, at different angles, to get the perfect shot. "I think there's a certain humor to it, when you think about how simple and meditative and sort of calming a lot of these images are. To create them is often quite difficult." Whether or not Byrne manipulates the images, there's a pervasive aura of fantasy. Like artist David Hockney before him, Byrne evidences an obsession with the colors and shapes of southern California. He treats even the most minute details with a sense of affection and awe, effectively communicating their elegant allure to the viewer.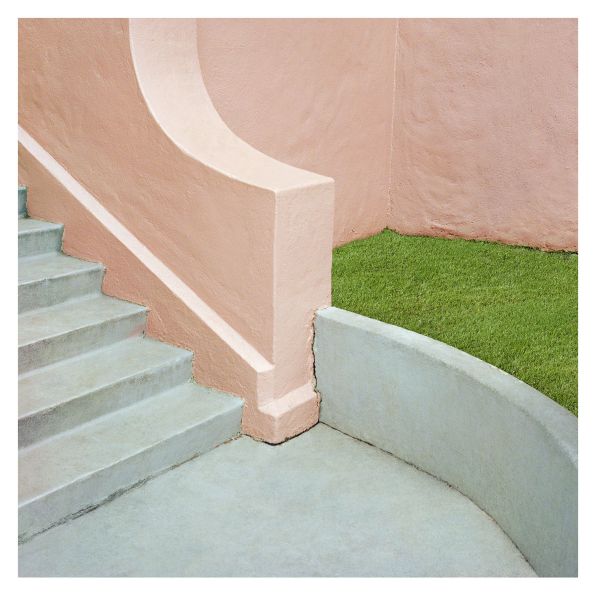 In terms of influence, though, Byrne first references the "new topographics" photographers such as Lewis Baltz and Steven Shore, who shot landscape photographs of unassuming American locales in the 1970s. "Those guys were the first time that I'd sort of seen photography used in a more sort of fine art context," he says. "Pushing away from conventional landscapes or portraiture." He discovered their work at art school in his hometown of Sydney.
Though he's taken pictures for most of his life, Byrne first gained notoriety via Instagram, where he's acquired 93.6K followers. His aesthetic is perfect for the platform—sleek, bright, and ripe for editorial. Byrne's images have, indeed, graced magazine covers and articles. Yet, Byrne has sought to literally enlarge the scope of his work. The photographs at Olsen Gruin are as large as 5 feet square. Blowing up the images to the scale of the portrayed objects, says Byrne, "creates a really interesting interplay, almost like you're looking into a window, or the real space."
The exhibition will offer yet another treat, in the form of actor Bobby Cannavale introducing opening night guests to the exhibition. Cannavale's partner, actress Rose Byrne, is the photographer's brother. The siblings, says George, compare notes on "not being part of a 9 to 5 situation. It's often an interesting life." Byrne jokes, however, that people have told him to turn his early misadventures in Los Angeles into a television series. There could be two Byrnes in Hollywood yet—in front of the camera, that is.