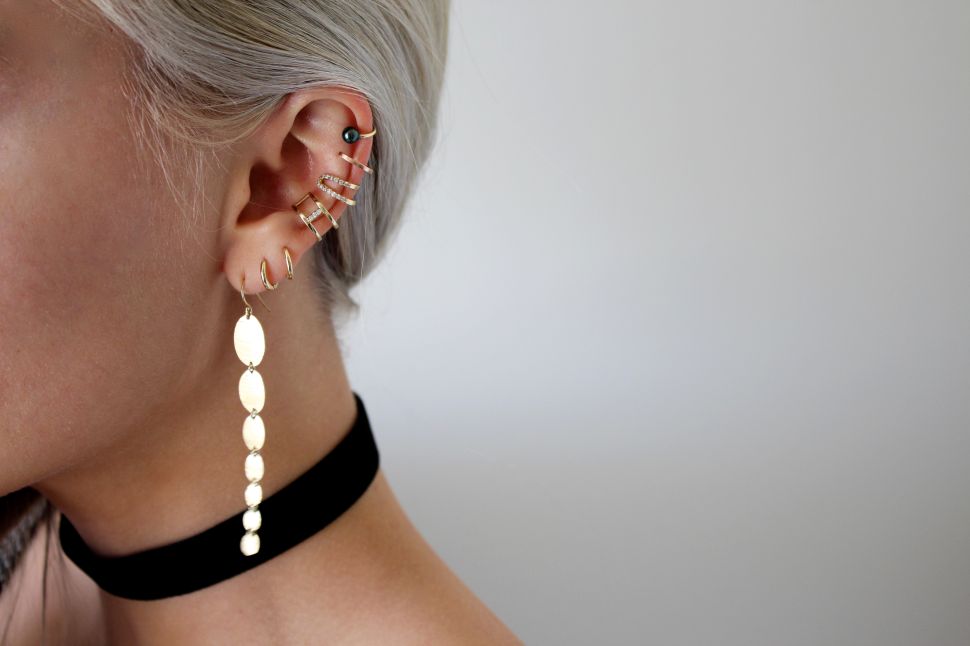 Do you love the look of a fully blinged-out ear, but cringe at the thought of getting more piercings? Say no more.
On runways, in fashion magazines and on the streets a loaded ear—sparkling from lobe to upper helix—is the latest jewelry craze that has everyone wanting more earrings. Brick and mortar jewelry stores have been hosting piercing parties, where a professional piercer arrives with a slew of women waiting to get punctured. There are parts of ears that never knew the sight of an earring, until recently. Tragus, rook, snug, forward helix, orbital, transverse lobe: all are names of different types of piercings in very particular positions on the ear. If you thought a typical lobe piercing was daring, you haven't seen the many other options out there. The look is stunning, with equally matched edginess, but it does take some guts. So what if you absolutely love the fully pierced look, but the thought of getting a new piercing makes you cringe and quiver, without even stepping foot into a piercing parlor?
Jewelry designers have taken note of the style—and of consumers' reticence to undergo the needle to join the trend—so they've designed some earrings that don't require a piercing for enhanced ear bling. Both easy to wear and comfortable, an ear can be outfitted with ear cuffs, ear jackets, ear climbers, ear hangers, and threader earrings to achieve the popular look.
Here's a guide to all the new fashion fixtures that can be affixed to your ears.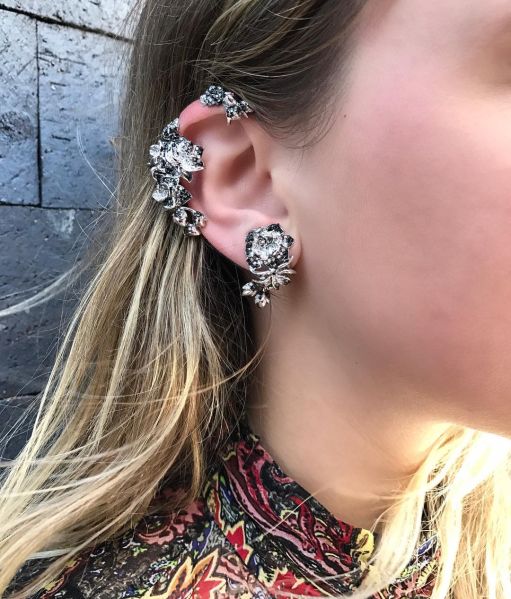 Ear Cuffs
A cuff is a piece of jewelry for the upper portion of one's ear. It is usually shaped like a ring that is partly open to fit onto your ear without needing a piercing. These are great because they can be positioned anywhere on your ear and can even be stacked for a major look.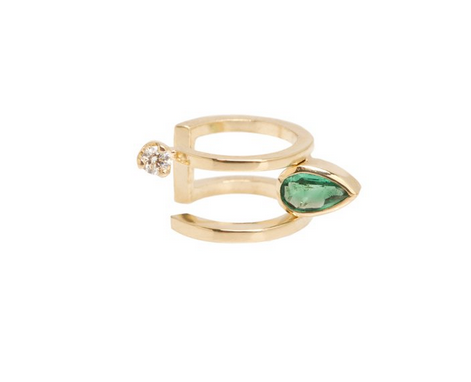 Ear Jackets
A jacket is a piece of jewelry that attaches to an earring, simply by looping it onto the earring post. These often dangle, fan outward or ever-so-slightly peek out from your lower lobe. Ear jackets easily enhance stud earrings, giving them a whole new look.
Ear Climbers
An earring that is elongated so when positioned on your ear, creates the illusion that it is "climbing" up. Designers have created all kinds of styles in varying sizes; some are subtle and feature a single wisp of diamonds climbing up the ear, and some are extravagant and cover the entire ear. These usually require one hole, but look as though you have several.
Ear Hangers
This style is similar to a bluetooth ear piece, but done up in gold and often studded in diamonds. This piece of jewelry tucks behind your ear and swoops under and upward. It's surprisingly comfortable and an easy addition, with no holes required! Take note: you may have to have a jeweler bend it for a perfect fit, as ears come in many shapes and sizes, with most jewelers making one-size-fits-all styles.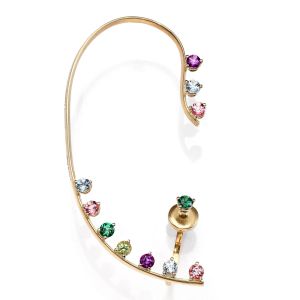 Threader Earrings
This is a delicate chain you thread through your ear holes, creating an elegant yet trendy look. For an edgier look, weave the chain through several holes in one lobe.
Danielle is the founder of the longest-running, US-based fine jewelry blog called Gem Gossip. She also is a graduate gemologist and jewelry appraiser with a specialty in antique jewelry. You can follow her on Instagram & Twitter @gemgossip
More from Danielle Miele:
Today's Engagement Rings Are Both Trendy and Timeless
These 4 Women Are the Biggest Innovators in Jewelry Design