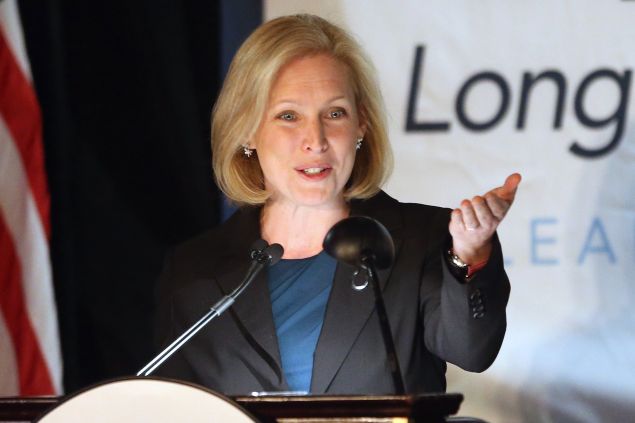 Sens. Kirsten Gillibrand and Susan Collins (R-ME) have introduced a bipartisan amendment that will keep the U.S. Department of Defense from banning transgender individuals from serving in the military.
At the end of July, President Donald Trump said that the federal government will not accept or enable transgender individuals to "serve in any capacity in the U.S. Military." The following month, he directed Defense Secretary James Mattis to implement the ban. In 2016, former President Barack Obama announced that transgender people would be allowed to openly serve.
The amendment would prevent the U.S. Department of Defense from dismissing qualified service members from the Armed Forces based on their gender identity. Transgender service members have been openly serving since June 2016. The amendment would also require Mattis to move forward with his report on military service by transgender people and share his findings with Congress.
Gillibrand, who is a ranking member of the Senate Armed Services Subcommittee on Personnel, built support for an 18-month moratorium on enforcement of the military's "Don't Ask, Don't Tell" policy and got a commitment from Senate Armed Services Committee Chairman Carl Levin to hold a committee hearing on the policy in February 2010.
"Any individual who wants to join our military and meets the standards should be allowed to serve, period," she said. "Gender identity should have nothing to do with it. I am proud to work with Senator Collins to introduce our bipartisan amendment to protect transgender members of our Armed Forces, and I will always fight for our brave transgender troops who put their lives on the line to protect our country."
Collins, the lead Republican in the effort to repeal the "Don't Ask, Don't Tell" policy in December 2010, echoed similar sentiments.
"Our armed forces should welcome the service of any qualified individual who is willing and capable of serving our country," she said. "If individuals are willing to put on the uniform of our country, be deployed in war zones, and risk their lives for our freedoms, then we should be expressing our gratitude to them, not trying to exclude them from military service."
The amendment would affirm that people who are qualified and can meet the standards to serve in the military should be eligible to serve. It would also ban the Department of Defense from involuntarily separating — or denying the reenlistment or continuation in service in the Armed Forces — of transgender service members who are currently due to their gender identity. Mattis would have to finish his review by the end of this year.
In July, Gillibrand and Collins — along with 43 other senators — sent a letter to Mattis asking him to not discharge transgender service members until the Department of Defense concludes its analysis.
Last month, members of New York City's congressional delegation urged Trump to overturn his transgender military ban. Those lawmakers included Brooklyn Congresswoman Nydia Velázquez, Bronx Congressman José Serrano, Manhattan Congresswoman Carolyn Maloney and Queens Congressman Joseph Crowley. Gov. Andrew Cuomo also mandated that health insurers cannot discriminate against or deny coverage to people based on their gender identity via a Department of Financial Services circular letter.