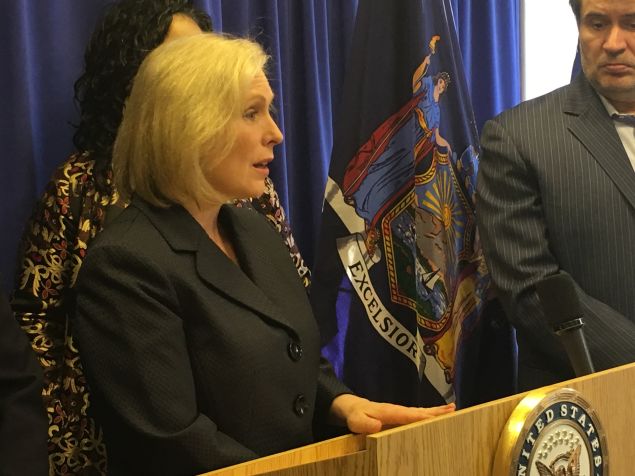 Sen. Kirsten Gillibrand blasted U.S. Education Secretary Betsy DeVos over he announcement that President Trump will be rolling back protections for sexual assault victims on campus that were put in place by former President Barack Obama.
In an interview with CBS News on Thursday, DeVos said that the Trump administration was planning to overturn Obama's 2011 guidelines known as the "Dear College Letter" in which his administration said that the requirements of Title IX pertaining to sexual harassment also cover sexual violence. DeVos said that Trump administration has "begun the process to do so," and maintained that the goal was to "move beyond that and move towards a better way."
Title IX is a federal law that bans discrimination on the basis of sex in schools and any other federally funded education programs and activities. Title IX applies to complaints of sex discrimination, including sexual harassment, sexual violence and other forms of sexual misconduct.
During a speech at George Mason University in Fairfax, Va., on Thursday, DeVos said that she would continue to enforce Title IX and "vigorously address all instances where people fall short." But she said that the Obama administration's approach is not working.
"The truth is that the system established by the prior administration has failed too many students," DeVos said. "Survivors, victims of a lack of due process, and campus administrators have all told me that the current approach does a disservice to everyone involved. That's why we must do better, because the current approach isn't working."
Gillibrand said that DeVos' announcement "betrays our students, plain and simple."
"With so many sexual assaults still happening on college campuses all over the country, we should be doing everything we can to make our Title IX enforcement policies stronger – not weakening or jeopardizing them," she said in a statement. "The Department of Education has a responsibility to keep our students safe and to guarantee fairness to both sexual assault survivors and those accused of sexual assault crimes."
Gillibrand and Sen. Claire McCaskill (D-Mo.) previously called on DeVos to reverse a decision from her department's Office for Civil Rights to change the way it investigates complaints. They argued that it would hamper investigations into sexual assault on college campuses.
She accused DeVos of not being committed to protecting the rights of survivors.
"I don't want to see an innocent person punished any more than I want to see a guilty person let off the hook, but Secretary DeVos has shown that she does not take the rights of survivors seriously," she continued. "I will do everything in my power as a Senator to fight to support our sexual assault survivors, and I urge everyone who cares about safety and fairness on our college campuses to raise your voices with me."
Gov. Andrew Cuomo shared a video on his Twitter account in which he outlined the impact of DeVos' previous decision to change the way the department probes complaints as well as the decision to scrap the Obama-era guidelines. He also noted the work New York has done to protect victims of sexual assault.
Public Advocate Letitia James echoed similar sentiments.
"Betsy DeVos' actions today demonstrate an appalling lack of understanding about the realities of college sexual assault and send a message to the one-in-five women who has experienced sexual assault while at college that they do not matter," James said in a statement. "Just as colleges are finally providing adequate services and appropriate procedures to respond to these incidents, DeVos' actions reverse course to the bad-old-days when survivors were rightfully afraid to come forward and aggressors got away with impunity."