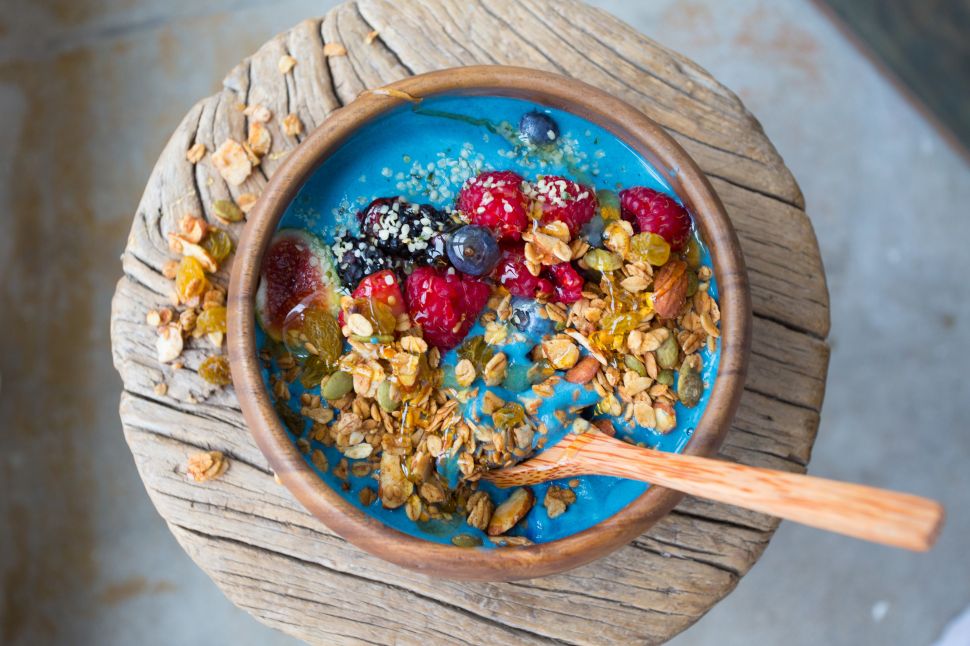 Chef Alex Thomopoulos's blue smoothie bowl at Great White, a new café on Venice Beach's Pacific Boulevard, is one of the most L.A. meals you can imagine.
It's food with a sense of place. Thomopoulos says the beach-adjacent setting of the restaurant, steps from the famous Venice sign, inspired her bowl.
The smoothie part, lightly sweet and deeply refreshing, is aquamarine algae blended with passionfruit, banana and pineapple. The bowl is filled out with seasonal fruit (blueberries and strawberries on the day we visited last week) alongside hemp seeds, chia and house-made granola. This is a vegan and gluten-free meal. Again, so L.A.
But it turns out the proprietors of Great White, Sam Trude and Sam Cooper, actually hail from Sydney, Australia. This makes perfect sense when you consider that casual café culture by the ocean is even more prominent in Sydney than it it is in L.A. Trude and Cooper's Aussie roots, paired with the years they lived in Europe and the decade they've spent in L.A., mean they truly understand how sitting around during the day, having some premium coffee and eating a healthful meal is a way of life for so many people.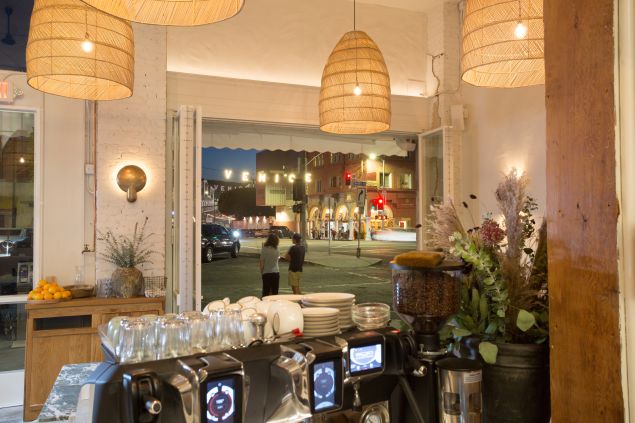 So Great White serves great Vittoria Coffee, an Australian brand where Trude worked. The beverage menu includes golden turmeric lattes, on-tap kombucha and green protein smoothies with kale. Trude says his café, which currently serves breakfast and lunch, plans to offer dinner and booze in the future.
He smiles when he thinks about the magic hour when day turns into evening in Venice Beach.
"This little environment is just golden," he says. "It's so pretty. There's so much activity on the street. It would be great to have an sangria and an Aperol spritz."
In the meantime, Thomopoulos is bringing in the daytime crowds with beautiful food that happens to be good for you.
Blue algae, of course, is a superfood that's really Instagram-friendly.
"Blue algae is one of the highest nutrient-dense foods on the planet," she says. "It's in the spirulina family. It just has this incredible blue hue to it. So it lends itself to really striking food."
Other pretty and crowd-pleasing dishes at Great White include corn fritters with a poached egg, charred avocado salsa and fresh greens. This pops with flavor, including a little hit of spiciness. So does the crispy chicken sandwich with house-made pickles.
The seaside bowl with charred corn, roasted sweet potato, tomato, pickled onion, avocado, roasted almond vinaigrette and quinoa is a wholesome and filling meal, especially if you top it with chicken or salmon.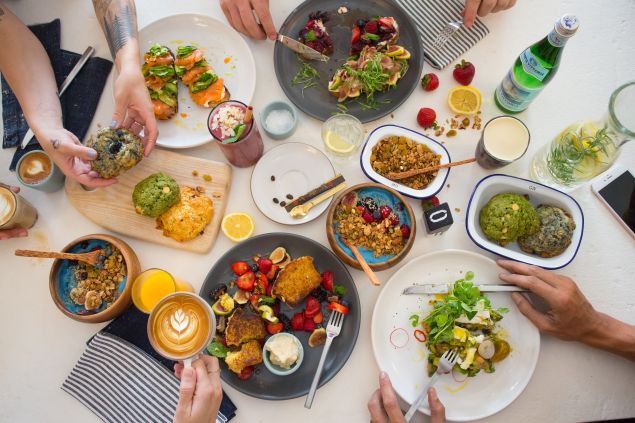 The menu of Great White features a cartoonish drawing of a great white shark. It's fun but also fierce, which is the point.
"There's sort of a juxtaposition with the seriousness of a shark and the seriousness of our food with the playfulness" of the image, Trude says.
So yeah, Great White wants to you know that it has teeth. But this is a friendly place where you can pop by for a smoothie and a grain bowl in flip-flops while you're still drying off after a morning swim. It's a restaurant where Trude has been delighted to see strollers outside. It's a spot that sold 150 breakfast burritos on its first Saturday.
"We wanted to create a place where you could come every day," says Trude, who plans to add grab-and-go options like salads and tartines. "The food is very health-focused, but we've done it in a really comforting way."
Andy Wang, the former real estate and travel editor at The New York Post, has covered Los Angeles and Las Vegas for more than a decade.