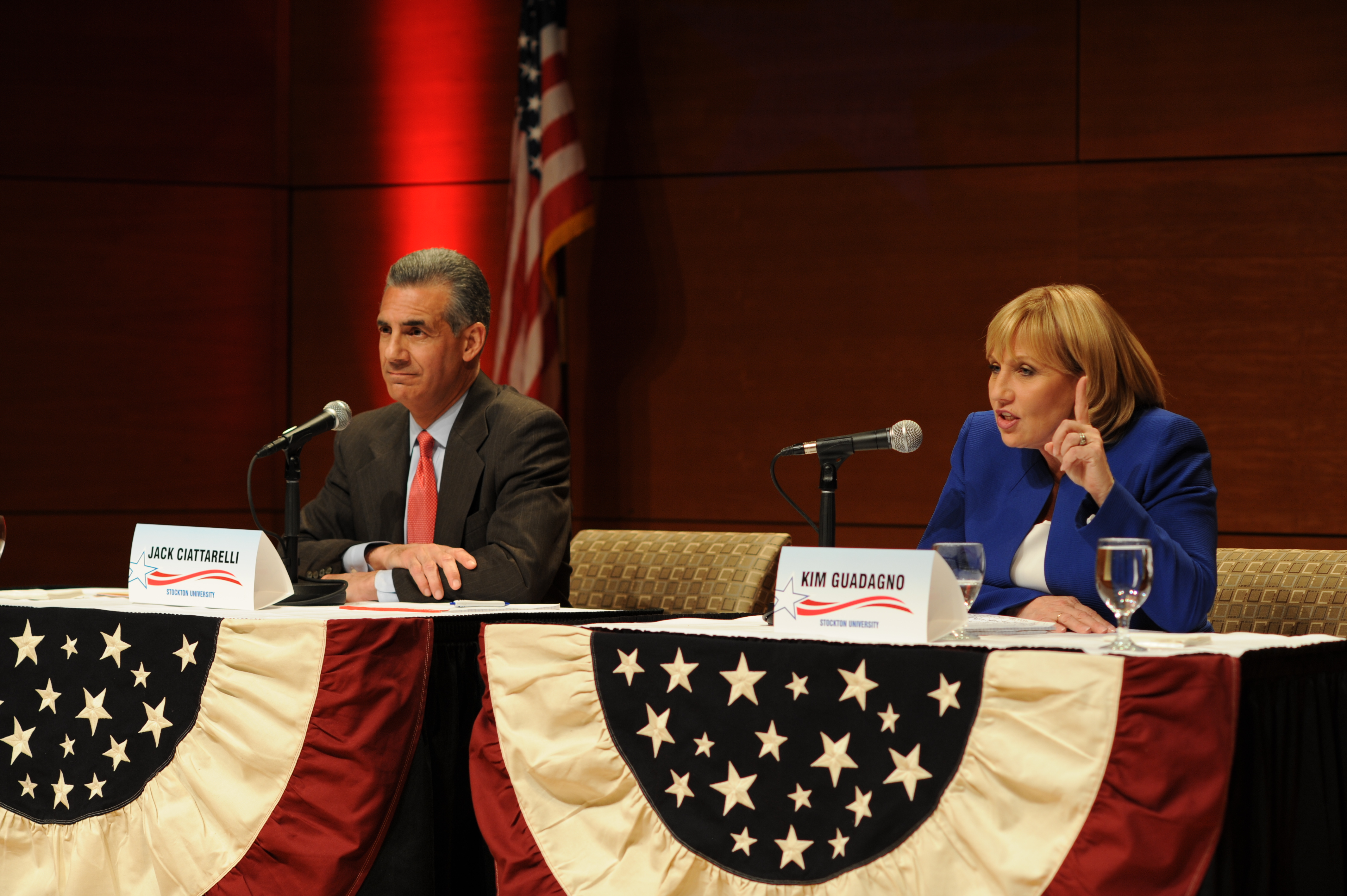 FRANKLIN — Kim Guadagno "cannot wait" to ask Phil Murphy about taxes at their first debate in the governor's race, she said Monday, offering a glimpse into her strategy.
"How do we make New Jersey affordable for our children and our seniors?" Guadagno said at an event with business groups on Monday. "I cannot wait to debate Phil Murphy … because I am going to ask him, 'What is his property tax plan? How is he going to fix the biggest problem facing New Jerseyans today?'"
Although polls show New Jersey voters are apathetic toward the governor's race this year, Guadagno, the Republican nominee, has focused almost entirely on attacking the state's high taxes. Murphy, the Democratic nominee, is offering a fiscally and socially liberal platform and seeking to tie Guadagno to Gov. Chris Christie and President Trump.
A Quinnipiac University poll last week had Guadagno 25 points behind Murphy despite her focus on property taxes, the top issue for state voters. The debates, depending on how many voters tune in, are Guadagno's chance to make inroads with voters.
Murphy is proposing to raise taxes on wealthy earners and large businesses by $1.3 billion to pay for his plans, while Guadagno is promising to cut the average resident's property tax bill by $800 if elected.
The debates are scheduled for Oct. 10 and Oct. 18. Both nominees are required to attend the debates because they are participating in the state's public financing program.
"If we thought taxing millionaires was the way out of this mess, it would have been done already, it would have been," Guadagno said. "Higher taxes are not the solution."
Guadagno has faced questions all year over how she intends to pay for her new tax credit for homeowners. Her campaign estimates that the cost would be nearly $1.5 billion a year in the state's $34.6 billion budget. Guadagno says natural revenue growth, some cutbacks to public workers' health benefits and a "Trenton audit" to excise waste, fraud and abuse from the state government would yield all the needed cash.
Guadagno's statements came at the Opportunity New Jersey "affordability summit," a forum hosted by business groups. Murphy also was invited to speak but was "unable to work the summit into his schedule," according to an Opportunity New Jersey press release. The Democrat was in Trenton around that time with Sen. Cory Booker campaigning on free tuition for community colleges.