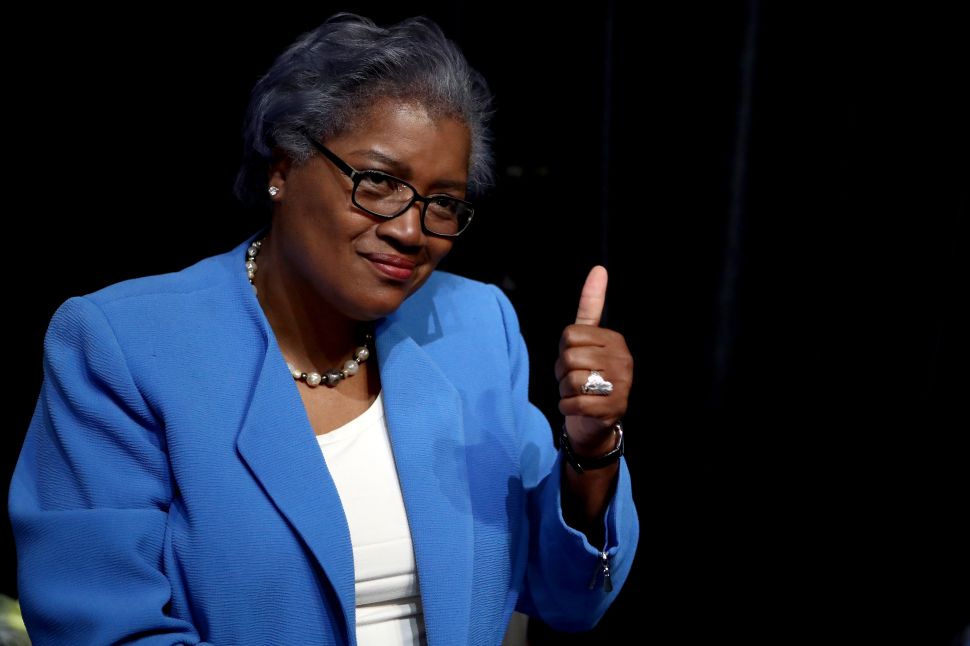 Harvard University plans to honor former DNC Interim Chair and Vice Chair Donna Brazile with the W.E.B. Du Bois Medal, which is awarded to individuals who "have made significant contributions to African and African American history and culture, and more broadly individuals who advocate for intercultural understanding and human rights in an increasingly global and interconnected world." She is scheduled to receive the award on October 4. However, Harvard has yet to release a statement explaining the reason for Brazile's recognition, especially given that her brief tenure at the DNC was rife with scandal.
During the 2016 election, CNN fired Brazile after emails released by Wikileaks revealed that she provided debate questions to the Clinton campaign, a clear violation of the rules. The emails also showed that Brazile tipped off the Clinton campaign to a Bernie Sanders social media outreach effort. In a 2014 interview with The Washington Post, Brazile stated that she would not behave in a neutral fashion, despite the DNC Charter obligating her to do so. "Technically, I'm neutral, but neutrality is something that gets you in trouble because you ever notice someone who stands on the white line in the middle of the road? They get run over. And I don't want to get run over. So, I'm not neutral. I have to tell people that I'm neutral, but I'm ready for Hillary," she said. In 2013, Brazile stated in an interview with ABC News that if Clinton ran for president "there will be a coronation of her."
Because of this record, Brazile did not run for DNC chair this year, but the organization has continued to reward her for her loyalty. Based on 2017 filings up until July 31, the DNC has paid her and her consulting firm over $130,000 for salary, management consulting, travel, and postage and shipping. Brazile, through the DNC, sent fundraising emails to party supporters as recently as August 31. "I need you to say you're with us to elect more Democrats who will fight for equality. If you are, chip in $3 or more before tonight's deadline," one of the emails read.
Given that her outright support of Hillary Clinton splintered the party and angered progressives, that she is allowed to participate in the DNC is reflective of the organization's pro-establishment slant. The Democratic Party has reaped no benefits from Donna Brazile, whose tenure fighting for the status quo has been marked by numerous missteps. That one of America's most elite universities is rewarding her further obstructs the Democratic Party's chances for reform, just when it needs it the most.