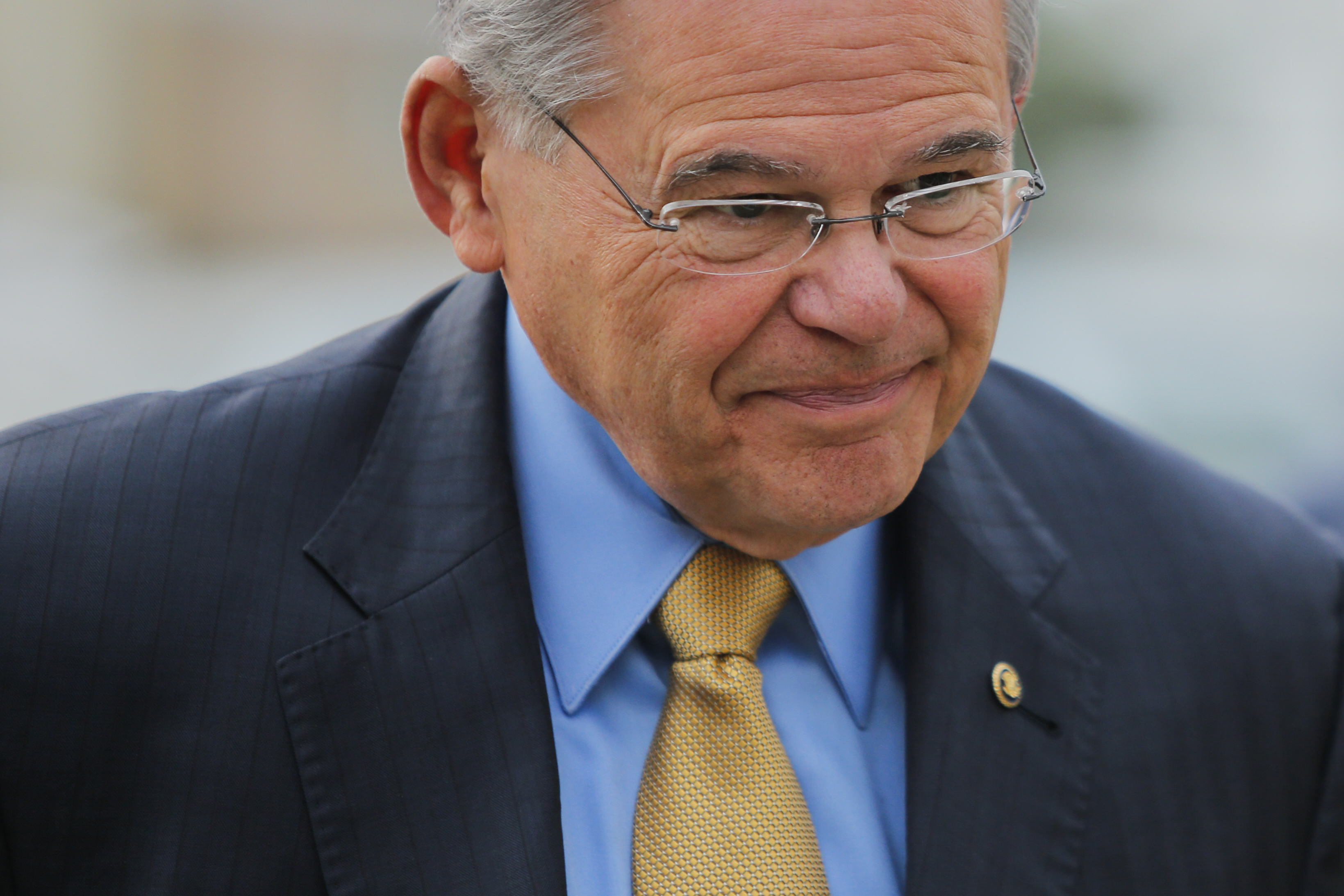 NEWARK — On the first day of his corruption trial, U.S. Sen. Bob Menendez, the Hudson County Democrat, declared his innocence once again and said he never "dishonored" his office.
The stakes are high for Menendez, who after decades in public life could see his political demise this year in a courtroom on the fourth floor of the Martin Luther King, Jr., courthouse in Newark, where karma has caught up with a long line of New Jersey politicians committing misdeeds.
And the stakes are high for Democrats in the Senate, who have 48 seats and have been a bulwark preventing Republicans and President Trump from enacting some of their most ambitious plans on health care and other issues. Losing the seat would make it significantly harder for Democrats to block Republican plans.
It's a stunning reversal of fortunes. Menendez, 63, briefly rose to one of the most powerful positions in Congress — chairman of the Senate Foreign Relations Committee — before being brought low by bribery charges that arrested his career, the first senator in nearly four decades to go on trial.
"I have never backed away from a fight that I didn't believe was right, even if it meant opposing my own president and my own party," Menendez said. "It's who I am and I'm not going to stop now."
Menendez stands accused of accepting lavish trips to Paris and the Dominican Republic and large campaign contributions from a wealthy Florida eye doctor, Salomon Melgen, in exchange for helping Melgen push for more favorable drug reimbursement policies in meetings with top federal health officials, and other actions such as pushing to get visas for Melgen's foreign girlfriends.
Menendez maintains that he did nothing illegal and that a long friendship with Melgen — who has been convicted of Medicare fraud in a separate case — has been misconstrued as corruption.
"Acting out of friendship is not improper, it is not corrupt," Menendez's lead attorney, Abbe Lowell, a top Washington criminal defense lawyer, argued on Wednesday.
The lead federal prosecutor on the case, Peter Koski, argued that the favors and gifts were lavish and well within the territory of bribery. Koski listed gifts including trips for Menendez on Melgen's private jet that went undisclosed at first, a stay at an expensive Paris hotel and free trips to Melgen's villa in the Dominican Republic. Koski said those gifts afforded Menendez a "lifestyle that reads like a travel brochure for the rich and the famous."
By Koski's account, Menendez returned those favors by helping Melgen obtain visas for girlfriends, pressuring federal health officials over a Medicare billing issue affecting Melgen, and taking an interest in a dispute relating to a shipping company owned by Melgen in the Dominican Republic. Koski said that Menendez acted as Melgen's "personal United States senator."
"There is no doubt that the defendants enjoyed each other's company and developed a friendship," Koski said. "Friends can commit crimes together. Friends can bribe each other."
Lowell argued that the prosecution's bribery claims are flimsy because Melgen and Menendez are not denying what occurred; they are simply denying that it was an improper exchange. Lowell argued that Menendez never acted legislatively on behalf of Melgen, which is the real power he holds as a senator. Instead, Menendez met with or requested assistance of other officials in the executive branch.
The case began amid a much more lurid backdrop. The Justice Department received word from an anonymous tipster in 2012 claiming that Menendez had been patronizing underage prostitutes in the Dominican Republic, Melgen's native country, where the two men would sometimes travel to unwind.
There were no prostitutes. Several Dominican women who were named by the anonymous tipster denied ever having met Menendez. One woman who said she was interviewed by the Daily Caller promoting the prostitution storyline later recanted and said she was paid by a Dominican lawyer to smear the senator. ABC News reported that a Republican operative was shopping around the claims to U.S. media outlets. The Washington Post reported based on anonymous sources that "the CIA had obtained credible evidence, including Internet protocol addresses, linking Cuban agents to the prostitution claims and to efforts to plant the story in U.S. and Latin American media."
But the salacious din of prostitution, although it never yielded any charges, led the FBI and prosecutors down a separate path investigating Menendez's relationship with Melgen, by far his top financial backer for years.
Melgen was paid $21 million by Medicare in 2012 — the highest-billing physician in the United States. In his separate trial earlier this year, Melgen was convicted of defrauding Medicare through his use of the drug Lucentis, which is used to treat macular degeneration. Melgen's fraud was parceling out the contents of one vial of Lucentis to several different patients, and billing Medicare per patient instead of per vial.
It was this billing issue that prosecutors allege Menendez took up as a cause in Washington, pressuring the Centers for Medicare and Medicaid Services and then-Health and Human Services Secretary Kathleen Sebelius to review their billing policies for physicians in Melgen's situation.
There are several pivotal questions for the jury, including two big ones. Did Melgen give the trips and campaign contributions to Menendez as part of a corrupt quid pro quo or as part of a long friendship? Lowell argued that the timeline presented by the Justice Department lists the bribes as starting in 2006 and ignores a relationship between the two men stretching back to 1993. And if it was corruption, did Menendez's actions meet the narrow definition of "official acts" in the bribery statute as defined by the U.S. Supreme Court?
To prevail on the bribery charges, the prosecutors from the Justice Department's Public Integrity Section in Washington have to prove to the jury beyond a reasonable doubt that there was an agreement between Melgen and Menendez; that both understood the offer and the acceptance of the offer; and that their intent was corrupt.
In addition, the Supreme Court last year in McDonnell v. United States threw out a corruption conviction for former Virginia Gov. Bob McDonnell, narrowing the scope of the federal bribery statute under which Menendez is being charged. The court's decision means prosecutors have a higher bar to clear in terms of proving corruption than when they first filed charges against Menendez in 2015.
In a somewhat similar set of circumstances, prosecutors allege that Menendez, like McDonnell, corrupted his office by pressuring other public officials in phone calls or meetings to take actions that would benefit their respective political patrons — Melgen in Menendez's case; and Virginia businessman Jonnie Williams in McDonnell's. The Supreme Court, however, held that McDonnell's actions did not rise to corruption as set out in the U.S. bribery statute because the former governor did not use the specific powers of his office to benefit Williams. Instead of those "official acts," McDonnell arranged meetings between Williams and other public officials or made phone calls to other officials to ask about Williams's proposals.
Citing McDonnell as a defense, Menendez argues that his indictment should be thrown out in part because he, too, never helped Melgen with the specific powers of his office as a senator, or in other words, never helped Melgen with "official acts." Instead, he argues, he only met with or asked other officials in the executive branch to use their own powers.
The Supreme Court ruled in McDonnell's case that "setting up a meeting, hosting an event, or calling an official (or agreeing to do so) merely to talk about a research study" was not enough to support a corruption conviction. But the court added a caveat:
"Of course, this is not to say that setting up a meeting, hosting an event, or making a phone call is always an innocent act, or is irrelevant, in cases like this one. If an official sets up a meeting, hosts an event, or makes a phone call on a question or matter that is or could be pending before another official, that could serve as evidence of an agreement to take an official act. A jury could conclude, for example, that the official was attempting to pressure or advise another official on a pending matter. And if the official agreed to exert that pressure or give that advice in exchange for a thing of value, that would be illegal."
Both questions — whether it was friendship or corruption, and whether Menendez's lobbying amounted to official acts — will go before the jury. U.S. District Judge William H. Walls, who is overseeing the case, declined to toss out the indictment based on Menendez's arguments regarding McDonnell.
The day was packed with drama from Newark to Washington. Democratic gubernatorial nominee Phil Murphy declined to say what Menendez should do if convicted, while Republican nominee Kim Guadagno said the senator should resign if the jury finds him guilty.
U.S. Sen. Cory Booker, who sees Menendez as a mentor in the Senate, was in the courtroom for the opening arguments. Before Menendez's attorneys addressed the jury, Booker and Menendez were seen hugging in the hallway and had a private conversation in hushed tones.
Senate Minority Leader Chuck Schumer (D-N.Y.) on Wednesday did not directly answer questions from reporters about whether he would stand by Menendez in the event he is convicted.
"Senator Menendez is issuing a spirited defense," Schumer told CNN. "We all believe in the presumption of innocence in this country and Senator Menendez is fighting very hard and we respect that greatly."
The U.S. Senate has 52 Republicans and 48 Democrats. If Menendez is forced to step down before Jan. 16, an interim replacement would be appointed by Republican Gov. Chris Christie. The Republican National Committee has launched a campaign pressuring Menendez to resign if convicted, which by extension would give the GOP a more comfortable 53-seat majority.
The day started off on a contentious note, with Walls telling Menendez attorney Raymond Brown to "shut up" after the attorney expressed concern with a passage in an opinion Walls filed last week denying a motion to pause Menendez's trial for important vote days in the U.S. Senate. In his denial, Walls suggested that the motive behind the motion seemed to be to impress the jury with Menendez's powerful position.
Brown said that the letter was "speculative as to our motives" and "disparaging."
"Shut up for a moment, if you don't mind," Walls told Brown. "I said what I said to underscore what I considered the lack of merits in this motion."
Shortly after the court went into recess, Menendez spoke at a rally outside of the Justice Department's federal building just steps from the courthouse. The event focused on preserving the Deferred Action for Childhood Arrivals program, which is being wound down over the next six months by President Trump. DACA has been a priority for Menendez, who has vowed to push for an alternative proposal that includes a path to residency and citizenship for those brought to the United States illegally as children. A new DACA vote is potentially one of the important Senate session days Menendez could miss his Newark trial in order to attend.
Melgen is a co-defendant in Menendez's case and has pleaded not guilty. His attorney is scheduled to complete his opening statement on Thursday.