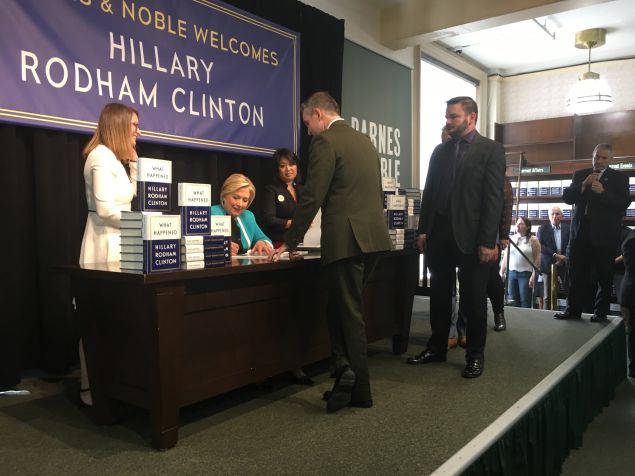 Hillary Clinton greeted hundreds of  supporters at Barnes & Noble in Union Square in Manhattan on Tuesday afternoon for a signing for her new book on her loss to President Donald Trump in the 2016 presidential election.
Clinton, 69, U.S. Secretary of State from 2009 to 2013 and U.S. senator from New York from 2001 to 2009, lost the 2016 presidential election to now-President Donald Trump. Although Trump won the electoral vote, Clinton won the popular vote.
In her new book, "What Happened," released today, Clinton takes responsibility for her loss, noting that using the private email server as Secretary of State hurt her and that even though she had clear plans and proposals, she was not able to present it in a manner that communicated that she understood voters' frustrations.
But she also said that former Federal Bureau of Investigation Director James Comey reigniting an investigation into her use of the server and sexism and misogyny played a role. And she added that supporters of her Democratic opponent, Vermont Sen. Bernie Sanders, continued to attack her even after she became the Democratic presidential nominee.
Clinton arrived about an hour behind schedule — the book signing was supposed to kick off at 11 am. While reporters and fans waited, supporters  could be heard chanting, "Hillary!" multiple times. When she arrived, her supporters yelled and cheered their support for her.
As she signed people's books, Clinton could be heard saying, "Hello," "Hi" and "How are you doing?" At one point, she said, "Oh my gosh!" and "That's great!"
Clinton did not address the crowd with a speech. An event organizer explained that it was a customer event.
More than 600 copies of Clinton's books were on the book store's book shelves, as well as on the stage where Clinton was signing books.
Clinton has said that she won't run for office again, but will remain involved in politics in other ways.
Even as the book signing was underway, a large crowd of individuals were seen waiting on line outside Barnes & Noble. Two Clinton fans who were among the first people on line a day ahead of the book signing were seen outside the building.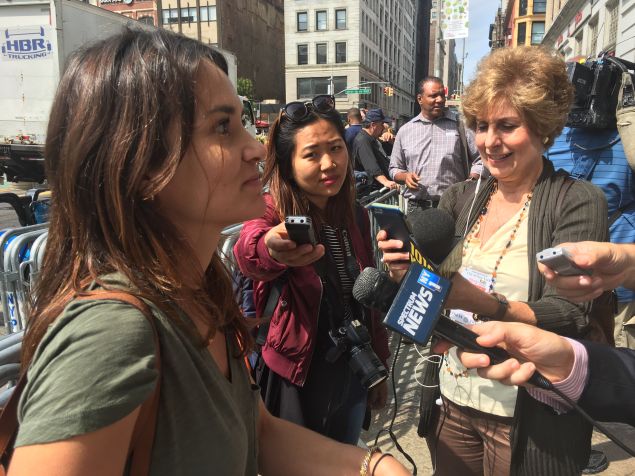 West Village resident Ava Paloma, 33, a student at New York University, said that her friends arrived at 9:30 pm and she arrived at 11 pm because they wanted to make sure "we got the chance to meet her." She said that Clinton won the election because she won the popular vote.
She was able to meet Clinton because her staff saw a photo of them outside and sent them pizza from Joe's. They were the fifth people on the line.
"We were here late last night and someone tweeted a picture of us sleeping outside and her staff sent us a pizza," Paloma told reporters. "So when I went up there, I just thanked her for the pizza."
She said that it is "sad reliving" her loss but that it's "inspirational" to see Clinton picking herself up and moving forward.
"I think it's just about moving forward," she said. "This is a really important thing because we can't let ourselves sit around and be depressed."
And contrary to complaints that Clinton is pointing the finger at others for her loss, she believes that Clinton has taken responsibility "for some of the things."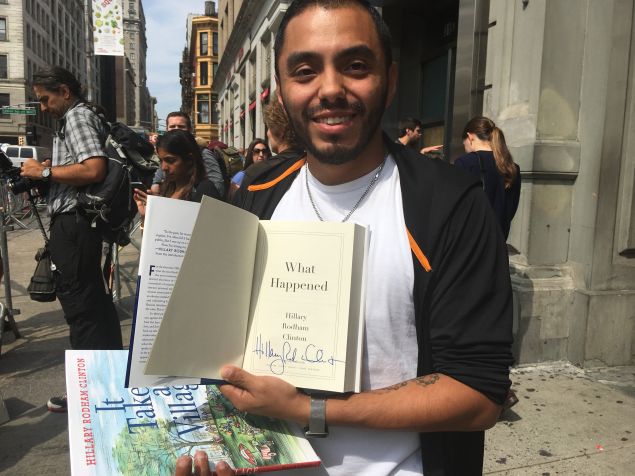 New Jersey resident Juan Cuba, 29, who was the second person on line — he arrived at Barnes & Noble at 4 pm yesterday — said that he exchanged words with Clinton.
"I told her thank you very much for fighting for everything she was running for, for LGBT rights, for HIV, for immigration, for mental health," Cuba said. "She said, 'Thank you so much. We have a long way to go.' And it was just amazing that she shook my hand. It was like, 'Oh my god, I shook Hillary Clinton's hand and I shook Bill Clinton's hand during that campaign, so seeing her in person was amazing."