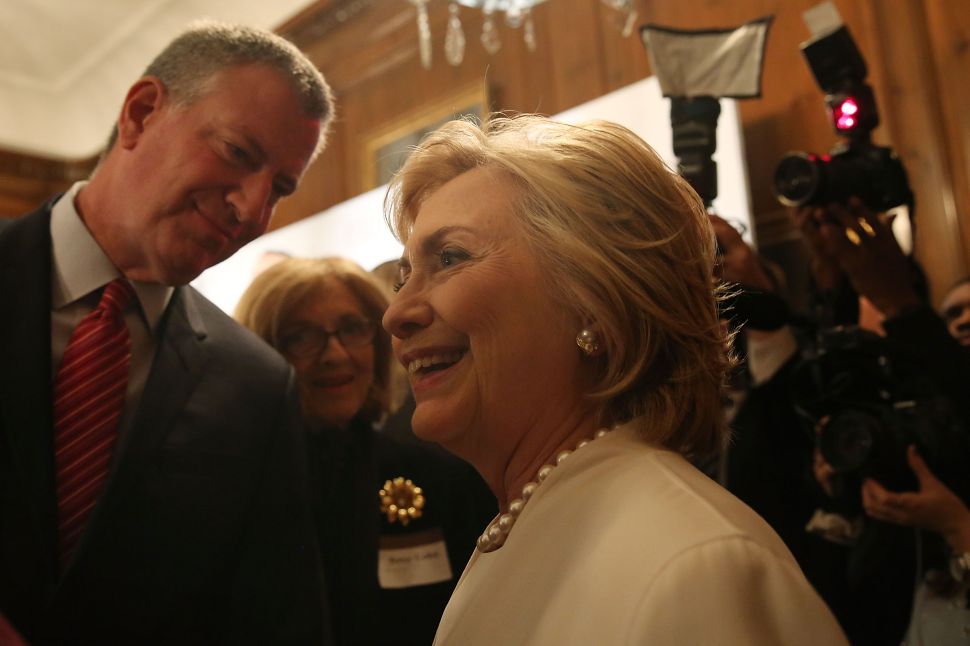 Former Democratic presidential nominee Hillary Clinton offered some praise for Mayor Bill de Blasio, saying that his work "could be important."
In October 2016, Wikileaks released a barrage of emails from Clinton Campaign Chairman John Podesta's private email account that included several exchanges with de Blasio. They showed, even as the mayor declined to endorse Clinton for several months after she announced her bid for the presidency, he sought guidance from her campaign on how to handle her opponents and the press. He finally endorsed her in late October 2015.
But in the wake of the revelations, de Blasio said that he was "very comfortable with the fact" that he pushed the Clinton campaign to take a more progressive stance "even if that meant holding out for a while." De Blasio acknowledged that he was in an unusual position because he was her campaign manager for her 2000 bid for the U.S. Senate, but he said that it was unclear what her campaign, message, vision and platform were during a series of conversations from late 2014 into the first quarter of 2015.
In an interview with WNYC's Brian Lehrer on Friday morning about her new book on her loss to Donald Trump in the 2016 presidential election, Clinton, former secretary of state and U.S. senator from New York, said that she spoke with de Blasio but that numerous individuals contributed to her post-Democratic primary presidential platform. She does not discuss de Blasio in the book.
"Bill has been a friend of mine for a long time, and we had really productive conversations, and I think I came out with a more progressive platform than we'd had in 2008," she said. "I think the Democratic National Convention platform was the most progressive in history. There were a lot of people who were part of that."
She said that de Blasio's work on bringing the universal prekindergarten initiative to fruition "was especially important to me" and that she "strongly supported it when he was advocating for it." She suggested that his work as mayor could serve as a model for other cities and states throughout the country and seemed to imply that he will win the general election in November.
"Now, you know, he has four more years to continue to implement policies in New York that hopefully can be models for the rest of the country," Clinton continued. "We're gonna have to use cities and states as laboratories of democracy, using that old phrase, because we're clearly fighting rearguard actions in Washington, and I think Bill's voice and his actions as mayor could be important."
The mayor said that he believed his actions in delaying his endorsement helped to bring about the party's most progressive agenda yet but that he recognized that Vermont Sen. Bernie Sanders' campaign played a key role as well. Sanders, Clinton's top opponent in the primary, backed her in July 2016 after she incorporated some of his progressive proposals, including allowing people over age 55 to buy into Medicare and tougher regulation of financial institutions.