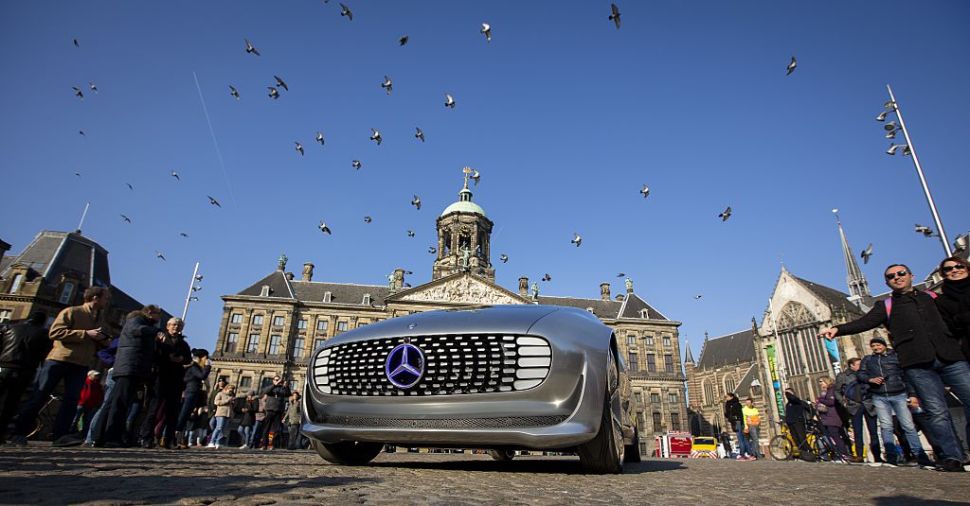 Self-driving cars have taken on an air of inevitability, but if companies work out all the technical problems with the devices, they will still face serious deployment challenges if state and federal law makes it illegal for the vehicles to operate.
For good or bad, though, if there's one thing Washington's good at, it's getting out of the way of big industry. The Safely Ensuring Lives Future Deployment and Research In Vehicle Evolution Act or the SELF DRIVE Act passed the U.S. House of Representatives on Wednesday, in a unanimous vote.
That doesn't mean that the legislation will necessarily have an easy time in the Senate. As many commentators have pointed out, Congress has a great deal on its agenda right now and 2017 has not been a great year for passing important legislation.
Yet there are a few signs that bode well for legislation on robot cars to move forward. In particular, though the U.S. Senate has not introduced companion legislation, but a bipartisan trio of Senators on the Senate Commerce, Science and Transportation Committee released a series of principles for any legislation. That trio included the committee's chair Sen. John Thune, the ranking Democrat Sen. Bill Nelson and the Sen. Gary Peters, a Democrat from Michigan.
Here's our read of how the House legislation syncs up with with the Senators' principles:
"Prioritize Safety"
The legislation requires the Secretary of Transportation to come up with a new rule for how autonomous vehicles need to be constructed, what their makers have to test and what reports have to be sent to the government in a safety review. It also requires a reevaluation of the rule every five years. In the meantime, original equipment manufacturers will be expected to abide by policies already outlined by the National Highway Traffic Safety Administration.
The legislation also requires the Secretary of Transportation to come with a safety priority plan around autonomous vehicles and traditional ones sharing the road. It sets a slow timeline for creating a different crashworthiness standard for autonomous vehicles.
Additionally, manufacturers will be responsible for reporting all crashes of their autonomous vehicles to the government.
This law also has some new rules around headlights and babies, but these likely would have moved with or without this new technology.
"Promote Continued Innovation and Reduce Existing Roadblocks"
Nothing in this legislation jumps out as specifically promoting innovation, but it might be enough for car makers that the legislation could move the rules toward uniformity across the country. That's what they want.
"Remain Tech Neutral"
The safety plan mentioned above needs to consider what elements of the car might need standards, such as human machine interfaces and sensors. This might sound like weighing in on the tech itself, but it doesn't have to be. Standards are a good way to make different company's technology work well together while they compete over who can execute better.
As an example, you might think iPhones are better than Androids, but both can send and receive text messages. The text message is a standard, but the different kinds of phones are different technologies for using it.
"Reinforce Separate Federal and State Roles"
The first section of the bill immediately makes clear that any rules from a state about the actual construction of a self-driving cars is overridden by these laws. At the same time, it also makes clear that the states largely maintain the rules of the road and that nothing about this legislation should be read to change any of those rules.
"Strengthen Cybersecurity"
A new section of the motor vehicle law requires all manufacturers who create autonomous or partly autonomous vehicles to submit a cybersecurity plan to the department. It outlines requirements to make sure that people who shouldn't be controlling vehicles remotely or sending messages to riders can't do so. It also requires a point of contact for the department and ongoing training of company staff around the plan. It also has to include a "process for limiting access to automated driving systems."
The legislation raises some privacy red flags. It requires a public database of all autonomous vehicles granted exemptions to existing law. That database will include the vehicle identification numbers but it won't include the owner (though that shouldn't be hard to work out). Further, it also requires a privacy policy for every vehicle, but the requirements for that policy look very weak. Basically, it just requires notice around whatever a manufacturer plans to do with data it collects about riders. Facebook gives users notice, too.
"Educate the Public to Encourage Responsible Adoption of Self-Driving Vehicles"
In three years, the department needs to come up with a good way to describe what a given autonomous or partially-autonomous vehicles can or can't do, so that consumers can make informed decisions. Once they've completed that evaluation, it needs to begin a rulemaking process around how to describe these capabilities.
The bill requires that the public understand what these cars are capable of and what they can't do.
The SELF DRIVE Act doesn't especially rush the public into accepting these vehicles. Only 25,000 can be manufactured and deployed in the first year. By year four, 100,000 will be permitted each year. There's well over 250 million cars on U.S. roads now, so at that rate it will be a long time before they become commonplace.
Neither Sen. Thune or Sen Nelson replied to a request for comment on the House legislation.
Regulators have been scrambling, in D.C. and across the country to catch up with a fast moving sector. We recently dug into rules at the state level just for testing the vehicles. If Washington passes a law, everyone enforcing rules should have more clarity.
It might seem strange that this legislation seems to be moving when Congress has failed in so many picturesque ways this year, but it's worth noting that no sector of the economy spends more to get its way in Washington now than the tech sector.