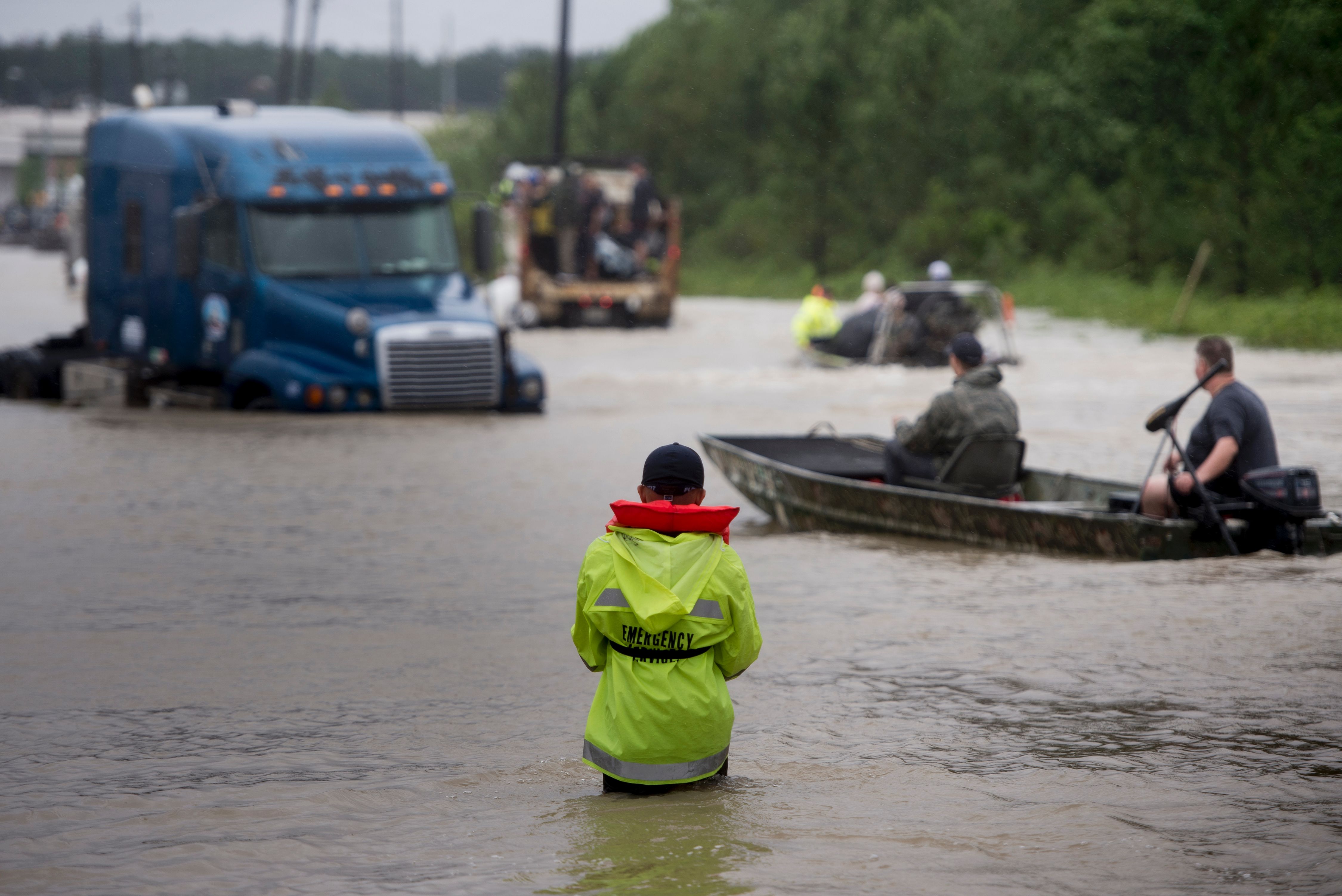 Hurricane Harvey dumped nearly 50 inches of rain on the Houston area. No city could weather this kind of deluge and not suffer devastating floods. It hasn't been called a "one-in-1,000 year event" by a local meteorologist and "beyond anything experienced" by the National Weather Service for nothing.
But look a bit closer. Warning signs were missed. And the problem is hardly Houston's alone; shortcomings in this country's management of flood risks abound. Here are seven reasons why Harvey will repeat itself many times over nationwide.
1) Insufficient response to climate change.
At risk of sounding like a broken record, direct your attention where attention is due: Climate change leads to more—and more intense—floods. Despite what you hear from President Donald Trump and the federal government these days, the phenomenon is real, affecting us now, and getting worse. Eugene Robinson in the Washington Post nicely summarizes one expert's assessment:
"According to Pennsylvania State University professor Michael E. Mann, one of the world's leading experts on climate change, Harvey's unprecedented rainfall totals were likely boosted by global warming in at least two ways. Higher atmospheric and ocean temperatures mean more evaporation, Mann wrote in the Guardian, which means more precipitation. And the fact that the storm parked itself so stubbornly over Houston is due to a jet-stream pattern predicted in scientists' climate-change models."
This description of climate change doesn't even get at three effects of climate change that didn't contribute to Houston's misery in this deadly storm, which came from rain alone: sea level rise, storm surges from the coast, and more intense winds during hurricanes. All of these effects have been predicted, observed, and are projected to become more intense as the atmosphere continues to warm. Consequently, old flood maps and historical frequencies for flood events are no longer valid predictors of future events. Coastal cities, beware.
2) The National Flood Insurance Program is a disaster.
It's not only the cities' flood maps that are outdated—the feds' maps are too. And the feds foot the bill when the really big storms hit. On top of that, the existing federal flood insurance scheme perversely rewards households that don't take appropriate flood prevention measures with unlimited payouts.
In theory, the National Flood Insurance Program (NFIP) is a good thing: After all, someone should help pay for unanticipated catastrophic damage and help insure or reinsure coastal property when the private sector won't (at least, not at a reasonable price). The problem is the execution.
Where to begin? First, the NFIP is nearly $25 billion in debt. Why? First of all, the Government Accountability Office found in 2010 that the flood insurance risk maps that the government uses are hopelessly out of date—a problem not yet fully addressed. Second, many landowners who are required by their vulnerable coastal location to purchase flood insurance do not actually do so: nearly half the indicated properties in Louisiana do not, and 80 percent of those affected by Hurricane Harvey don't either. The lack of enforcement means NFIP is starved of insurance premiums to keep it funded, and uninsured victims can't get adequate relief when they most need it.
Third, the federal government provides an open-ended subsidy to landowners who buy insurance by allowing them to purchase it for below-cost recovery premiums (hence the huge government debt, resulting from insurance payouts following big storms like Katrina and Sandy). When the federal government reformed NFIP in 2012 to reduce the subsidy, the insurance premiums spiked, causing an outcry from aggrieved property owners. Rather than insist that landowners heed the market signal to take action in those coastal areas to reduce their flood risk, in 2014 the government simply reversed course and reinstituted the subsidy.
Now coastal communities are more vulnerable than ever—and still sticking the bill for their insurance to taxpayers. In the case of Harvey, those who didn't buy insurance now will likely only recoup a small fraction of their homes' value or rebuilding cost from FEMA, and may face financial insolvency. Those who did buy insurance will be made whole—but NFIP shouldn't have let them buy it so cheaply in the first place, at least not without better safeguards for flood protection at the household and city level. So not only will NFIP's debt continue to mushroom; the federal government has yet to require flood prevention measures to qualify for insurance or reward those who reduce their flood risks with lower premiums. Absent that, we're doomed to repeat past flood damages.
3) Cities and states have their heads in the sand.
Cities and states, just like the federal government, are not doing enough to address the problems. A 2016 report by the Natural Resources Defense Council found that, of 30,000 properties experiencing repetitive flood damage losses, an astounding 75 percent had done nothing to mitigate flood risk in the future. Some have been flooded 20 times, collected flood damages each time, and made no changes to promote future flood resilience. This is what happens not only when your insurance pays for the damage and your premiums don't go up; it's also a problem of cities and states not requiring flood mitigation measures through local zoning and other building and real estate regulations.
Good flood planning is hard. It requires doing careful studies, a lot of good governance, working with local communities, establishing regulations no one likes, and digging deep to find the money for flood-proofing local infrastructure. Many years without a major storm and a political inclination to distrust climate scientists are also contributing factors. Vox reports that experts have been saying for a decade that Houston wasn't ready for a 15-year flood, let alone a 500-year inundation. Florida Governor Rick Scott, who effectively banned "climate change" from his administration in one of the most vulnerable places to sea level rise in the world, and the local officials in Tampa have overseen a potentially catastrophic and unconscionable dereliction of duty to protect the Florida Gulf Coast. A study in 2016 showed that a Katrina- or Harvey-magnitude storm could cause $175 billion in damages in the Tampa area alone. The Tampa Bay region, the Washington Post reported last month, "has barely begun to assess the rate of sea-level rise and address its effects." Without aggressive flood prevention and protection measures, it's only a matter of time before virtually all coastal cities end up like New Orleans and Houston.
4) The construction and mortgage industries have major conflicts of interest.
It's hard to get people to accept something when their jobs and pocketbooks demand they ignore it. Property owners want flood damage bailouts, regardless of the insurance they've bought and flood mitigation actions. The business community is no better. In particular, the construction and mortgage industries that benefit most from unfettered building booms have no interest in stopping the party with flood protection regulations that would be costly to implement and might slow down or otherwise limit construction. In fact, business groups, such as the National Association of Home Builders, often oppose such regulations, despite the clear link between urban sprawl and flooding, and between adoption of robust building codes and lower insurance claims. (Of course, floods lead to more construction, which is good for business.) The real estate, banking, and insurance industries are silent as they rake in profits from condo sales and mortgages in south Florida, which will soon be underwater. Until business and local voters start supporting smart flood prevention measures, these disasters will recur, and only worsen. Houston and its epic sprawl deep in a flood plain are a perfect case study.
5) Our infrastructure is crumbling, and we're too cheap to fix it.
The American Society of Civil Engineers grades our infrastructure nationwide a D+, barely above failing. We have thousands of bridges, sewer systems, levees, dams, tunnels, and water control systems that are woefully under-maintained, have outlived their intended lifetime, are insufficient for current population and climatic conditions, and/or fail to incorporate 21st century technologies and know-how. In 2017 alone, a half-dozen major publications, including Time, Foreign Affairs, The Guardian, Wired, and The New Yorker have profiled our collective American failure to invest in upkeep and new infrastructure and proposed their own ideas. Part of the problem is we don't want to pay for it: The federal gas tax, the primary source of federal transit infrastructure funds, hasn't been raised since 1993. Unless we invest in our future built environment, we will constantly be paying for post-disaster repairs rather than disaster prevention upgrades.
6) President Trump's anti-regulatory crusade is making things worse.
Just two weeks ago, Trump undid an Obama-era regulation, the 2015 Federal Flood Risk Management Standard, that required coastal infrastructure to take on flood-proofing measures incorporating climate and extreme event considerations. In other words, now that the regulation is gone, Houston can choose to rebuild without reckoning with similar floods in the future. In the context of Hurricane Harvey, it's hard to know if this irony is comedy or tragedy; it's folly either way. We need the federal government to lead the way in helping cities and states flood-proof properly. Right now the federal government is making things worse by undoing existing mandates and guidelines that push local government and businesses in the right direction.
7) Trump is slashing funding for scientific research.
Houston has had three "500-year" floods in the last eight years, not counting Harvey. Clearly both the old calculations of potential extreme floods were wrong, and the climate and weather are changing. Fixing the problem requires robust investment in scientific research, modeling, and meteorology. But what has the Trump administration proposed for the EPA, the National Oceanic and Atmospheric Administration (NOAA), and other federal science agencies? A massive budget cut. This won't help us get out of our current predicament.
The good news? Despite Mother Nature's tendency to punish us, we humans are very good at adapting to our environment and protecting ourselves—when we have the will to solve the problems and invest in solutions. Studies show that every dollar invested in disaster prevention saves $4 in disaster relief and reconstruction. Nashville, New Orleans and Charlotte are leading the way on flood-proofing their infrastructure and buildings. Some chambers of commerce, such as in St. Petersburg, Florida, are championing common-sense flood insurance reform. A Pew Charitable Trusts poll from this April found that 75 percent of registered voters support innovative flood insurance reforms to save money, insure wisely, and build back better. So the opportunities are there. Let's rise to the occasion.