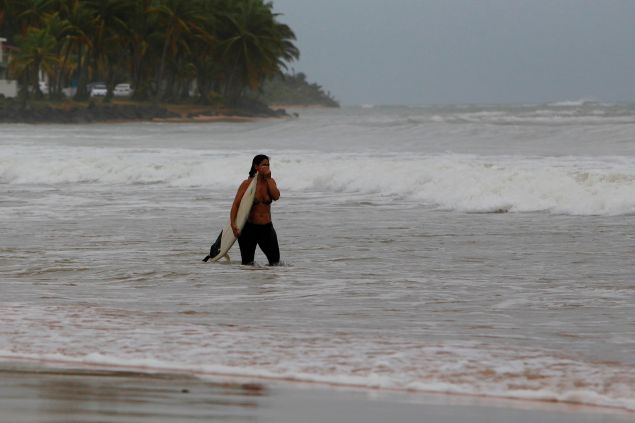 Hurricane Irma is poised to hit Florida this weekend after destroying several Caribbean islands. Many residents are evacuating the state, and those choosing to stay behind are battening down the hatches.
But many local journalists are actually preparing to enter the eye of the storm and chronicle Irma's toll for their readers. So how can these intrepid reporters stay safe and smart while covering a natural disaster?
Enter Martin Merzer. A writer at the Miami Herald for 29 years, Merzer developed a handy checklist for any reporter who has to cover a hurricane. While Merzer left the Herald in 2008, his memo has resurfaced and gone viral in recent days as Florida prepares for Irma.
Merzer's list was written before the 24-hour news cycle existed, but many of his tips show a keen awareness of the power of online reporting.
"Go early. Nag your supervisor until he or she sends you early. Early is good—you get a feel for the scene and you make friends before the other reporters ruin everything. Also, online needs fodder early, late, always."
"Continuous news, that's us. Remember that online is pumping nearly 24/7 and a lot of people are watching us."
"Take control of the online version of the story. It will keep you in the news flow and serve as the backbone of your newspaper story."
"Detail, detail, detail. What is that homeowner wearing as she nails the plywood to her window? How much sweat is pouring off her? Use you eyes to harvest what people are writing on plywood shutters, verbatim. Use your ears to describe the gales. Use your nose to describe the ocean spray before and the mess afterward."
Other pointers serve as a general survival guide for anyone, journalist or otherwise, in a hurricane zone.
"Carry cash, a lot of it. When electricity fails, credit cards become nothing much more than toothpicks."
"Don't get dehydrated. Drink lots of water. This would be a really bad time for a kidney stone."
"Don't be an idiot."
That last point is especially important, because as Merzer reminds his staff multiple times the paper can't be held liable for reporters' stupidity.
"Don't take unnecessary chances. Don't get hurt. Rewrite gets real annoyed when your screams of pain and other ambient noise from the emergency room inhibit transcription of your dictated notes."
"Don't stand in standing water. Let the other idiots get electrocuted — we don't need them anyway. You, we can't replace because we're in a hiring freeze. Also, if you die, we need to fill out a lot of messy paperwork."
"Don't stand outside or drive around during the storm. What's the point? Most of you aren't filming anything, and you could get killed and, you know, that hiring freeze again."
Stay safe, Florida reporters. And thanks for all you do.