Rebecca Bunch is now "the one who knocks," as Walter White would say, if the new Crazy Ex-Girlfriend posters are anything to go by. New campaign posters for season three campaign nod to iconic images from Mad Men, Breaking Bad, Basic Instinct and Fatal Attraction. This is an interesting departure. Female protagonists on the small screen are rarely elevated to antihero status,  instead are labeled as difficult, unlikeable or unhinged. But is Rebecca now getting the chance to become more than just the witchy "villain in her own story?"
Love is the catalyst for Rebecca's coastal move in the Crazy Ex-Girlfriend pilot as she chases Josh Chan, the long-term object of her affection, dropping a successful career in New York City to do so. Now her romantic plan is one of revenge after Josh left her at the altar at the end of season 2. This new key art uses pop culture to show Rebecca's state of mind. The pink and blue outfits synonymous with the opening credits have been replaced by iconic costumes; Don Draper's suit, the meth-making hazmat attire worn by Walter White and Catherine Tramell's provocative white dress.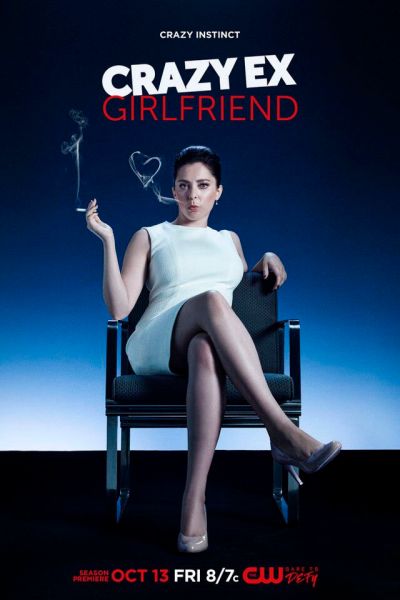 At the recent TCA summer session, co-creator and star Rachel Bloom described the new season as a "funny Fatal Attraction." Rebecca, she said, is "heading into the season saying 'I am a strong sexy woman scorned.'" This level of sexual manipulation and lust for revenge is evident in the choice of Basic Instinct inspired poster pose. White clothing is often deployed to symbolize virtue, but Fatal Attraction uses white to seduce, with the cinched waist of a sexy trench coat.
Ellen Mirojnick, costume designer for Fatal Attraction and Basic Instinct, uses simple, white clothing to great effect. Sharon Stone was made an icon by wearing that dress. Even though she is the one facing interrogation, she has all the power. And this is what ties together the pop culture figures in the season three campaign for Crazy Ex-Girlfriend; they all manipulate the people around them to get what they want—enacting revenge with varying degrees of success.
Hearts and pretzels, make way for cigarettes, meth and money in these posters that symbolize the change in character audiences will see in season three. No small shame that they poke fun at depictions of powerful men along the way.  
Crazy Ex-Girlfriend looks set to embrace her new status as an unhinged, scorned woman in season 3, but expect Bloom and co-creator/showrunner Aline Brosh McKenna to spin this in way that subverts the trope, as they've done throughout the series. If Rebecca was so set on making her love fantasy a reality, then imagine what her fantasy of revenge will be. Using Walter White, Don Draper and Catherine Tramell as avatars for Rebecca's rage points to gendered expectations of archetypes.
Bloom uses pop culture to explore society's preconceived notions of how a "crazy ex-girlfriend" behaves. So it's only fitting that the jilted bride motif gets the same treatment, with two of TV's most beloved antiheroes standing in for Rebecca's tendency to oscillate between "crazy mad" and "crazy bad."
All signs point to season three Rebecca becoming the antihero in her own story.
Emma Fraser is the creator of TV Ate My Wardrobe and spends most of her time writing about TV, fashion and costuming; Abbi and Ilana's Broad City style, the wigs on The Americans and Mindy Lahiri's pajamas. Emma has a MA in film and television, and she probably holds Angela Chase responsible for this path. You can find her on Twitter @frazbelina.