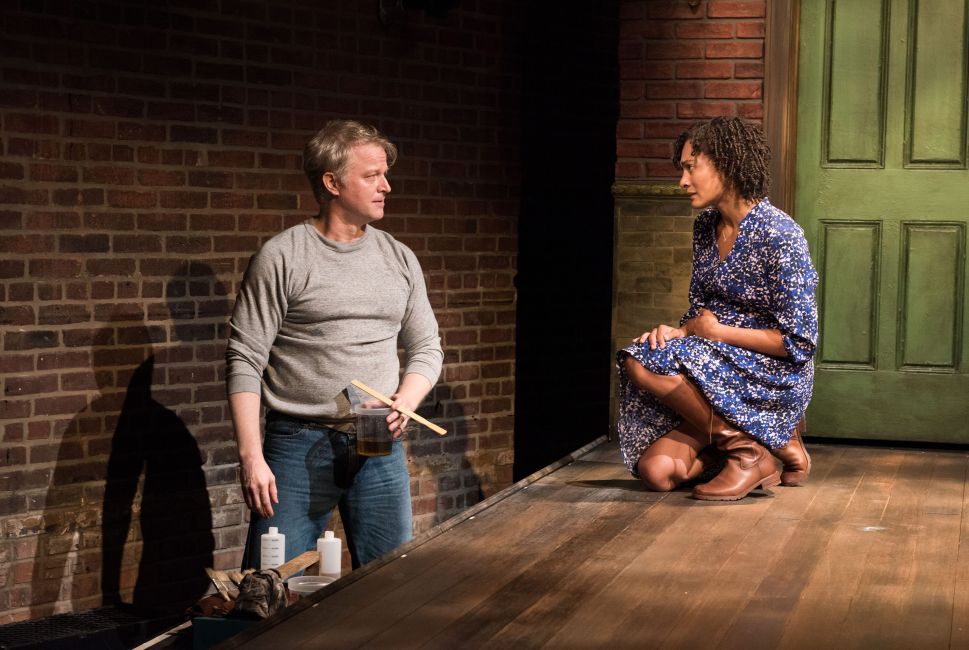 The only thing separating C.J. Wilson from stardom is alphabet soup. He has yet to become a household initial. Fans approach him tentatively with a multiple choice of nominative addresses. You see panic in their eyes: "Is J.C.?" "Is it O.J.?" "Is it C.G.I?"
Actually, "Babe" would suffice. "That's fine, that works," Wilson agrees, slipping into a coffee shop at 20th and Ninth after a matinee of On the Shore of the Wide World.
Four years ago next week, he did a dandy facsimile of "The King of Swat"—George Herman "Babe" Ruth—in Bronx Bombers, Eric Simonson's play about legendary Yankees through the years, as seen through the eyes of Yogi Berra. On opening night Off-Broadway, Wilson got the thrill of a lifetime when he looked over the shoulder of Richard Topol, who was playing Yogi, and straight into the smiling eyes of the real Yogi in the audience. "I was in perfect alignment for that. I just stepped out of myself and saw that and loved it. After the show, I got to shake Yogi's hand. It was sweet," Wilson said.
Big and blocky and blond, he made a convincing, credible icon out of The Babe—or at least a movie-star version of the warts-and-all original. A strapping, good-looking guy, he is one of those annoying people who never have to comb his hair—"tousled" is too polite a word—because it works for him without all that fuss.
He gives the impression of being cut from a heroic mold, with an open, accessible, accepting face that makes you believe Anne Frank was right: people are really good at heart. Wilson's own rogue's gallery of roles would give you an argument to that, but, when he connects with a positive character, he takes the play home with him.
Consider his work as Peter Holmes, the Manchester breadwinner in the 2005 British play that just pulled into the Atlantic's Linda Gross Theater–the seventh to reach NYC from Simon Stephens (whose adaptation of Mark Haddon's novel, The Curious Incident of the Dog in the Night-Time, won the Tony Award and ran two years).
Wilson is practically Holmes sweet Holmes here, manfully contending with all kinds of domestic conflicts that swirl around this dysfunctional, three-generation clan. He is, throughout the play, the functioning one—a house-restorer who puts the homes of others in order and then moves on. His own home is pretty much beyond repair.
This role feels different to Wilson than others." Manchester men don't wear their hearts on their sleeves. They keep their emotions in check. I love this guy's passion for what he does. At one point, he says, 'I love this job when it's finished—leaving a house better than when I started it.' But, really, what's cool about him is how big his heart is. I love that—and his sense of family. He loves his family tremendously."
Which means he must put up with a lot—with as much quiet grace as he can muster. It an ensemble free-for-all, with a host of fine actors getting in their licks. His parents (Peter Maloney and Blair Brown) are given to abusive spats. His wife (Mary McCann) seems to be dressing up for someone else. His elder son (Ben Rosenfield) is leaving the nest for London and certain heartbreak with a teen tart (Tedra Millan). Does Holmes try to talk them out of it?  No, like a good dad, he slips them some cash.
"He really gets knocked about. His father may have cancer. His wife may have a lover. All these troubles are converging on him at the same time, and you see how he deals with it. He's doing his best to overcome all this. That's all he can do, really."
The character only comes into his own at work, away from the home front fighting, in conversations with the pregnant woman whose house he's working on (Amelia Workman). "I like those scenes the most. What I find interesting is he seems to be more effusive, more himself, with her. He's not dealing with his troubles at home."
But they encroach on him all the same. In one scene—the most affecting in the play—Wilson is meticulously mixing a chemical wash that will remove layers of paint without damaging the wood while he is telling his client of a tragedy that has just occurred. "At some performances, I hear audible gasps because people are very, very shocked. I think what Simon wanted to do here, rather than show tragedy happening on stage, was to show how people learn to absorb it and live with it."
Atlantic's artistic director, Neil Pepe, who helmed this production, invited the author over for the first week of rehearsals. "It's always awesome and invaluable to have the playwright around," says Wilson. "With most plays, you don't have that luxury."
It's possible, he allows, that he got some of Peter Holmes from his own father, but he suspects most of it came from the text, as written. "My father passed away when I was very young. His name was Charlie, and I'm a junior. They didn't want me to become Charlie Jr., so they started using my initials instead of a regular name."
Charles Joseph Wilson was born in Fairhope, Ala., a small town across the bay from Mobile. He realized early on that it was the actor's life for him, but, because his high school didn't have an arts program, he didn't act on it till college when he was cast instantly in A. R. Gurney Jr.'s The Dining Room. Loaves of white-bread roles followed.
Writer-director Kenneth Lonergan was the first to spot Wilson's white-knight potential and promptly put him in cumbersome 14th-century armor for his Medieval Tale. "I was a mercenary knight. I was a lusty cardinal. I was Death. I was a homing pigeon. I was a friar. I was a bit of everything. It was one of my favorite experiences."
Lonergan was a little more specific about writing to Wilson's strengths for Hold On to Me Darling, a play about the homecoming of a rudderless country and Western star (Timothy Olyphant). Wilson was his responsible, married big-brother who, when riled, cursed such colorful colloquialisms as "Jesus Christ in a downtown Memphis hair salon!"
The part Lonergan wrote for Wilson in his Oscar-winning Manchester by the Sea is also a pillar—Casey Affleck's back-up who'd step up to the plate, if Affleck couldn't, to adopt his orphaned nephew. It was a small role, but Wilson's strength was felt.
Trained at Juilliard, he made his New York stage debut in 1994 as a spear-carrier doing Shakespeare in the Park—or, more precisely, as a Falstaff-carrier in The Merry Wives of Windsor. "For what little we did, John Ellison Conlee and I got some nice laughs from a shtick where we carted Falstaff [Brian Murray] offstage in a basket."
His next brush with Falstaff was as the Earl of Douglas in Henry IV. "Kevin Kline was Falstaff in that one, and we got into a very funny stage fight together."
Broadway beckoned in 2000 with two bits in Gore Vidal's The Best Man—namely, "Delegate" and "Fourth Reporter"—and the job of understudying Chris Noth as a presidential hopeful. Billed alphabetically, he came in last, behind "Fifth Reporter."
The Babe is the third, and largest, role he has originated on Broadway. As an understudy, he covered all but Al Pacino's role in David Mamet's Glengarry Glen Ross—and got to go on in that production. He's also cooled his heels in the wings for the likes of Philip Seymour Hoffman in Long Day's Journey Into Night and Daniel Craig in A Steady Rain.
But though he didn't make an appearance in the latter, he and his understudy co-star, Danny Mastrogiorgio, didn't find A Steady Rain a complete washout. "Basically, it was two people learning a 90-minute show, and we worked hard on it, so they allowed us to give a performance just for friends. Each of us had 25 people in the audience. We did it on the stage, with the house lights up."
Lately, television has taken up Wilson's time and talent. He is currently playing Jessica Biel's dad—"in flashbacks"—on the USA Network in The Sinner. His first foray into recurring roles was as what he called "a CIA 'finisher'" (translation: "kind of a killer") in nine episodes on the sixth season of Homeland. "I never knew, from episode to episode, what I'd be doing until I got there, so I was researching in the dark. A police officer told me my character was 'probably a serial killer with a job.' It seems we need people who can take care of 'things' and then just disappear."
Movies are also beginning to open up for Wilson. He just finished filming a feature for next year called A Vigilante with Olivia Wilde and Morgan Spector. And he still has stars in his eyes from having done a scene two years ago with Robert De Niro in The Intern. "I was Anne Hathaway's driver, and he looks out the window, sees me take a little sip of booze and tells me, 'Either you leave, or I'll tell her about it.'"
That De Niro exposure was a major learning experience for him. "The biggest thing was seeing it up close. You can see it on film very well, how he can convey so much with his eyes. He barely turns it on. He doesn't have to do much at all. There's a great intensity. He does it all with his eyes. It was sorta cool to watch that up close."