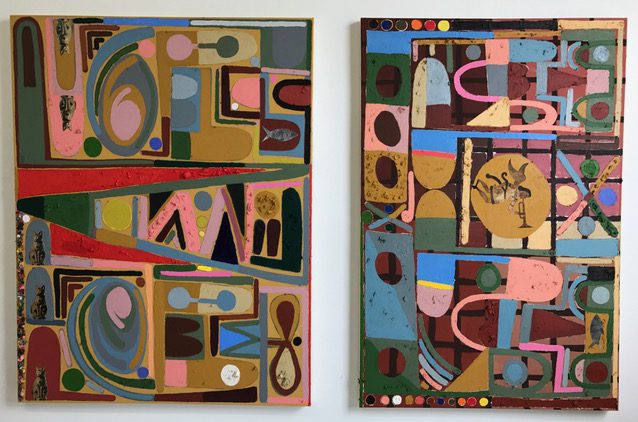 Bill Powers has a finger in many an art-and-fashion-world pie, to the point where he should just start his own bakery. The art dealer is best known for his space Half Gallery, which he initially opened on the Lower East Side in 2008, but moved Uptown above the boutique owned by his wife (fashion designer Cynthia Rowley) in 2013. The husband-and-wife duo also launched Exhibition A, which produces weekly series of special edition prints and objects by contemporary artists. Additionally, he contributes regularly to ARTnews and the French fashion magazine Purple. In his spare time, if you can believe he has any, he can be found surfing in Montauk.
Now, on top of everything else, he's cooking up a unique exhibition series called "One Night Only," to be held at André Saraiva's quaint Café Henrie on the Lower East Side. Like its name implies, the shows will last for just one evening, displaying a limited number of works by a specific artist, upending the traditional six-week exhibition schedule to which most galleries subscribe. The project will launch on Thursday, September 28, with four paintings by emerging artist Austin Eddy.
Observer caught up with Powers to talk about bucking the commercialism of art dealing and why a one-night show is far from a "pop-up."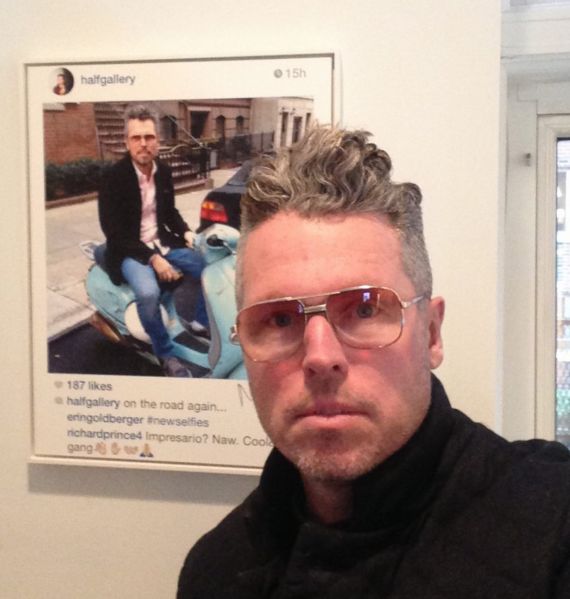 On top of running your own commercial gallery—which just launched its fall season on September 11 with an exhibition of Michael Bauer's work—why did you want to add a whole other level of one-night programming, and off-site no less?
I'm not trying to get all punk rock or indie on you, but have you ever noticed that the art world can feel a little bit corporate? Going to an art fair is like walking through an overgrown cubicle field. This fall season, as so many exhibitions and fairs get underway, I just wanted to offer an event that was more casual; that had a more laid-back energy.
What's the benefit to having such a short-lived show, both for you as a dealer and for the artist?
With gallery shows, a lot of work will pre-sell before the exhibition opens, or the day of. With the bulk of sales happening within the span of just a few days, it doesn't seem like such a stretch to do something that is just one day. This will also be fewer works, and far more casual. There's music, wine, food, and it goes to ten o'clock, so it's more like an event than an opening. It's more about getting some buzz for the artist. I'm kind of thinking about it like a book launch or something.
As a dealer, it seemed like a good way to work with new artists that I have an interest in supporting and showing. But my programming for the gallery is booked through 2018, which is a long time for both me and the artist to wait to work together on something. I went to Austin's studio over the summer and saw some of his work, and knew I wanted to show it. The only question was how and when. And of course he was eager to show it—I mean I think artists always want something to come of a studio visit. Why does that something always have to be a full-on gallery show?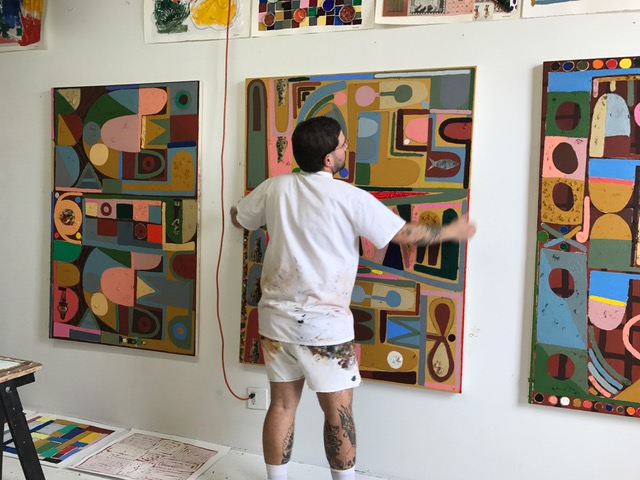 How did you settle on Café Henrie as the venue?
Over the years, I ran into André through various art and fashion events. You know, he's very linked into this scene—he has a lot of cultural capital. I think I even interviewed him once for a magazine when he was opening up Beatrice Inn. Anyway, I just got to know him over the years. Also, Half Gallery's original location was just two blocks from the cafe, so I would hang out there sometimes when I first opened up. In that way, these one-night shows kind of bring my dealing career full circle! The space is so cool, too, very casual. I remember one of the first times I went to Café Henrie, they were having an event with writer Glen O'Brien, and it was intimate and fun. So in a lot of ways I think it was just always in my head that I'd like to have an event here.
Do you think this kind of informal, cozy event is one of the strengths of the tightly knit art and culture scene in New York?
I don't know, maybe. I think this kind of stuff probably used to happen a lot more frequently, but now everything is really professionalized and standardized. I think Los Angeles sometimes does a better job when it comes to doing art events. A lot of downtown galleries will do pig roasts or BBQs—really make a day of an opening. It's fun for everyone, and it loosens up the commercial feel of art dealing. That's what I'm trying to do with the "One Night Only" model. Sure, there have long been short-term shows, weekend-only exhibitions, pop ups, etc. I don't think I'm reinventing the wheel here. But, ugh, just don't call this a pop up! That sounds too retail driven.
Margaret Carrigan is a freelance writer and editor. She planned to go to law school but she did terribly on the LSAT, so she got a master's in art history instead. She lives in Brooklyn with her cat, who is named after Alyssa Milano's character from the early aughts CW smash hit series Charmed.
Also by Margaret Carrigan:
Find the Taxidermy Bird You've Been Searching for at the Oddities Flea Market
How Can a Dealer Avoid Exorbitant Gallery Costs? Launch a Collaborative Space
Elia Alba's 'Supper Club' Photos Bring Voices of Color to the Proverbial Table