"We're all subject to this 'fake it 'til you make it' syndrome," photographer Lauren Greenfield said while standing in front of a cluster of her photographs of rich kids at pool parties at the International Center of Photography (ICP) Museum, where her retrospective, "Generation Wealth," will open on September 20. "Looking rich is almost as important as being rich."
Greenfield's work is indeed more about the aspiration to wealth, rather than the attainment of it. Known for her documentary films and photography exploring America's exaltation of excess—and its corresponding ills—Greenfield started out by following affluent kids in Los Angeles in the mid 1990s, during the height of US credit boom, documenting their lifestyles in vividly colored and candidly shot photos.
"Kids are the real truth tellers, that's why I started with them," she explained to Observer. "They reflect our cultural values back at us in the most honest and transparent ways."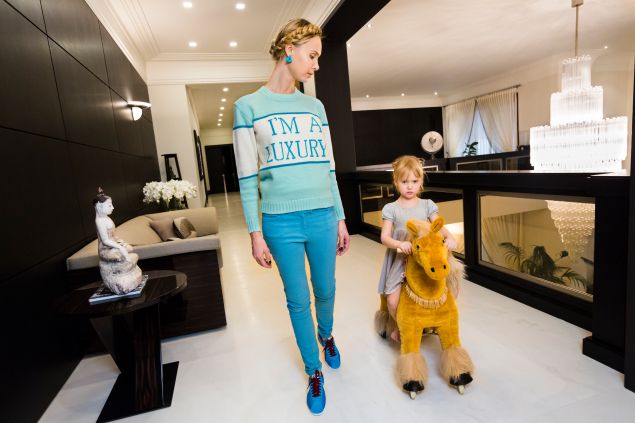 Greenfield's interest in casting a gaze on consumerism developed organically from this original body of work. For the last 25 years she's been capturing the fun, fantasy, and frailty of wealth as it shapes and shifts both American and global consumer culture. The ICP exhibition is the New York debut of the first major retrospective of her work, which originally premiered at the Annenberg Space for Photography in Los Angeles earlier this year. It includes over 200 photos, documentary film footage, interviews, and stills, including from her critically acclaimed 2012 documentary, Queen of Versailles.
It's easy to lose yourself when staring at some of Greenfield's images of sexy people, stately homes, and shiny objects. These are, after all, things that have long been touted as totems of the American dream, what we should all aspire to be or have, and have been told we can—with the right loan rate. But the photographer tempers these desires with garish montages of mid- or post-op plastic surgery photos or images of children being weighed and measured at a weight loss camp.
"The thing about my work is it's very critical of this materialistic culture, but not necessarily of the wealthy people in it," Greenfield says. She gestured to a photo of a teen named Lauren, who smiles brightly at the camera, her nose plastered and bandaged from a recent nose job. Greenfield says that in her interview with her, Lauren explained she refused to socialize because she was so self conscious about her nose.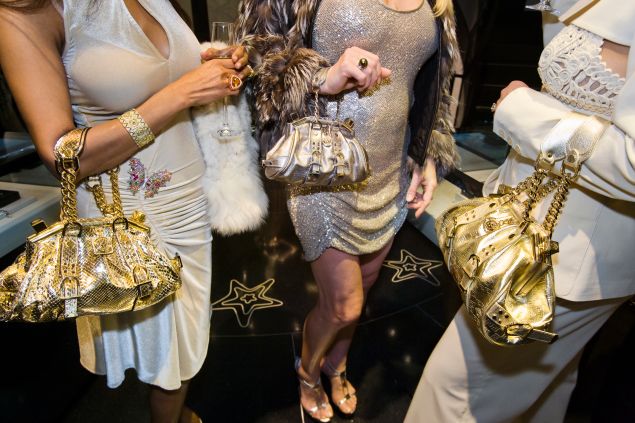 "I'm not judgmental of her decision to get a nose job  because it's actually a rational choice in the context of what our society values. But I want people to look at these images and be more critical of what we value and why."
How we value bodies—especially female bodies—is a key theme in Greenfield's work. Early on in the exhibition, we see a snapshot of a preteen Kim Kardashian from 1993. The artist explains that she didn't think much of the image, noting that Kardashian was simply OJ Simpson's lawyer's daughter then and "not that interesting." However, the reality show superstar has become a touchstone in Greenfield's work, resurfacing several years later in her photos as a twenty-something socialite, famous thanks to a leaked sex tape, and again as a an icon known for her tush and lush lifestyle followed by millions on TV and social media.
"Kim really underscores the currency of the female body for me," Greenfield says, which she also explores through images and film footage of beauty pageants, plastic surgeries, strip clubs, and sex work. For the artist, consumer culture goes far beyond material goods. "We're seeing the body totally commodified—it's an exploitation of humanity in service of wealth."
When asked if the past two decades of documenting the pitfalls of our wealth, fame, and beauty-driven culture has made her think differently about her own spending patterns, Greenfield laughs, saying it's forced her to be much more conscientious of what she buys and why. She launches into a story of how she went to Target with her 11-year-old son just before "Generation Wealth" opened in L.A. "We just stopped there to use the bathroom, not to shop, but before I knew it I was grabbing a cart and filling it up." At the checkout counter, a single item rang up as $55 and her son stopped the cashier and asked what costed so much. It was anti-aging face cream.
"He made me put it back!," said Greenfield. Perhaps the next generation will be more financially savvy.
Margaret Carrigan is a freelance writer and editor. She planned to go to law school but she did terribly on the LSAT, so she got a master's in art history instead. She lives in Brooklyn with her cat, who is named after Alyssa Milano's character from the early aughts CW smash hit series Charmed.