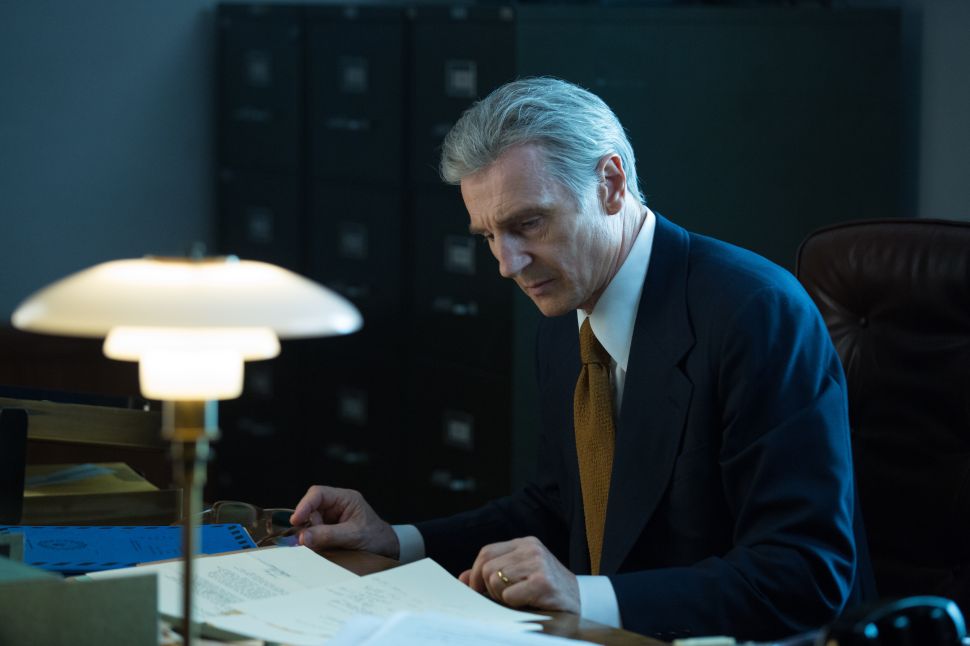 The identity of Deep Throat was one shrouded in speculation and mystery until 2005, when Mark Felt came forward as the informant who shared information with The Washington Post's Bob Woodward in 1972. Felt passed away in 2008, but now, the details of those events are being told from his perspective, with Liam Neeson playing the famous whistleblower in Mark Felt: The Man Who Brought Down the White House. Observer spoke to the film's costume designer Lorraine Calvert over the phone to discuss G-Man attire in the 1970s and what made Mark Felt stand out, even when he was trying to blend in.
FBI agents in fiction such as Dale Cooper from Twin Peaks and The X-Files' Scully and Mulder share a similar suited-style. But there are ways to differentiate time periods by the shape and design of the suit. Tie, lapel width, and shoulder pad height are just a few of the details that vary based on decade. In the 1970s, polyester fabrics and bold patterns reigned supreme. Ties and suits did now escape the trend—a wide, garish tie was one way a FBI agent could step up his sartorial game. But as Calvert explained, Felt was not one to indulge in this look. "One of the things with Mark Felt in particular, is that he was a very dapper dresser and pretty much always wore a white shirt and plain tie. He wasn't super flashy; he was more subdued but very, very sharp."
Mark Felt held the second-highest position in the FBI, associate director, when the Watergate break-in took place. His suits reflect his ambition. It was far more of a challenge for Calvert to find vintage versions of plain garments than the outlandish pieces of some of his contemporaries. She estimates that Liam Neeson has approximately 40 costume changes, which makes for a lot of white shirts, which Calvert had custom-made.
Shoes also posed a problem. "The guys have their feet up on the desk, so you have to be sure that you get shoes that don't have a plastic bottom or a vibram sole. You want that beat up leather on leather," Calvert said. But if you are in the market for shoes from this time, beware; vintage brogues are slippery in the rain. 
When it came to the ties, she made sure they reflected the character's status. "I remember [director] Peter [Landesman] talking about the ties and always saying 'I want it to look really like a fucking powerful tie,'" Calvert recalled. So she had some fun. "How often do you get to use those wide ties? Some of them are hideous. But in their ugliness they are beautiful."
The 1970s has been making quite the sartorial comeback over the last few years with runway shows finding inspiration in this decade, including Gucci's Milan collection, which debuted last week. I asked Calvert what brands to look for when it comes to '70s style. Pierre Cardin, Botany 500 were her recommendations for suits, and Van Heusen for shirts. 
But the movie isn't entirely dominated by FBI garb. Diane Lane plays Audrey Felt, Mark's wife, and is dressed in 70s patterned numbers typical of the era. Seeing the home life of Felt is important in explaining why he leaked the information. Calvert explained that Audrey's costume design was less based on research of Audrey Felt and more on the garments of the time. Her wardrobe includes a stunning metallic patterned frock that Calvert found in a vintage store in L.A. This is worn during a dinner party scene that ends with the tango. Calvert talked me through the alterations she had to make to the garment, given the physical turn this scene takes. 
"We changed it considerably because it was a full skirt, but the director Peter [Landesman] wanted to see the line of her body. It had little shorts underneath. To make it a little bit sexier we took apart the seams and made them panels so when she put her leg up you could see her whole leg."
A variety of era-appropriate garments was necessary so the FBI agents don't all blur into one suited mass. Josh Lucas (who plays Charlie Bates) got a shorter trench coat that was more 1960s in style, paired with three-piece suits.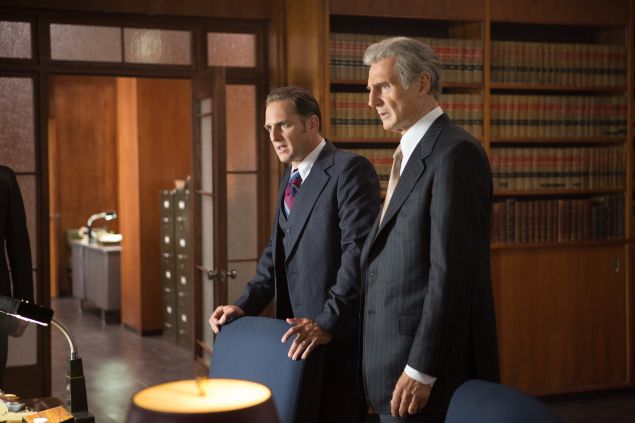 Michael C. Hall plays John Dean, an architect of the Watergate cover-up. His costuming consists of light suits in contrast to Felt's mostly darker wardrobe. Real photos of Dean were incredibly useful to Calvert. "He always wore ties that had a pattern. It looked like he belonged to a club," she said. She also noted that Dean "always wore a collar pin. He always wore a signet ring." Adding details like this help individualize a look. "You could make each one of them different by finding those little things that were actually historically accurate, but also set to that character." In an all-too-timely story of a corrupt White House, it's the details like this that add to historical accuracy, helping bring to life, in shocking reality, a story that should be a lesson to all in power.
Mark Felt: The Man Who Brought Down the White House opens in theaters Friday, September 29.
Emma Fraser is the creator of TV Ate My Wardrobe and spends most of her time writing about TV, fashion and costuming, like Abbi and Ilana's Broad City style, the wigs on The Americans and Fleabag's lipstick. Emma has a MA in Film and Television, and she holds Angela Chase responsible for this path. You can find her on Twitter @frazbelina
More by Emma Fraser:
It's Going to Get Ugly in 'Crazy Ex-Girlfriend' Season 3
Look to TV's Crime-Fighting Female Badasses for Your Workwear Wardrobe Inspiration
Where to Shop All the Looks From HBO's 'Insecure'