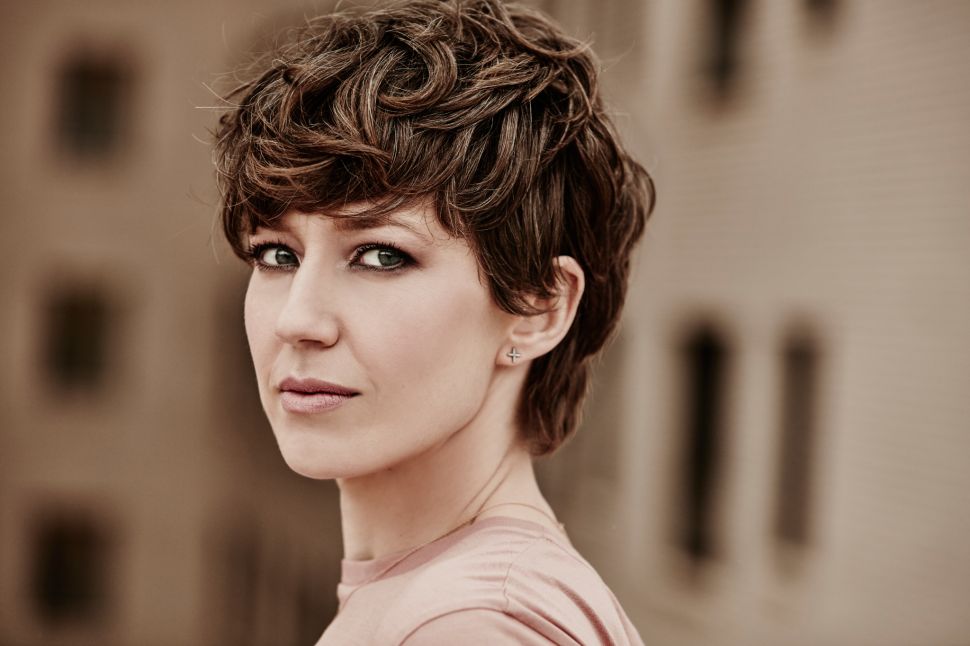 As Golden Girls go, Carrie Coon is going in several directions at the same time—a veritable blur of a media-mix. Stardom is a fast track, and no avenue is left unturned.
On September 25, at New York Theatre Workshop, she bows in the title role of Amy Herzog's Mary Jane. It's her second Off-Broadway play, and, like her first (Melissa James Gibson's 2015 Placebo), it's set in a hospital—but, unlike the earlier play where she administered experimental drugs, she's now wholly at the mercy of the medical profession—the mother of a desperately ill two-and-a-half-year-old son.
It's an unexpected career choice for someone who, only months ago, was doing primetime double-duty, through the coincidental scheduling of two different shows on two different networks during the same timeframe. She popped up on Sundays, in the third and final season of HBO's The Leftovers, as the much-aggrieved Nora Durst, who's all that's left of her immediate family after the "Sudden Departure." And then, on Wednesdays, in her single season of FX's anthology series Fargo, she played Gloria Burgle, a rural police chief who interrogates in a flat rat-a-tat-tat Minnesota accent.
You don't come away from a spectacularly conspicuous hat trick like that unnoticed or unnominated, and, sure enough, just before Mary Jane entered its homestretch of previews, Coon hopped a red-eye to L.A. so she could lose in person the Best Actress Emmy for Fargo. Then, the actress turned right around and came dutifully back to her hospital-vigil previews and some impossible-to-schedule press interviews.
"Thank you for being so patient and flexible," she says with a melting Midwestern lilt when contact is at last made over the phone. "It's been pretty hectic around here."
That's been a familiar feeling for Coon since her career zoomed into overdrive three years ago. In addition to the miniseries above, she has four feature films in the can poised for release this year and next. The amazing thing is she could find room in her crowded agenda to do a play Off-Broadway just because she believes in it.
Her Mary Jane is a single mom in New York struggling with a chronically ailing child. "We assume in the play he has cerebral palsy from being born prematurely. He was born at 25 weeks, which is a pretty common circumstance. We've heard from a lot of parents who've had sick children or gone through this, and they were moved to see the reality of that lifestyle at the hospital being portrayed so truthfully on the stage."
She got in on the ground floor of this play and stayed there. "I'm a friend of Amy's, and I did an early reading of the play about two years ago when she first finished it," Coon explains. "I'm a total snob about writing, and it was the best writing that came across my desk. It was something I hadn't seen rendered on stage quite this way."
To do Mary Jane by Pulitzer finalist Herzog Off-Broadway meant not doing The Minutes by Pulitzer Prize winner Tracy Letts on Broadway. A comedy about small-town politics, The Minutes will have its world premiere at Chicago's Steppenwolf November 9 to December 31 and then go into previews February 6 for a March 8 opening on Broadway.
Letts and Coon met when they were cast, not exactly star-crossed, in Steppenwolf's 2013 Broadway revival of Who's Afraid of Virginia Woolf? That was the one about George and Martha, you'll recall, and they played George and Honey (she's the easily sloshed young faculty wife he finds peeling labels off liquor bottles on the bathroom floor). He got the Tony, she got a nomination, and a year later they got hitched.
"In my life, it was so much more than play," admits Coon. "It launched my whole career. It was my third play in Chicago and my first role at Steppenwolf, although I'd been auditioning for them pretty consistently. What was extraordinary, of course, was having Edward Albee there. He was still very much in control of his estate so he came to Chicago for rehearsals. Naturally, we were terrified to have him there because he could still fire people. I remember one time when Madison Dirks, who played my husband, ran off to go to the bathroom, Edward said, 'I'll play Nick.' He stood up and started doing some of the lines with great wry humor. I think he was quite proud of our production, though he would never really say it out loud. He would say, 'Well, it's a very good play.' That's as much of a compliment as you'd get."
Between miniseries, Coon managed to squeeze in a movie, a supernatural romance called The Keeping Hours. "It's a very odd little horror story that's really about marriage, and, unfortunately, I think its oddness has made it difficult for them to market. They can't quite find the right place for it. But I so enjoyed making it."
Would she characterize Virginia Woolf as "a horror story that's really about marriage"? Definitely not: "One of the things that I so loved about our production—and the way we talked about the play—Tracy always said, 'It's a love story, and it's a love story because wouldn't you want your partner to fight for you that hard?' Because that's really what George is doing. He's fighting to save her and save the marriage. That's a much more generous and less caustic way of looking at that play."
She and Letts are "Together Again!" (if not necessarily in the same scenes) in the new Steven Spielberg film, The Post. It's shaping up as Meryl Streep's annual shot at the Oscar—this time as Washington Post publisher Katharine Graham, and they play prominent people in her camp. Letts is Fritz Beebe, a lawyer and staunch supporter of Graham's ("it's nice my husband got to play a friendly person—even though he's still in a suit"), and Coon is Meg Greenfield, her deputy editor, one of the first Pulitzer Prize-winning editorial writers and the first woman ever to run an editorial page.
Others on board include Tom Hanks as Ben Bradlee, Bob Odenkirk as Ben Bagdikian and David Costabile as Art Buchwald. But, of course, for the observant actor, the main event is La Streep. "It was a dream to work with her and with Steven, really. To watch her on set was such a gift. She worked really hard. She's quite extraordinary."
This summer she wrapped Widows for another prestigious director, Steve McQueen. It's based on a 1983 British TV series about women who take over their late hubbies' heist, only updated and shifted to her hometown of Chicago.
"Steve brings his particular point of view to a genre picture. That's why I wanted to do this film—that and working with the great Viola Davis and running into Liam Neeson and, best of all, finally getting to sleep in my own bed for a change."
Since Fargo and The Leftovers, she has mowed through a mountain of television scripts, but none of them struck her fancy. "They weren't bad—a lot of them were quite good—but I've been so spoiled by the limited series. A lot of those people were asking me to sign five-to-eight-year contracts, and often I didn't feel the premise they were offering was sustainable over that period of time. I've been working for three years straight, and I wasn't ready to commit my life to something like that."
Theatre is something else, however—a tonic. "Oh, I love it," she trills. "After doing TV and film, the thing you really start to appreciate about being on stage is you get to tell a story in order from beginning to end. On a film set, you never get to do that. You're always shooting out of order at odd hours of the day. It's not as satisfying to me as living through a story every night. Also, when you're doing a play, you feel like you're working in a company. TV and film feel like you're passing everybody on your way to the set. Everybody's alone in their trailers. It's actually a much lonelier life."
Then, there is the personal empowerment that only happens on a stage. "When I'm filming, I don't have any say over the final product. I'm not the arbiter of taste, but, on the stage at night, I'm the one who gets to gauge how well we are engaging or not engaging the audience, and I get to adjust accordingly. In TV and film, you can get really accustomed to other people telling you what's good and when they have what they need. I think it's important as an artist to return to that touchstone where I am actually the arbiter of taste and remember what my artistic sensibilities are."
Her plans after the play are up in the air. "I'm still taking meetings and looking for, perhaps, a film. I'm sure there's a television project that I'll eventually sign on to do, but, for now, Tracy and I are just hoping to get a little time-off together in the fall."