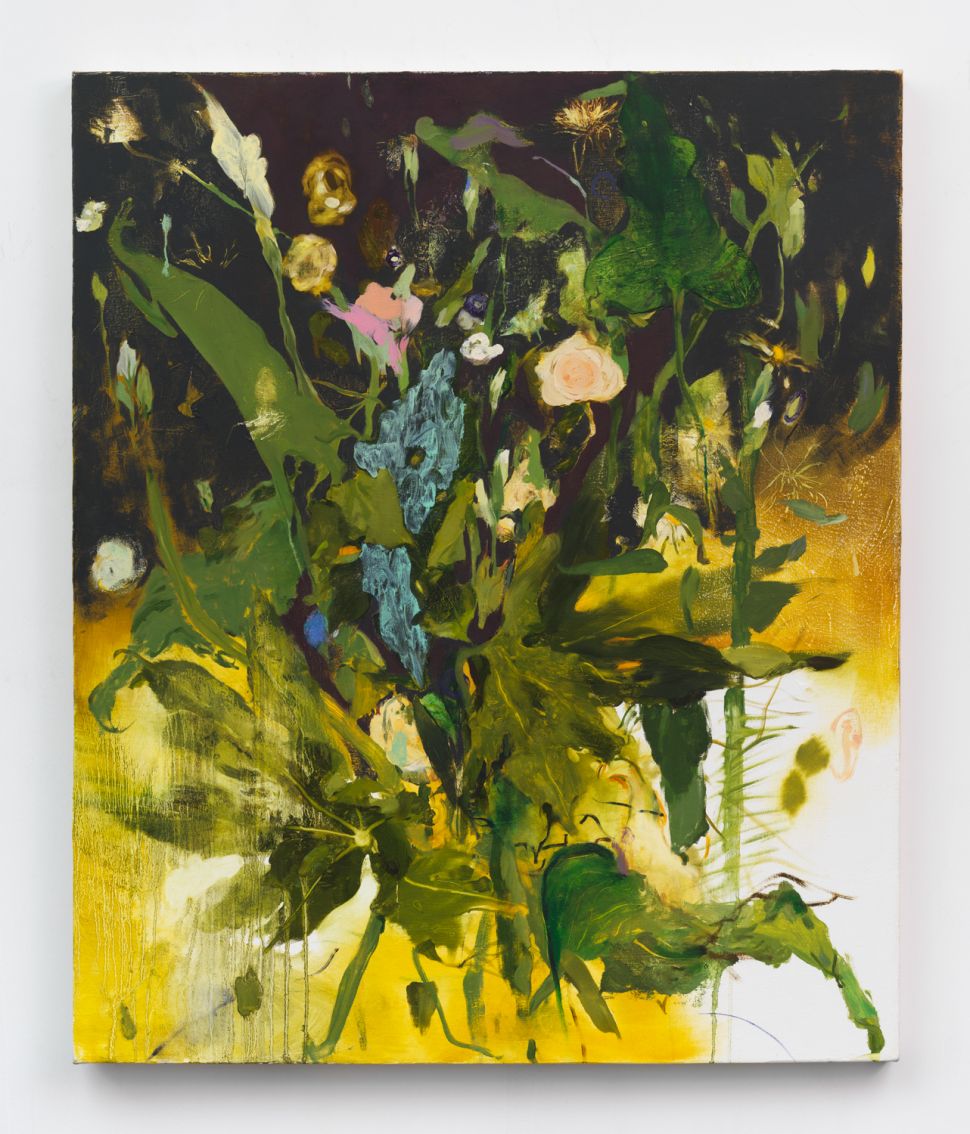 Bronx-based artist Jennifer Packer says it can take months, even years, for her to finish a painting. Her portraits, many of which capture friends and relatives in candid, comfortable poses, are built up over time through big, sweeping brushstrokes and light splashes of watery color. For Packer, this drawn-out process is as much as getting to know the painting as it is about the person in it.
Although her work centers on black subjects, the artist makes skin color secondary to the psychological aspects of her sitters—her use of soft hues of yellow, ochre, red, and mauve express an intimate emotional sensitivity even when the figure is doing something as mundane as hanging out on a couch in their apartment.
For her first solo institutional exhibition, "Tenderheaded," on view at The Renaissance Society in Chicago through November 5, Packer further explores emotional and physical vulnerability through new portraits as well as a developing series of painted funerary bouquets. One such floral work, Say Her Name, serves as the artist's personal reflection on the news of Sandra Bland's death, which she said made her feel saddened in a way she didn't fully understand, prompting her to think about how best to represent the "unlocatable" sense of loss you feel when struck by the death of someone you didn't know intimately. More importantly, it prompted her to reconsider how to depict black subjects in painting when their physical bodies seem so vulnerable within our current society.
Just before she packed up her canvases to send to Chicago, Packer invited Observer into her studio to talk about her latest works, finding strength in vulnerability, and how she knows when a painting is finally finished.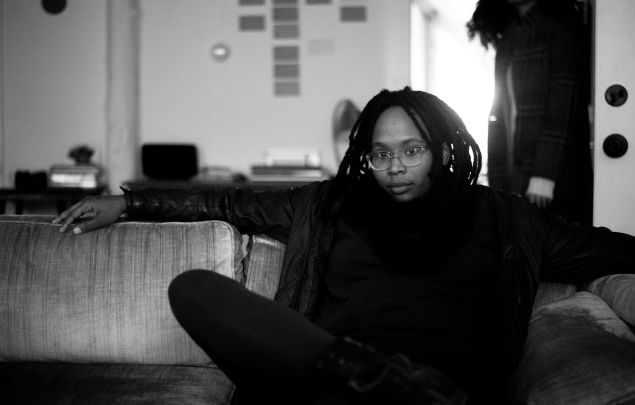 What does the title of your Renaissance Society show, Tenderheaded, mean?
I've been thinking about black female subjectivity in my work for a long time and I think about how black women often use this term "tenderheaded" to describe other black women. I've been called tenderheaded. It's an assessment of not only physical sensitivity, but also an emotional sensitivity, perhaps bordering on weakness. But the weakness isn't necessarily a fault—it's more of way of noting the need to take extra care of that person. I liked it because it was a really concise way of assessing a level power and strength between women and the people—friends, family, children, etc.—they look after. And it became a shorthand way to assess the value of black women's bodies.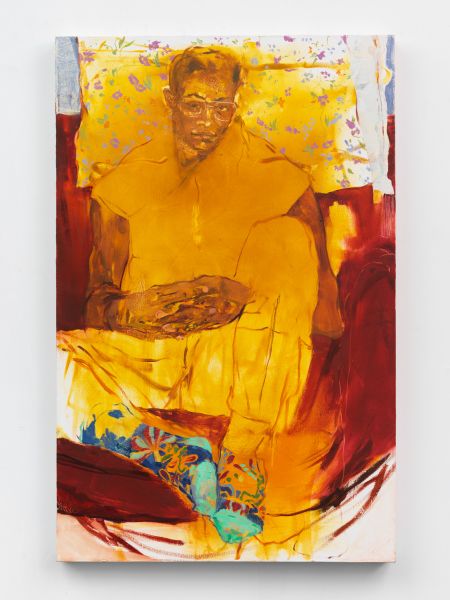 Are there certain painters throughout history who you look to for inspiration when creating your portraits?
Yes and no. I love art history, I was blown away by how the European masters captured so much feeling in some of their portraits—artists like El Greco, Michelangelo. But there's no real home-place for black female subjectivity as represented in painting. When you go to Italy, you expect to be blown away by all these amazing artworks of important people; mostly men. I wouldn't know where to start looking for portraits of black women, especially by black women. But I think about how these European painters are revered, and I look at their work and I see them, too, trying to access a tender location through touch, trying to make a sensation true. So I think about how they do that and I want to do that, I want to do that kind of work.
Are there other contemporary artists that you look to for inspiration as well?
I like a lot of New York School painters lately, like Philip Guston. And of course Kerry James Marshall. I had a conversation with him recently—we were supposed to meet for an hour and we ended up talking for four. It was fascinating because I realized we're very different types of painters. That was useful for me to note. To be honest, he reminds me of the New York School of painters in that everything he includes in his compositions has a reason for being there. There's a certainty to his work. He said once that he wanted to make his work invulnerable. And I'm interested in the other side of that, what it means to be uncertain and vulnerable.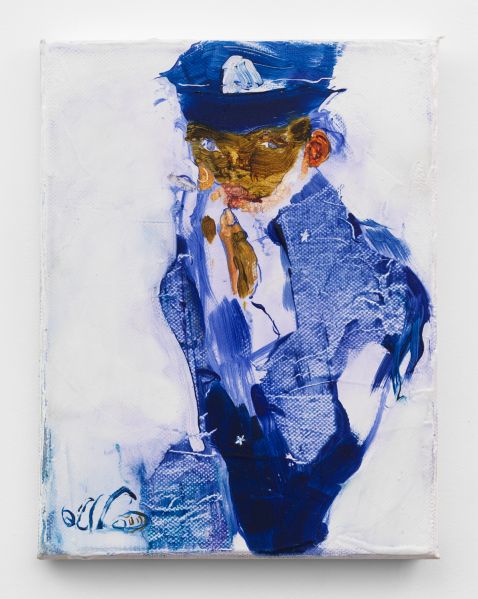 How do you see this desire to explore uncertainty and vulnerability playing out in your paintings?
Sometimes there are loose ends. Sometimes I want to change just one more thing—like the color of a cup from green to blue or something inconsequential like that—and I won't do it because I know if I do then there will be something else I want to change. But if I leave it, I can continue to look at it, even fixate on it. It becomes something important even though maybe I didn't mean it to be.
My relationship to my paintings are like my relationships to people. You can try to change some aspect of a person. Usually it doesn't work out anyway—you can't force someone to change. Sometimes you have to leave something as it is.
If there's always something you want to change in a painting, how do you know when you're done with it?
It's the same as in a relationship with a person! One day you realize it's just over, more so than done.