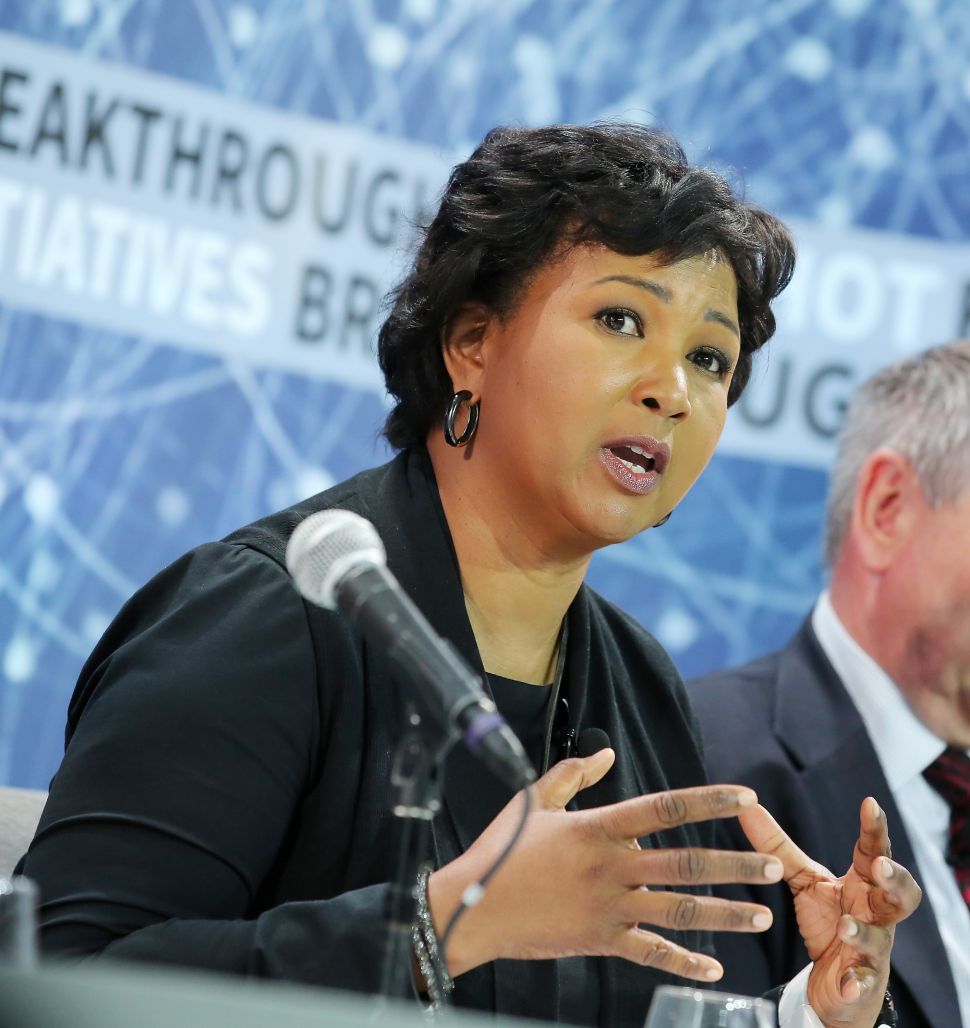 On September 12, 1992, astronaut Mae Jemison became the first woman of color to travel into space when she served as the science mission specialist on the STS-47 Spacelab-J. Jemison launched from the Kennedy Space Center in Florida aboard the Endeavour and returned to earth on September 20 of that year, after 127 orbits of the Earth. In commemoration of the 25th anniversary of that historic space flight, Jemison is hosting a party—25 Strong—under the Endeavour space shuttle at the California Science Center in Los Angeles on September 15.
"As it was occurring, there were a couple of things that were happening," Jemison told Observer, speaking about her first flight. "There was the sense of personal accomplishment, but at the same time, there was the whole issue and whole attention around being the first African American woman astronaut, and even more so, being the first woman of color in the world to go into space," she said. When she was young, traveling into space was more than something she aimed for—she was certain it would be her fate. "As a little girl, growing up, I always assumed I would go into space. Let me make sure that's clear," she added. "I just always assumed, despite the fact that the U.S. hadn't sent any women up and there, or people of color, that I was going to go."
After her spaceflight, she was often told by young girls and women what an inspiration she was to them, but Jemison emphasizes that it was was just as important for older white males, and people in gatekeeping positions, to witness her trip. "Back then I just wanted people to say, 'Hey, the gatekeepers need to know that everybody has talent.'"
Dr. Jemison graduated high school in Chicago, and, at age 16, entered Stanford University. She went on to study medicine at Cornell University, completing an internship at Los Angeles County/USC  Medical Center. She enlisted in the Peace Corps as a medical officer, where she was stationed in Sierra Leone and Liberia.  Jemison returned to the United States in 1985, where she took classes in graduate engineering while also working as a general practitioner.  She was selected as an astronaut candidate in June, 1987. In 1993, after her spaceflight, she resigned from NASA and established her own technology consulting group. In the 25 years that followed, she has received 11 honorary doctorate degrees; was the first real astronaut to appear on Star Trek; founded an International Science Camp called The Earth We Share; created the Dorothy Jemison Foundation for Excellence and was inducted into the Women's Hall of Fame. In her various science advocacy efforts since leaving NASA, Dr. Jemison has served as a mentor and inspiration for women in science, who, to this day, encounter many of the same obstacles and attitudes towards women in the field as Jemison's faced a quarter of a century ago.
"What's really interesting about the science fields is that women and girls love science. They do as well as—or better than—boys in science all the way through grade school and high school. They go into college wanting to go into a science field, and they fall out at high numbers… even though most professors say that women are the best prepared students to graduate with a degree in a STEM field," she explained. "That basically tells us that something is going on in college that may be kind-of interesting. A lot of it has to do with how I think women are treated by their professors and whether or not they're looked at as a fellow colleagues," Jemison said.
She hopes that if any women are questioning leaving the scientific field because of gender-biased attitudes, that they think of her. "I'll tell you you have the right to be there, I've been around the block a couple of times, and I can tell you unequivocally, yes, you have the right to be there. Sometimes women are held to a different standard. If a woman says something that's not necessarily correct once or twice, people remember it forever. [That's why women] end up becoming much more timid about speaking up with their ideas," she said. She felt her youthful bravado in college helped her push through this feeling, as well as professors that she met in the African and African American Studies department (in which she majored) for helping her shake off the negative energy of voices keen to put her down.
In regards to Dr. Jemison's upcoming 25th anniversary celebration, she wants the theme to be more about looking ahead than focusing on the historic flight. "It's about my 25th anniversary, but it's [also] about what have I done with my place at the table," she says.
She's recently been working on a program called 100 Year Starship that is working towards the goal of making human travel beyond our own solar system a reality in the next 100 years. "Right now, with 100 Year Starship, we're looking at creating platforms to get other people involved across a number of different [fields], making sure these initiatives benefit life on earth," Dr. Jemison said. "For me it's being able to make sure that everybody benefits from the bounty of this planet."