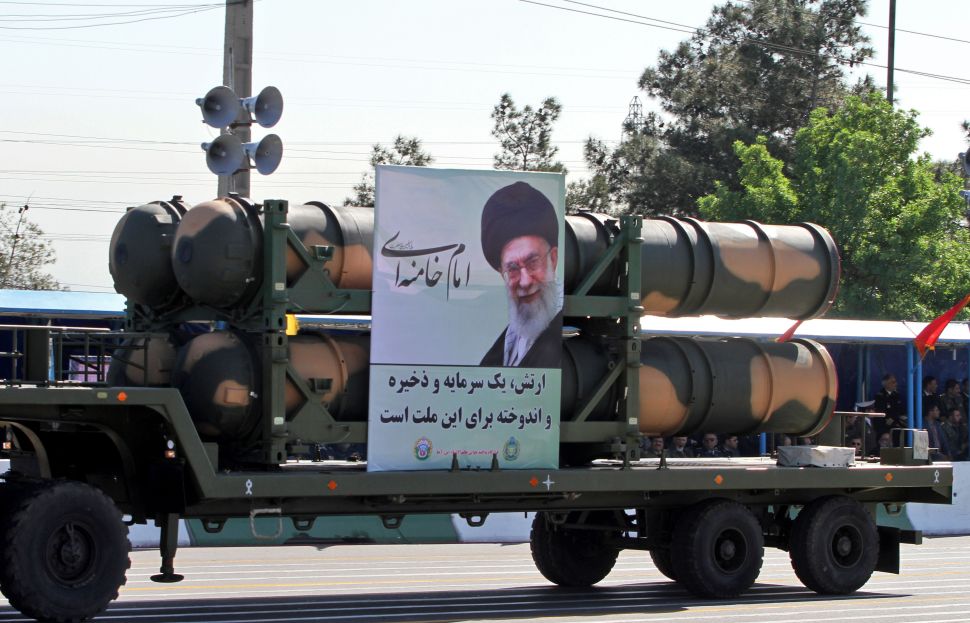 While all eyes are on North Korea, Iran is advancing its weapons technology. The country recently tested and announced the success of their new Bavar 373 long range, mobile, anti-missile defense system. Everything in the system is manufactured in Iran; it requires no support from outside sources.
Iran developed the Bavar 373 in response to sanctions slapped on the country in 2010. When it became clear to Iranian leadership that Russia would not be able to deliver the S-300 long range mobile missile defense system they had requested, Iran took the bull by the horns and made its own. At the same time, Iran took Russia to the World Court for breach of contract, arguing that they paid for the weapons in full and Russia failed to deliver the goods.
Iran understood that they needed to improve their anti-missile system. The Bavar 373 is almost an exact replica of the S-300. By the time the sanctions against Iran were lifted in March 2015 and Russia was able to deliver the rest of the S-300 order, Iran was nearly finished with its project. Iranians decided to use the Russian S-300 in addition to their own Bavar 373.
For Iranians, Bavar 373 also has religious significance. Bavar means "believe" in Farsi, the Persian language, and 373 is the numerical value of Mohammed's name in Arabic, known as Abjad. Abjadiyah means alphabet in Arabic. Like in all ancient languages, Arabic letters correspond to numbers. In Hebrew, this is called Gematria.
The Bavar 373 will be operational in March 2018. By that time, the Russian S-300, which was first produced in 1978, will be outdated and irrelevant. Its systems are poor, its programming is slow, and it does not readjust quickly or well. The Russians' new version, the S-400, rectified all those problems.
Israel is carefully watching Iran develop its military arsenal. They did not raise the flag when Russia resumed delivering S-300s. They did not go public with their displeasure when the Bavar 373 was introduced. This atypical behavior can be explained by one thing: Israel has found a way to game the S-300. Gaming military systems is not a new sport for Israel. They did it on September 7, 2007, when they successfully attacked the Syrian nuclear plant.
The operators of the Russian anti-missile systems saw a single plane on their screen, then a dozen, and then a swarm. Next thing they knew, their entire screen was covered with Israeli aircraft. The operators assumed it was a malfunction. It didn't dawn on them that it was an attack that would render the atomic plant unusable.
Interestingly, though Iran has been vocal about the Bavar 373, the Western world has shown little interest. Russian news, Israeli news and Iranian news covered it. These countries all have obvious stake in the game. Additionally, Pakistani press, some British outlets, and serious military sites like Jane's covered it. For Iran, this is perfect. They will interpret this as a green light to proceed.
Iran is not violating the nuclear deal by creating these weapons. During the embargo, it was forbidden to sell weapons to Iran. Now, after the deal, they are severely limited in their nuclear, biological and chemical weapons production. However, the Bavar 373, like the S-300, is a defensive weapon. Iran is not prohibited from creating these weapons, and there is no law against importing or exporting them to Iran.
Iran understands that North Korea has unintentionally given them the best present they could ask for: They have diverted the world's attention. Because the world is preoccupied with North Korea, Iran can move ahead, unchallenged and unchecked. And that is exactly what it  will do.
Micah Halpern is a political and foreign affairs commentator, author the "The Micah Report," and host of the weekly TV show "Thinking Out Loud w Micah Halpern." Follow him on twitter: @MicahHalpern