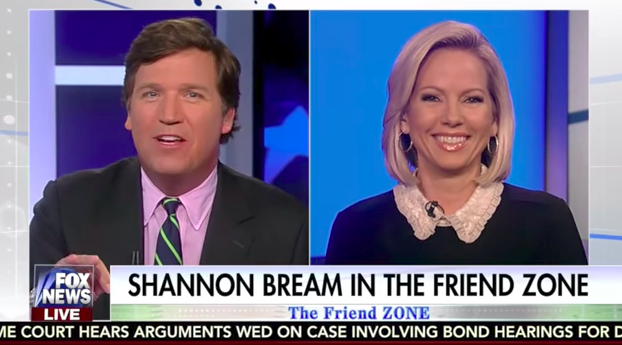 Sean Hannity hasn't yet moved into his new 9 p.m. time slot, but his Fox News Channel bosses may have already picked his replacement.
Her name is Shannon Bream. She's a rising star at Fox, and she's a blue-eyed blond. At one time, that look was thought to be the "Fox type." That, along with dirty, old men.
As Hannity moves from 10 p.m. to one hour earlier starting next Monday, Bream will get a solo, one-hour show at 11 p.m., beginning October 30. Bream's show will be called Fox News @ Night. On that same night, Laura Ingraham's new show launches at 10 p.m. on Fox.
"Fox News @ Night will be a live hour of hard news and analysis," Fox's press release said. "…Today's most consequential news."
Key words here are "live" and "news." In a ratings slump relative to progressive MSNBC, right-wing Fox rarely covers live news in the evening. Part of the problem is Tucker Carlson Tonight, a formulaic 8 p.m. eyesore with a predictable host and predictable guests offering predictable opinions.
Worse is Hannity, usually prerecorded with the host missing major news developments by design and chanting the same talking points night after night. Hannity is moving into the blue-eyed blond slot vacated by news actress Megyn Kelly, whose new weekday show on NBC begins next Monday at 9 a.m., after Today.
The battle on the p.m. side will be between the stale Hannity approach to right-wing opinion against Maddow's energetic (if sometimes long-winded) format of live, analytical reporting. Her show last month led cable news and her network's ratings are rising as a whole.
MSNBC's surge is partly a factor of the resistance to amateur President Donald Trump and also due to the problems at Fox, which included the departure of emperor Roger Ailes in a sex scandal and the departure of ratings king Bill O'Reilly in a sex scandal and the departure of rising star Eric Bolling in a sex scandal.
Hannity—who presents himself as a family man—could get clobbered head-to-head not only by a woman but by one who is a proud lesbian. Ailes would spin in his grave. Gretchen Carlson could laugh all the way to the bank with the money Fox had to pay her. Kelly might wonder what might have been.
Until now, Fox has shown reruns at 11 p.m. against Brian Williams live on MSNBC and Don Lemon live on CNN. If Bream fares well against them while Hannity falters against Maddow, look for Fox to move up the fox and kick Hannity to the side.
Health Scare Propaganda
Amid anxiety over the hurricanes, the earthquakes and the nuclear bomb test in North Korea, Senate Republicans are continuing their sneaky attempt to destroy health care for millions of American citizens.
Their latest effort could be heard on the three cable news channels all day Thursday, starting in morning when Republican Senator Ron Johnson of Wisconsin tried to Mau-Mau interviewer Willie Geist on Morning Joe on MSNBC while discussing the bill known as Graham-Cassidy.
Despite repeated questions from Geist and his colleagues, Johnson refused to say if the Republican Senate plan will eliminate health care for anyone. Instead, he huffed and he puffed and he attacked the Affordable Care Act.
"Obamacare," Johnson said, is an abuse of taxpayer funds by "able-bodied people," a financial "disaster" that is "unsustainable," and that it would be foolish to "throw billions of dollars into a failing system."
(Translation: "This program is used by healthy welfare moochers who waste your hard-earned, taxpayer dollars; give that money, instead, to rich folks).
More blunt was Rep. James Comer, a Kentucky Republican, who told CNN about those health care moochers and how he might vote to put a stop to them.
"A lot of times, people are better off to stay at home and have free health care and not go to work," he said. "I'm leaning 'Yes.'"
Should the Senate Republicans succeed and pass the bill by September 30, Comer and his House colleagues would have to approve it. Driving home the conservative argument on Fox News Channel was Marc Short, legislative director for the White House.
Short said "Obamacare is collapsing." He used the word "collapsing" three times in a brief interview. So the GOP argument amounts to this: In order to save millions of people from the collapse of Obamacare, they will take away their health insurance. Case closed.
None of them mentioned the efforts of amateur President Donald Trump and his minions to create a self-fulfilling prophesy about "collapsing Obamacare" by using half-truths, buzzwords, fear tactics, misleading talking points, and outright propaganda to undermine and sabotage the health care expansion in order to cut taxes for their wealthy donors, as those donors have demanded.
Later in the day, Republican Rep. Tom Reed of New York, a moderate, told Chris Hayes on All In on MSNBC that he doubted if the Senate would pass the bill, which is unpopular with vast majority of Americans.
"I don't think that's going to happen," Reed said. "If and when it fails… I think it will. I've seen the partisan path before just blow up."
The next guest, Democratic Senator Chris Murphy of Connecticut, smiled and disagreed.
"That's not reality," Murphy said. "This bill is one vote from passing."
By late in prime time, Lawrence O'Donnell of The Last Word on MSNBC was showing video clips of the feud between ABC late-night talks show host Jimmy Kimmel and various right wingers about this very issue. Among them was Brian Kilmeade of Fox & Friends who grouped Kimmel with the "Hollywood elite."
Kimmel implied that Kilmeade is a two-faced groupie who "kisses my ass" whenever they meet in person.
"You phony little creep," Kimmel called Kilmeade.
"Meathead" bests fathead
During Tucker Carlson Tonight on Fox, reactionary host Tucker Carlson usually does one segment nightly of "Ambush the Liberal," although he never calls it that.
The format calls for the liberal to speak on a split screen from a remote location while Carlson—safe in his studio and unseen by the guest—frowns, grimaces and winces.
Then, on most nights, Carlson attacks the guest by distorting his argument, attacking his own distortion and then interrupting and talking over the guest while giggling with a smirk on his smug mug.
Carlson tried it on Thursday night with Rob Reiner, the Hollywood progressive who used to play the son-in-law "Meathead" on the 1970s sit-com All in the Family. Reiner is helping to set up a committee to monitor the connection, if any, between the Trump campaign and Russian espionage.
But when Carlson tried his non sequitur argument, Reiner was ready, showing he might have scouted his nemesis.
Carlson told Reiner that China hacks the internet even more than Russia does so, therefore, Reiner was a hypocrite for not attacking China. And he also tried to conflate Reiner's use of the word "war" with cyber war and painted Reiner as a warmonger.
While Reiner tried to explain, Carlson kept interrupting until Reiner said, softly, "You're not letting me make a point here."
CARLSON: "Go ahead."
REINER: "It's not just about hacking into computers and stealing information. It's about using that information and weaponizing it…"
Reiner continued for 50 seconds until Carlson regained control of his show.
CARLSON: "I agree with everything you've just said."
REINER (with condescending smile): "I love that you agree with that!"
CARLSON: "But you didn't answer my question."
REINER (smiling again): "What was the question?"
CARLSON: "Why isn't China in the movie?"
REINER (with restraint, as if trying not to embarrass a slow-witted student): "China has not insinuated themselves directly into our democratic process…to try to affect an election."
Joe Lapointe spent 20 years as a sports reporter for The New York Times and worked as a segment producer for Countdown With Keith Olbermann. Recently, he has taught journalism at New York University, Rutgers and Long Island University-Brooklyn. follow him on twitter: @joelapointe