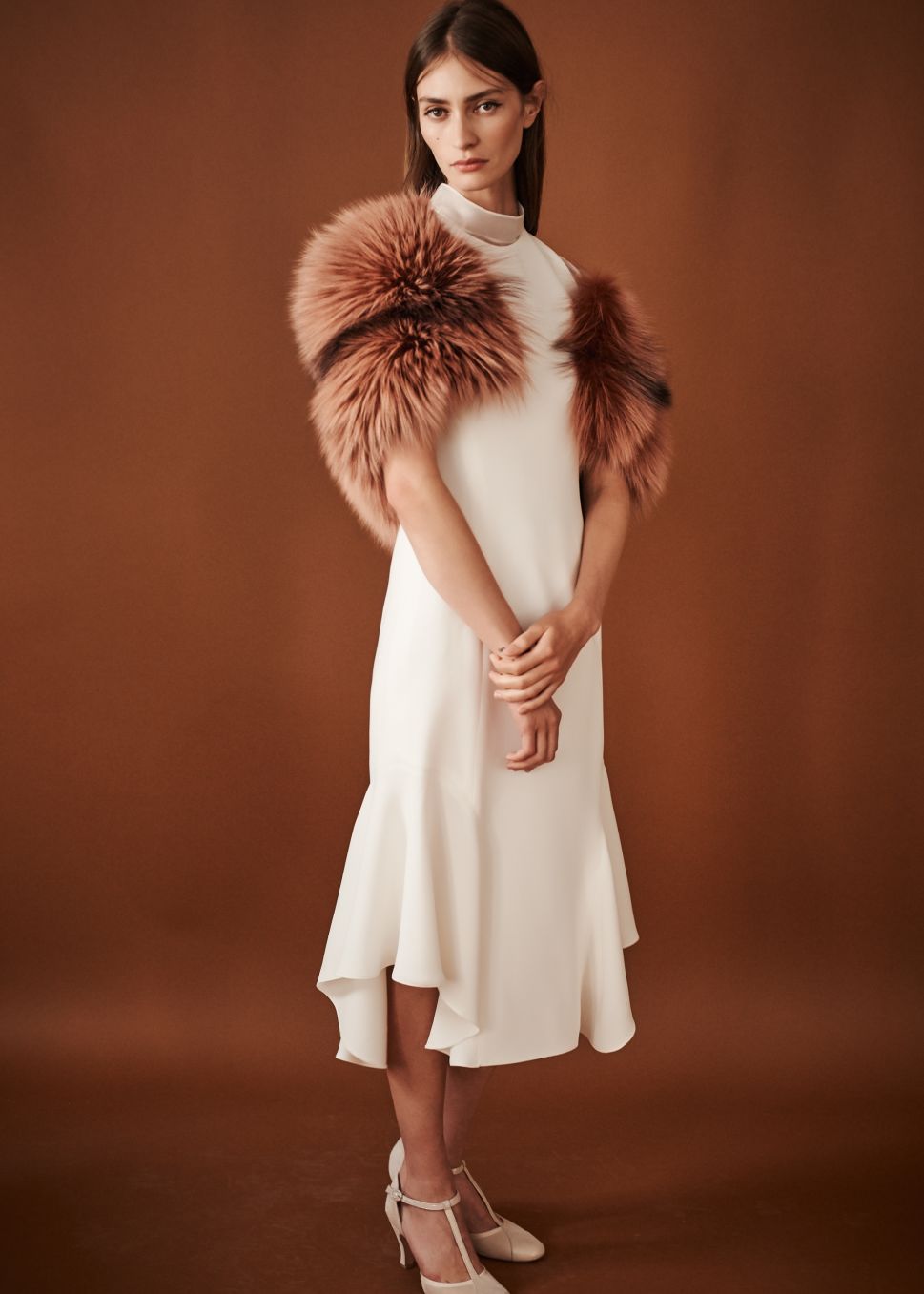 This season, the Manhattan-based fashion set bemoaned the departure of four major brands—Altuzarra, Proenza Schouler, Thom Browne and Rodarte—who decided to show in Paris this season. "Is New York fashion still relevant?" They asked. "Why is everyone cool leaving for Paris?" They wondered.
But for French creative director Gilles Mendel, who is leading the charge at his 147-year-old family brand J.Mendel, showing in New York is truly an honor.
"I love New York and I think 'Made in New York' is pretty cool," he told the Observer, in his delightful French lilt. "I have an atelier in New York City and my craftsmen might speak French, but I'm in love with the city. I come from Paris, I still make things in Paris, but you know, I stand for New York."
To show that love, he presented his poppy and teal colored spring collection, comprised of gorgeous sequined, pleated and fur-adorned frocks, in the penthouse of The Standard Hotel East Village. Behind the dresses, which were simply presented on mannequins (all the better to get a really close look at the details) and peeking out behind the massive arrangements of hydrangeas, we could see the skyline of lower Manhattan. There was the glimmering Freedom Tower, the skyline of the Financial District and tiny squares representing the roofs of nearby buildings. And that was entirely the point.
"I love the contrast of these clothes against the gritty city," explained the fifth-generation designer. Here, he tells us more about this Spring collection, how he's making fur modern and what he thinks about the current state of fashion.
What inspired this range?
This collection is all about the Jazz Age and the '30s, you know the music, the little flapper dresses. It was the first time that women were free to express themselves in a different way than they were used to. But there is always a little bit of Lauren Bacall somewhere in the collection, like the high-waisted pants. She could be smoking a cigarette outside somewhere, saying something not too polite.
What's the story behind the colors?
I was also inspired by a painter from the same period of the '30s, Francis Picabia. He was in the time of cubism, so he did some amazing watercolor portraits that were in the hues of these colors, pale teal, apricot and dusty rose and poppy colors. It's very vibrant, very feminine and very flattering to the face.
Do you take current events into consideration when you design?
In the times we're living in today, it's nice to have a little bit of the two extremes. We live in a difficult moment, but there's also a moment where we should celebrate the woman, go to a party and just enjoy yourself.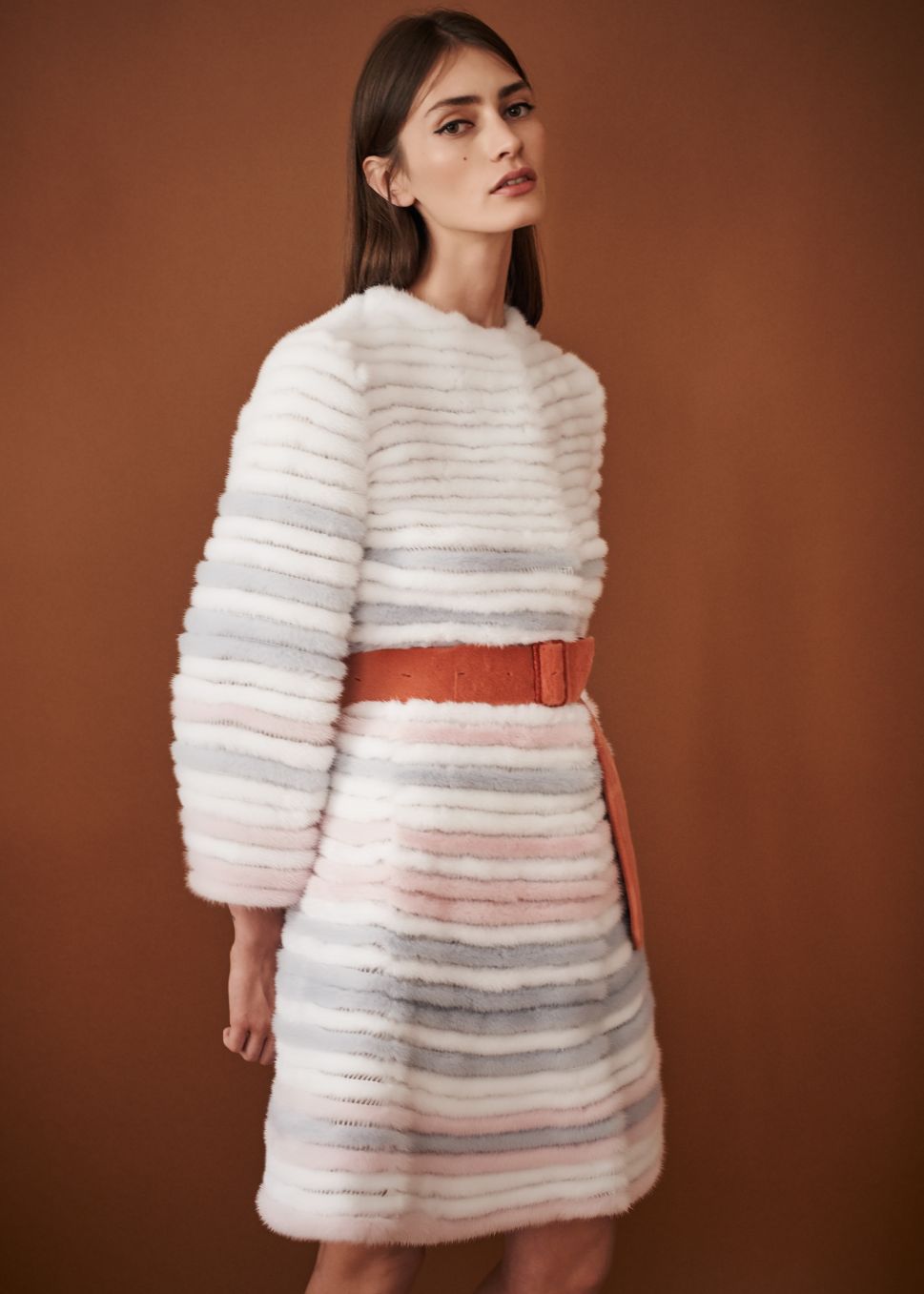 Did you use any new fur techniques this season?
It's really hard to make a very deconstructed trench coat look like a trench coat, but we made one that was cut from millions of little slices of fur. This white jacket is also super light, literally you could fold this and put it in your bag. If you travel, there's nothing better. I have friends who take these things and fold them, to use as a pillow on the airplane. It's the best and super chic. It keeps you warm, too.
What are your thoughts on the current state of fashion?
Today, with disposable fashion, it's good to keep some houses, like mine, with a sense of value and quality. My pieces are affordable, but you really buy something that is timeless and one day maybe this dress will go to your daughter.
And what makes your eveningwear different from the rest out there?
I think originality and the way we present ourselves is so unique. We are so successful, even with celebrities. It's great to have these ambassadors wearing our clothes; they do it because they like the clothes, not because we have budgets to spend on them. We are small, but we have the advantage because of our skills.