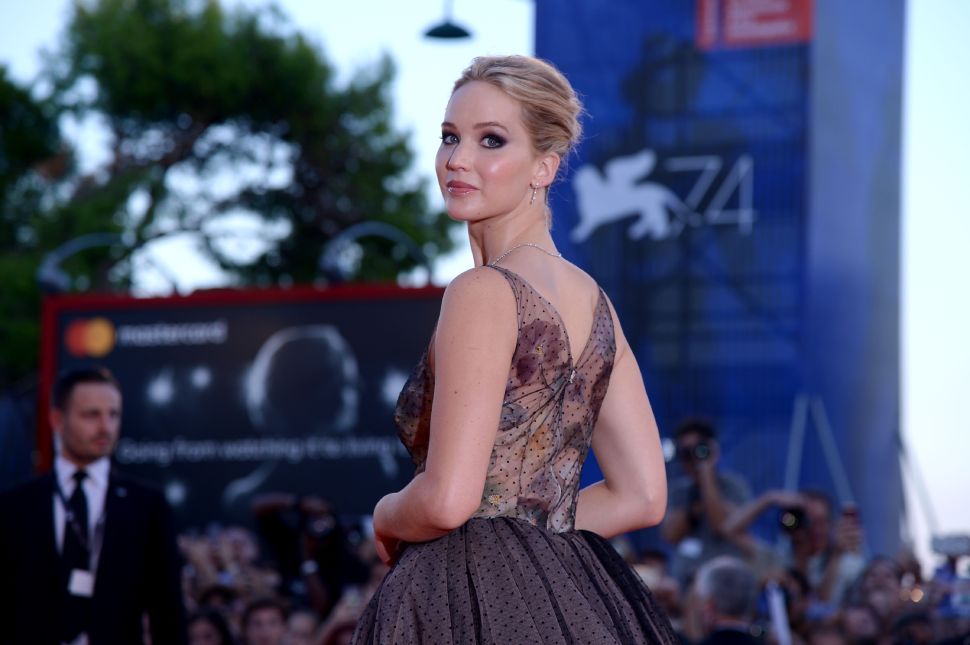 We love Jennifer Lawrence, you love Jennifer Lawrence, everyone loves Jennifer Lawrence. Unless, of course, you're one of those individuals that hates Jennifer Lawrence with a fiery passion. Regardless of where you stand on the Great J-Law Debate of the 2010s, two things are for sure: 1) she is one of the biggest movie stars on the planet and 2) she hasn't actually scored a real movie star victory in a while.
We bring this up now because, despite some interesting critical reactions, Lawrence's latest film mother! is being absolutely shredded by moviegoers. With this in mind, it becomes clear that the 27-year-old actress is in a bit of a slump. Take a look at the movies Lawrence has appeared in since the back-to-back hits of American Hustle (2013) and X-Men: Days of Future Past (2014), courtesy Box Office Mojo.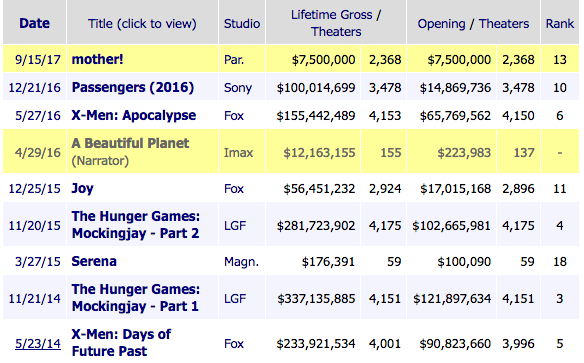 The Hunger Games concluded its franchise with a needless two-parter that saw a serious dip in quality—and diminishing revenue (Mockingjay—Part 2 was actually the lowest-grossing entry in the series). Joy was a little-seen disappointment that failed to live up to the hype (though is better than its 59 percent on Rotten Tomatoes). We'll look back on X-Men: Apocalypse as the death rattle of the traditional X-franchise, and Passengers for botching what was an otherwise really interesting script.
So, yeah, despite the public persona as the Internet's crush, Lawrence hasn't actually produced a win in three years. But here's why none of that matters.
For starters, Lawrence has mastered the celebrity side of being a Hollywood A-lister. She plays the audience well at every talk show stop and is easily the most GIF-able star we have right now. People like her and want to talk about her. As such, a string of misses isn't going to bump her from the elite, à la Geena Davis-style. In fact, all it's doing is providing new lenses through which to view the young star (ex: this article).
Secondly, it's easy to see the logic behind each of her films during the sluggish last few years. Finishing out The Hunger Games was a no-brainer, and it's not as if either of the final two installments were out-and-out flops. Both movies were still considered big deals in the pop culture conversation, and joining the X-Men series was like graduating from franchise high school into college. Joy re-teamed her with director David O. Russell, who has netted Lawrence's two Oscar nominations and one win. Eight of the top 10 highest-grossing films of all time have some kind of sci-fi slant, so Passengers (again, good script) made sense—especially opposite Hollywood "it" guy Chris Pratt. And mother! is the kind of bonkers, risk-taking WTF offering we're always complaining that studios don't make anymore. None of these choices are head-scratchers, they just didn't quite land as hoped.
Would Lawrence have reclaimed the title of biggest actress in Hollywood from Emma Stone had mother! been the breakout hit that dethroned It? Yes. But it doesn't really matter that it didn't. It doesn't really matter that Lawrence hasn't sniffed the Oscars or a worldwide blockbusters in a few years. She's so carefully crafted a powerful and enticing Hollywood narrative that we can't—and, more importantly, don't want to—look away. We like (for the most part) her "girl next door" persona, and we've continually rewarded her character choices on screen. That's more than enough goodwill to keep her afloat until the next big win (and, believe us, it's coming).
After all, if male stars like Will Smith and Tom Cruise can survive extended rough patches, why can't female leads? Our top talents need the room to fail if they are ever going to make interesting art.
Let's not throw dirt on the coffin of her career just yet, not matter how many different ways mother! tries to kill her.