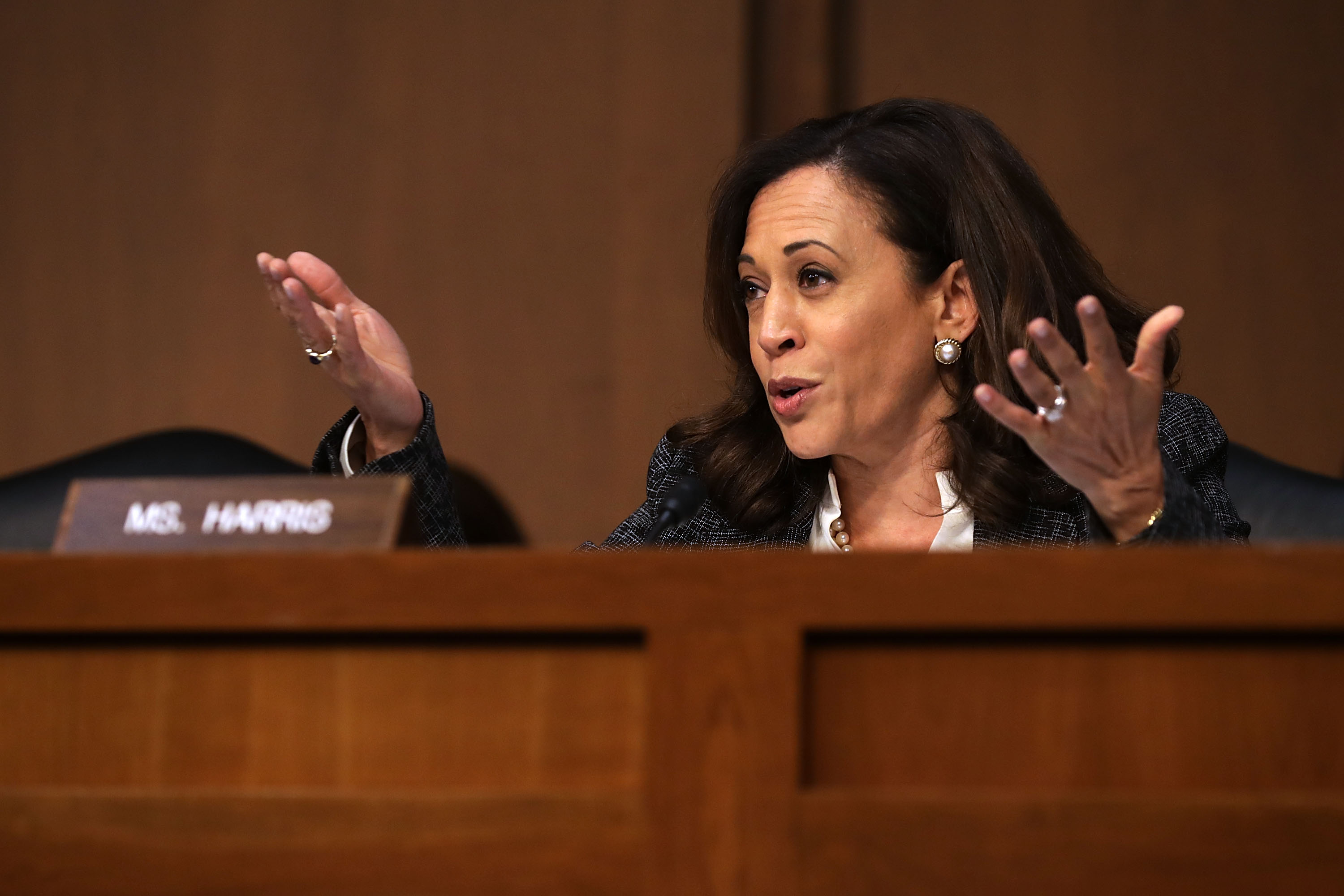 Senator Kamala Harris has spent her first year in the U.S. Senate positioning herself for a presidential run in 2020. Earlier this summer, she courted donors to Hillary Clinton in the Hamptons. She has hired several former Clinton staffers, including those with experience in Iowa. And even though she doesn't face reelection soon, she gave $400,000 to Revolution Messaging, the digital and branding strategy firm behind Bernie Sanders' 2016 campaign, to elevate her national profile. In a move that aligns her aspirations with a growing, popular movement, Harris formally announced her support of Bernie Sanders' Medicare for All bill on August 31, noting that she plans to co-sponsor it.
Progressives reacted to her announcement with cautious optimism. They lauded her decision but expressed concerns over her sincerity. National Nurses United Director Roseann Demoro tweeted, "@SenSanders from Vermont has publicly supported the Ca #SinglePayer Bill #SB562. I would like to see Ca Senators do the same."
Harris' support for the California legislation, though inconsequential since she serves in federal government, would boost the bill's momentum. In California, single-payer health care has been a divisive issue. A bill, SB 562, has been pushed by activists and the National Nurses United, but it has been coldly received by a stubborn Democratic Party. Even though it passed in the State Senate in June 2017, State Assembly Speaker Anthony Rendon shut down the opportunity for the bill to be voted on in the State Assembly. Rendon received widespread backlash from progressives and activists for the move.
The struggle in California has illuminated how dire of an issue health care reform is. A Medicare for All bill in the House of Representatives currently has 117 co-sponsors. Congressman John Conyers has introduced the bill every year since 2003, but this is the first time that a majority of Democrats in the House have supported it. In California, the State Democratic Party finally endorsed SB 562, the Medicare for All bill. However, Speaker Rendon has yet to allow the bill to move forward, and neither of California's senators, Kamala Harris and Diane Feinstein, have publicly supported it. Harris' support for the bill would help make Medicare for All a reality in California, but if she fails to speak out on the issue, her support for Sanders' Medicare for All bill in the Senate will be seen as little more than empty rhetoric. Progressives will see it as pandering to win their support rather than a sincere effort to provide health care to every American.