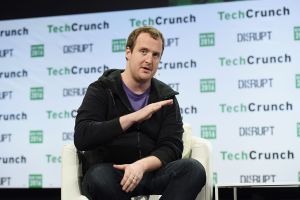 Regular people will have cryptocurrency wallets very soon, if they use the popular messaging app Kik. These wallets are digital apps that store a public and private key that allow a user to receive and spend digital money.
Canada's Kik announced in a press release this morning that it had raised nearly $100 million in its initial coin offering (VentureBeat says it was $98.8 million). As we've previously reported, Kik hopes that by creating the cryptocurrency Kin it can have a sort of exit without an exit. Rather than release the currency by mining, the system will release it to developers who make apps that prove to be popular to users, effectively paying them for their efforts (that is, so long as the Kin token has enough activity to make it valuable).
In order to establish a value for their token and to raise money for its development, it sold ten percent of its total tokens in this first offering, which means that the market cap for the whole pool of Kin is right around a billion dollars now (even though most of it isn't tradeable yet).
This is perhaps the first really mainstream application of cryptocurrency. Up until now, products in this space have been crypto-native, but this is the first widely used platform founded prior to the crypto boom to incorporate the technology. It might be an important moment, but how long will we need to wait to see?
$100 million is a lot of money and it could fund work for a very long time, but it looks like the team plans to move relatively quickly.
"People who participated in the token sale will be able to access a Kin wallet in Kik starting tomorrow," a Kik spokesperson told the Observer in an email. "We are also doing a Gmail-style roll-out, starting with 1,000 of our most active users. We will take a measured approach to the roll-out because of scalability issues with the blockchain and will increase the number of users with wallets as more features become available."
If using Kin becomes at all popular, it will be a big moment in cryptocurrency. It will put wallets in the hands of loads of mobile users. Many of them probably won't use the wallet, but if a decent number of them do, it will introduce them to crypto as money, as a way to buy things that they want (even if those things are animated stickers or chat time with a YouTube star). Cryptocurrency has been treated as money before in a large scale way, but mainly for buying illegal goods. These days, it is mostly a store of value (like gold) or a speculative bet (like stocks), though all of that is changing.
It will be very interesting to see if Kik creates functionality to buy Kin with fiat currency. It's not very easy to buy most cryptocurrencies right now, so if they make that possible it could increase Kin's popularity as an entry and exit point to the larger market for cryptocurrency.
Then, if lots of teenagers become accustomed to using it to buy stuff, it could create a habit that ripples out to other parts of the economy.