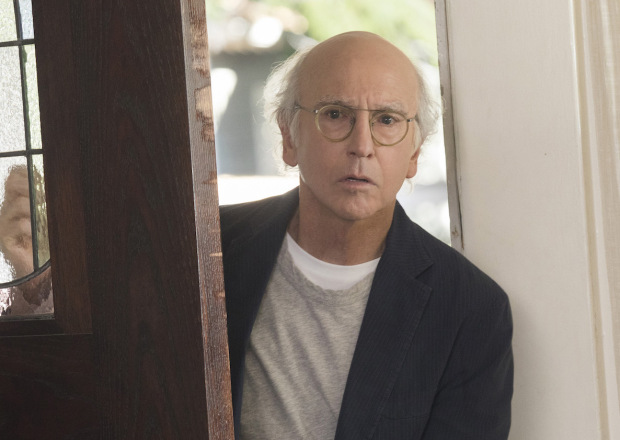 If there was any doubt that Larry David could find new, uncomfortable situations to get himself into on the new season of Curb Your Enthusiasm, rest assured, he has plenty of material. He's really good at putting himself in awkward positions. That, and oh, getting thrown out of restaurants, friends' homes… a bus. This was evident in the clip reel for the new season of Curb Your Enthusiasm, premiering October 1.
When talking with reporters at the Television Critics Association recently, David was surly with the crowd from the jump. "Fascinating question," he responded to one of the first questions, with all the sarcasm one would expect and nothing else to add to his answer.
True to his nature, David's answers were short and often diversionary. He admonished a critic for asking a thinly-veiled Seinfeld question, then didn't answer it but rather took the opportunity to display just that much more of his sardonic tone.
David is basically the adult, unanimated version of Christopher Robin's Eeyore character. He held court on stage. A few times he didn't even have to say a word to garner a laugh, simply giving a look that said volumes.
By his own admission, TV Larry is about "a quarter of an inch" away from "Real Larry." If you've ever met him in person, you'd believe it.
Fans of Curb have waited (very impatiently, according to David) six long years for new episodes. Yes, six years.
One of the reasons was simply that he enjoyed the act of throwing in the towel. "It's a very satisfying thing, quitting. Did you ever go up to a boss and say, 'I'm done! I've had it. Go to hell!' It's fun."
So what made him decide to "un-quit" the successful series? "I'm not a miser, so to speak. I don't really miss things, people, that much, but I was missing it, and I was missing [the cast]. So I thought, 'Yeah, what the hell?' And I got tired of people asking me, 'Is the show coming back?' I couldn't face that question any more, and I wasn't ready to say, 'No, never.' I kept saying, 'Oh, you know, maybe. Who knows?' So I thought, 'Yeah, I won't have to be asked that anymore.'"
Executive Producer Jeff Schaffer said that fans shouldn't worry; season nine will see Larry in many of the terribly problematic circumstances that he's known for. "I will say just imagine, in the six years since we're been on, the amount of uncomfortable situations he's been in. It's been amazing, and you're going to see it all. It's like we're sitting in the Fort Knox of awkward," said Schaffer.
Schaffer described how this most recent season came in to being. "It starts with [being] done," he said. "There are no more seasons. There's not going to be another season. Then [Larry] calls up and goes, 'we are not doing another season. Even if we did, I only have one idea.' I go, 'Well, do you want to talk about it?' 'No. It's stupid for me to talk about it. It's a waste of time.' And we talk about it, and them I'm, like, 'Do you want me to come back to the office [to talk about it]?' 'No. It's a waste of your time.' 'Well, I have other things to do.' This goes on for months. Then there's about six or seven shows written, and then we go, 'Hey, do you want to tell HBO you want to do another season?' So that's the order. Only after the season is mostly written do we tell anyone that we are doing it."
When asked his thoughts on the current political regime, David's co-star Susie Essman says, "I think Larry's been an inspiration to [Trump]." David's comeback? "Well, I don't consider myself a prick." Essman added, "Right. And one is mentally ill, and one is sane."
Seeing David on stage, you start wonder if he's just playing a character all the time. But when asked about his recent milestone birthday—David hit his 70s in July—his response says it all. "[It was] extremely unpleasant, very unpleasant experience. Thank you for reminding me." It's not an act, it's just Larry David, the person, a quarter-inch away from the guy we know from TV.
Anne Easton is a West Coast based writer for The Observer. She's an Emmy-award winning writer and producer who has worked in news, sports and children's television for FOX, ABC/Disney and the ReelzChannel. Follow her on Twitter at @anne_k_easton.