Assemblyman Chris Brown's quest for the state Senate seat in the 2nd legislative district started long before he kicked off his campaign in a crammed Egg Harbor Township VFW in January.
In some ways, Brown (R-Atlantic) hasn't stopped campaigning since his 2015 re-election to the Assembly, building up union support, making inroads in Democrat-dominated Atlantic City and taking stands against North Jersey casinos and an Atlantic City state takeover. He's generated good will over the years in Atlantic County as an Army veteran, former municipal judge and local NAACP chapter member.
"There was a fundraiser recently and I introduced Chris, and I talked about a book I read a long time ago. It's called 'Dig Your Well Before You're Thirsty,'" said Atlantic County Republican Committee Chairman Keith Davis. "And I said, 'Chris Brown has been digging this well for the state Senate seat so well and for so long that he's almost hit China.'"
Insiders agree Brown is well-positioned to win the Senate seat as the unofficial start to campaign season begins after Labor Day. "From a statewide perspective, this is one of our top pick-up opportunities, if not our top pick-up opportunity," said Harrison Neely, executive director of Senate Republican Majority, the GOP campaign arm.
But Brown still faces significant challenges in what's one of the few swing districts in New Jersey. Democrat Colin Bell, a former freeholder and prosecutor, is a sharp candidate who will have plenty of financial support behind him to battle Brown for the Senate seat formerly held by state Sen. Jim Whelan, who died last month and had announced his retirement.
With the help of a super PAC backed by South Jersey power broker George Norcross, Democrats poured millions of dollars into the district in 2015 — outspending Republicans nearly 4 to 1 — and are expected to do the same this year. Bell ran for Assembly in 2015 and finished third, but was just 2 points behind Brown, the top vote-getter.
There are also outside forces Brown can't control. It's a gubernatorial election year, and Democrat Phil Murphy is expected to win the governor's mansion, likely helping down-ballot Democrats. Atlantic City has a rare competitive mayor's race, which could draw more Democrats to the polls. And in the most unexpected of circumstances, Bell will likely run as an incumbent now after Whelan's unexpected death. Atlantic County Democrats are expected to appoint Bell to the seat Tuesday.
"Colin Bell is a candidate we believe is a proven vote-getter," said Senate Democratic Majority Executive Director Michael Muller. "He was able to win a seat on the freeholder board. He came very close two years ago [in the Assembly race], and New Jersey has a history of candidates that in that second time for a run — whether it's in the Legislature or sometimes statewide — punching through and getting across the line. So we're deeply invested in Colin Bell."
The 2nd legislative district, which includes Atlantic City and most of Atlantic County, has attracted more political spending than any other district in the state since 2003, according to the Election Law Enforcement Commission. More than $25 million has has been spent on legislative races there from 2003 through 2015, roughly $5 million more than the second-most expensive district. Nearly $5.2 million was dropped on the 2015 Assembly races, according to ELEC.
Neither Brown nor Bell have submitted campaign financial disclosure forms for the general election. For the primary election, Brown raised more than $427,000, while Bell raised roughly $32,000.
Brown, 53, has served in the state Assembly since 2012. A lawyer by trade, Brown was a municipal court judge in Galloway Township before jumping into his first Assembly race in 2011. He served overseas in the Army during the Persian Gulf War and was awarded the Bronze Star and Combat Infantryman Badge. Brown was activated for duty again during Operation Iraqi Freedom, but ultimately wasn't deployed to Iraq. He lives in Ventnor.
Bell, 36, is also a local attorney and was assistant Atlantic County Prosecutor from 2006 to 2008. After losing his first race for freeholder, Bell was elected countywide in 2012 to the Atlantic County Freeholder board, where he was one of just two Democrats on the nine-person board. He lives in Margate.
Republicans plan to run a playbook similar to that of 2015, when they focused on opposing North Jersey casinos and promoted Brown as unbeholden to the political bosses of either party. A ballot question to expand gambling outside of Atlantic City — where five casinos have closed since 2014 — went down in flames in November 2016. And Brown, a fervent fighter of North Jersey casinos, will take credit for that.
"Having a history of standing up to Governor Christie, continuingly speaking out for Atlantic County families, combined with my willingness to reach across the aisle and work with Speaker [Vincent] Prieto, I have demonstrated an independent leadership that has hopefully resonated throughout the district," Brown told Observer in August. "I have shown people I have fulfilled my campaign promises of 2015. … Before it was rhetoric, now it's results."
Over the last few years, Brown has contrasted his record with that of Whelan and Assemblyman Vince Mazzeo, two South Jersey Democrats he was positioning himself to run against. Mazzeo (D-Atlantic) had announced a run in January to replace Whelan. But just two months later — citing the recent death of his father — Mazzeo dropped out the race amid rumors that Democrats worried whether he was up to the task of taking on Brown.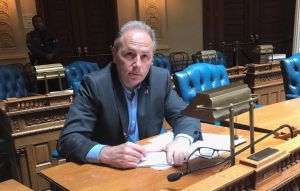 Enter Bell, who may lack the name recognition of Mazzeo but still presents unique challenges to Brown. Bell doesn't have a voting record in the Legislature that Brown can bash him with. Mazzeo earned heckles because his signature was mysteriously whited out on a draft resolution to stop North Jersey casinos. Bell does not have that kind of baggage. He didn't sponsor a controversial law to let the state take over Atlantic City's troubled finances. The first thing Bell did when he became a Senate candidate was issue a statement opposing the takeover.
"He still talks about the same attacks on Vince," Bell said of Brown in August. "It's a little different match-up than what he probably wanted and what he was prepared for, and I think you see that in some of the frustration that he expresses when he's in any sort of public forum and they ask him about it, and he just goes right back to the white out and the takeover."
Republicans will still try to tie Bell to Mazzeo and Norcross, who has expressed an interest in Atlantic County. "He's funded by the same political boss as Mazzeo," Brown said. Davis called Bell a "loyal South Jersey Democrat."
For Democrats, the plan is to point to Brown's sometimes-conflicting voting record. He supported a bill to increase the gasoline tax, then voted against a later version of the legislation that became law. He's been a harsh critic of a law that let casinos make fixed payments in lieu of property taxes, but he's voted for the bill several times. Brown has explanations for these votes, usually pointing to differences in the bills. But Bell said Brown is "on both sides of every issue."
Bell and his Assembly running mates — Mazzeo and Buena Vista Township Committeeman John Armato — have mostly steered cleared of North Jersey casinos, the casino PILOT law and state takeover on the campaign trail. They focus on property taxes, Atlantic County's foreclosure crisis and diversifying a local economy still dominated by a diminished casino industry, along with other issues ranging from women's health to the opiate crisis.
"I've knocked on more than 1,500 doors. My talk [has been about] heroin, veterans and saving energy. Not one person has ever said, 'Don't care, tell me about the PILOT. Tell me about the takeover. Not one person," said Armato, a U.S. Air Force veteran.
Brown is running with Assembly candidates Vince Sera, a Brigantine councilman, and Brenda Taube, a Margate commissioner. They warn the next fight against North Jersey casinos is on the horizon. And they talk about an affordability crisis that echoes the property tax talking points of Republican gubernatorial nominee Kim Guadagno.
"The first thing that got me involved was watching Chris Brown's fight against North Jersey gaming. It really made me realize Chris can't be the only legislator in the district fighting for people of Atlantic County," Sera said.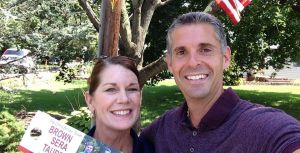 "Make Atlantic County more affordable for families and retirees," Taube said. "There's an exodus right now of businesses and residents from New Jersey because we have the highest property taxes in the nation."
Strategists on both sides said Brown has the early edge over Bell in the Senate race, and that Mazzeo, a two-term incumbent, is a favorite to keep his Assembly seat.
"I think I'm a more seasoned campaigner," Mazzeo said. "I know the ins and outs of campaigning and I think it's just a matter of reaching people and telling them what I am all about."
Both sides see paths to win all three seats. Republicans hope Brown can carry his running mates to victory. (Sera and Taube run as the #ChrisBrownTeam on Twitter.) A Democratic strategist said with the exception of Mazzeo, the other Assembly candidates are unknowns, and voters will default to partisanship at the polls. Registered Democrats outnumbered Republicans in the district 48,518 to 34,745 as of Aug. 31.
But recent history shows a sweep isn't likely for either side. One party hasn't controlled the entire district since 2005.