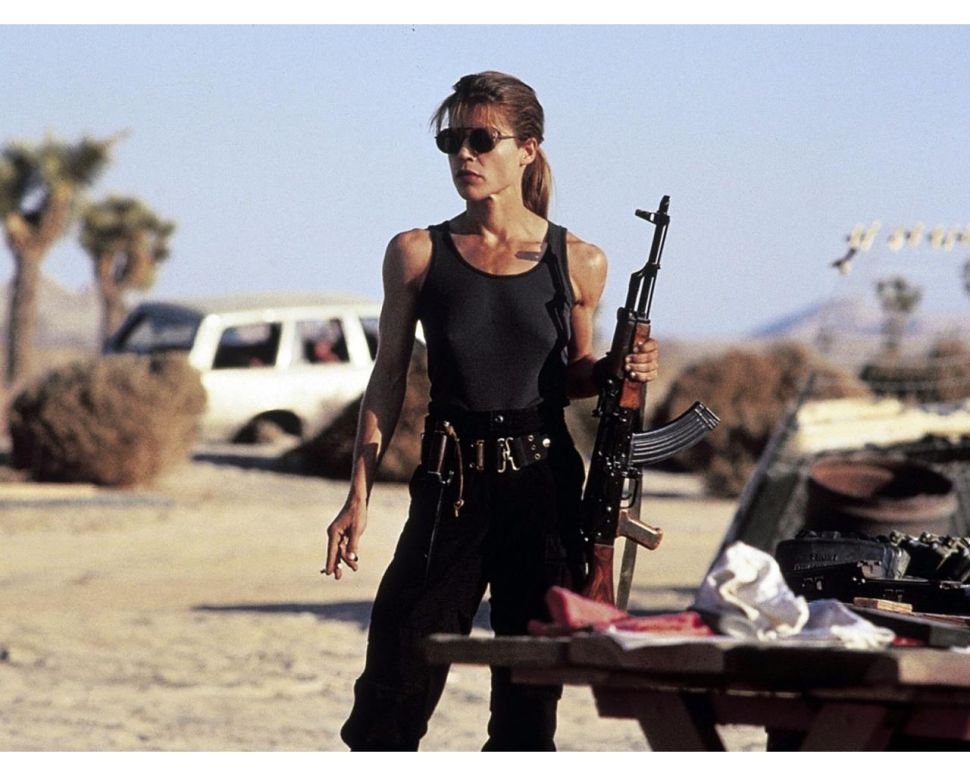 To quote Game of Thrones, "What is dead may never die." Sadly, this applies directly to Hollywood.
On Tuesday night, THR reported that Linda Hamilton would be returning to the Terminator franchise in a new film produced by original director James Cameron and helmed by Deadpool's Tim Miller. That's right, she'll "be back," as will Arnold Schwarzenegger who is set to reprise his role as the only face Skynet could come up with for their killer robots.
This marks Cameron's first return to the franchise since 1991's Terminator 2: Judgement Day, as he and Hamilton sat out the installments made in 2003, 2005 and 2015. While story details are unclear at this time, this new film is said to be a direct sequel to T2 and a potential set-up for a new trilogy (how, given the events of the later films, we don't yet know). In addition, the new movie will also pass the torch to a new generation of heroes Force Awakens-style.
"We're starting a search for an 18-something woman to be the new centerpiece of the new story," Cameron said. "We still fold time. We will have characters from the future and the present. There will be mostly new characters, but we'll have Arnold and Linda's characters to anchor it."
Here's why we're not on board with another go around.
The first two Terminator films are titans of the genre that changed filmmaking for the better, but the series hasn't produced a good movie in 26 years. What was once an iconic property and Schwarzenegger's defining role has become a punchline as the aging star continues to trot himself out there for increasingly nonsensical sequels. The fuzzy timeline of the franchise has also struck a nerve with fans who find the narrative overly convoluted and impossible to sort out. We've seen the kind of fatiguing effects continuity issues can have on a franchise (read: X-Men), so why keep trying to make Terminator re-happen? Recent efforts have only trampled the goodwill fans have for the series.
More importantly to the studios, there hasn't been a true-blue box office hit in the series since T2. The most recent entry, 2015's god-awful Termiantor: Genisys, was saved by last-minute ticket sales in China after bombing badly Stateside. But overall, the series has been limping along financially. Tentpole IPs are the name of the game in Hollywood these days, so we understand why Paramount (PARA) is keen on Terminator. But as we've seen with 20th Century FOX (FOXA) (Kingsman), Universal (Fast & Furious) and Warner Bros. (The Conjuring), you can create a profitable original-esque franchise with the right idea. We have a decade-plus of evidence that this series is no longer a genuine money-maker.
But the real reason this new Terminator movie stings so badly is that it marks the death knell of Cameron's time as true storyteller. With four Avatar sequels allegedly on the way and a potentially new Terminator trilogy, the remainder of Cameron's career will be spent re-hashing old ideas in tired franchises, playing in the same sandbox over and over. Sure, Avatar was visually stunning, but it was a creative bore. Cameron was once the most visionary, innovative and original director in the game. Now, apparently, he's content to rehash old material and count his money. Fans may never see another game-changer from him on the level of Titanic or Aliens.
Of course, there's the distinct possibility that we're wrong and this new Terminator sequel is great. The return of Cameron and Hamilton is very cool, to say the least, and Miller is generating a lot of heat following the runaway success of Deadpool. There's more than enough talent here to make a good flick that shuts our cynical mouths up. But don't blame us for feeling burned by the last three shitty Terminator movies.