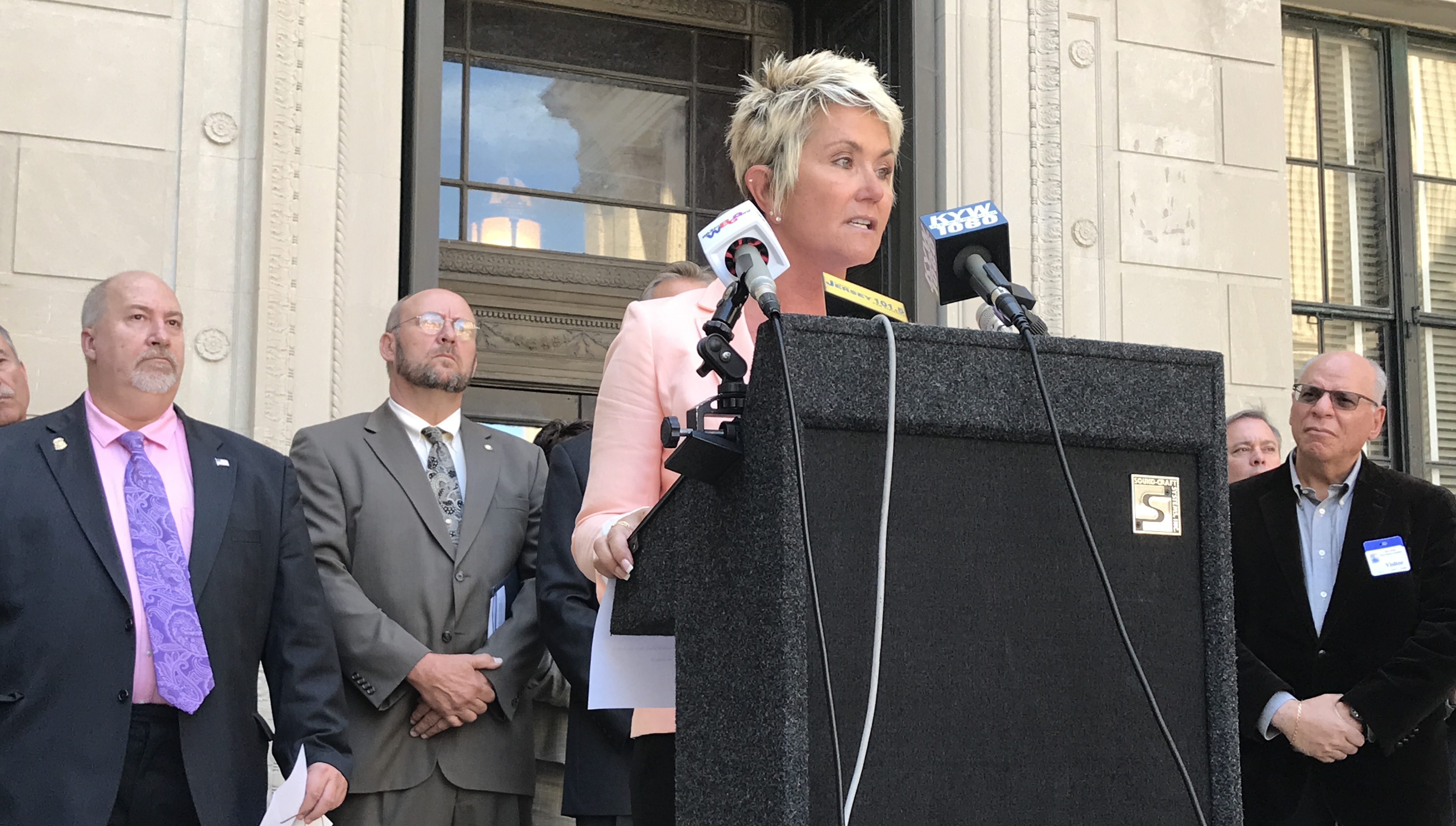 Local officials from across the state warned Friday that public services could be slashed if state lawmakers don't permanently extend a 2 percent cap on yearly salary increases for police and firefighters.
Members of the New Jersey League of Municipalities, New Jersey Conference of Mayors and New Jersey Association of Counties urged lawmakers to vote on extending the "interest arbitration cap" before it expires at the end of the year. The law effectively caps public safety salary hikes at 2 percent and is seen as one of the biggest factors in slowing the rise of property tax increases under Gov. Chris Christie.
"This has proven to be an effective tool to curtail property tax increases in our municipalities. We're here because this cap is working," said Clinton Mayor Janice Kovach. "The 2 percent interest arbitration cap has controlled one of the largest municipal expenses: public safety salaries."
Legislative leaders, however, have no plans to call a vote on extending the cap until after a report examining the policy is released. The analysis is due Dec. 31 – the same day the 2 percent cap is set to expire.
"Because I am approaching this issue responsibly and seriously, I will not make any judgements until I get those findings," Assembly Speaker Vincent Prieto (D-Hudson) said in a statement. "For me, this is not about politics or rhetoric. This is about policy and policy only."
Senate President Steve Sweeney (D-Gloucester) has also said he's waiting for the report and for a chance to discuss the law with the winner of November's gubernatorial election. Kim Guadagno, the Republican nominee for governor, supports extending the cap. Phil Murphy, the Democratic nominee, has not taken a position on the law and says he's waiting for the report to be released.
The law limits the salary increases that police and firefighters can receive in binding arbitration to 2 percent if they can't reach a contract deal with their government employer. Before the cap, public safety workers could win larger pay hikes in arbitration, officials said during a news conference outside the state house. East Rutherford Mayor James Cassella said arbitrators awarded salary increases of roughly 4 to 5 percent for public safety workers in his town before the cap was instituted in 2011.
A separate state law attacking the property tax problem limits local tax levy increases to 2 percent. That cap is permanent, and local leaders said eliminating the arbitration cap while keeping the tax levy cap would force municipalities to scale back spending on other services if public safety costs spiked.
"One of two things has to happen if there is no 2 percent arbitration cap," Cassella said. "One, you have to reduce services in another area, whatever that area is, or reduce police or fire manpower. That's the bottom line."
Christie has said he would sign a bill extending the arbitration cap before his term ends in January. But he claims Sweeney and Prieto are holding off on posting the bill until they hear from Murphy. Police and firefighter unions backing Murphy aren't huge fans of the law. Christie called Murphy a coward for not taking a position on the arbitration cap.
"He's a coward, an absolute coward and he's a political charlatan. He's trying to be everything to everybody," Christie said Wednesday.
Spokespersons for the Murphy campaign didn't immediately respond to a request for comment Friday, but they told other news outlets that Murphy is open to all solutions and accused Christie of being "more interested in bullying and name calling than leading."
Guadagno, who has made lowering property taxes a pillar of her campaign, said allowing the arbitration cap to expire is "tantamount to endorsing a de facto property tax increase on New Jersey families."
"I've called on Phil Murphy and the Legislature to support the arbitration cap, and I think they should extend it before the election," she said in a statement.