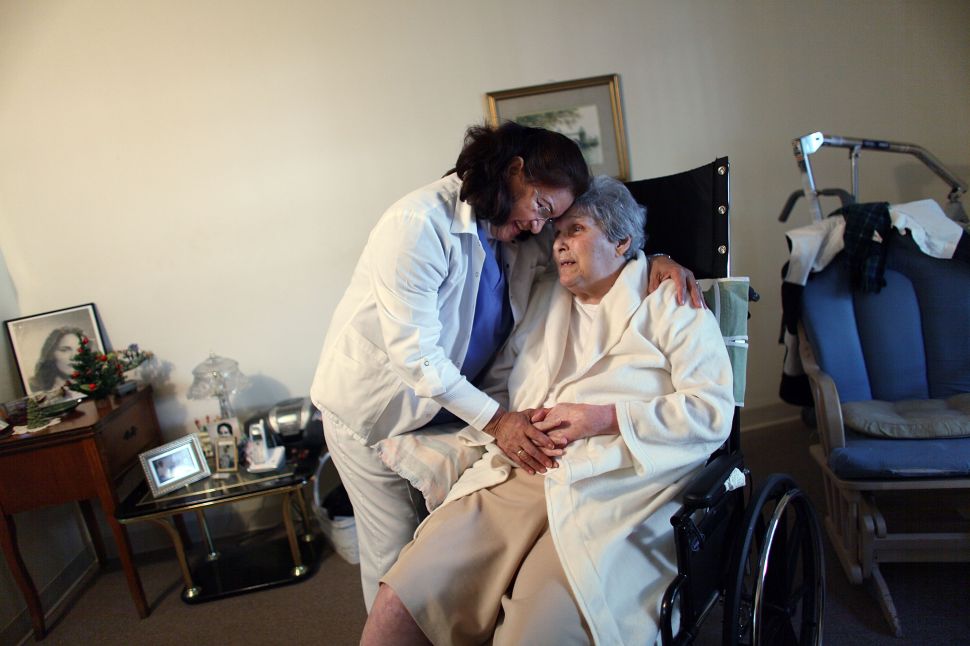 Amid the highly charged debate over health care policy in the United States, there is one important issue that receives little attention, even though it touches almost every American taxpayer: long-term care (LTC) financing.
Contrary to what many people believe, Medicare and private health insurance programs do not pay for all or even most of the LTC services that many of us will need at some point in our lives. Medicaid pays for LTC services, but only for people with limited assets. A cost-effective alternative to paying for the care of an aging population that is increasingly exhibiting Alzheimer's disease and other dementia-related issues is LTC insurance.
LTC insurance helps Americans who can no longer care for themselves pay for long-term care services in the setting of their choice and provides critical support for their caregivers. Nearly 10,000 Americans turn 65 every day. In 10 years, roughly 7,000 to 8,000 people will turn 80 every day. Combined with a low national savings rate and the fact that future retirees will not have defined benefit pension plans, the need for LTC insurance is clear.
Unfortunately, the private LTC insurance market in the U.S. is under severe stress, a condition that continues to worsen. The good news is that there is a time-sensitive opportunity to act.
In October 2016, Genworth Financial, the leading LTC insurance provider in the U.S. for the last 40 years with approximately 25 percent market share, agreed to be acquired by private Chinese holding company China Oceanwide. The transaction includes an additional $1.125 billion capital contribution to stabilize the Richmond-headquartered insurance provider, and by extension, the entire industry. Genworth is one of the few remaining U.S. insurance carriers committed to long-term care insurance and one of the few carriers working with regulators and both state and federal governments on solutions to overcome the widespread challenges plaguing the industry. However, Genworth will only be able to steward the change needed if it receives the stabilizing cash infusion provided by the transaction.
LTC Insurance Industry Challenges
Long-term care insurance carriers, including Genworth, have lost billions of dollars in recent years as carriers were expected to price their policies based on projections for interest rates, how long people would keep their policies, and mortality and morbidity projections 20 to 25 years into the future. These actuarial assumptions were determined at the time the policies were issued to people in their late 50s and early 60s with the expectation that nothing would change until the time they claimed benefits in their mid-80s. However, policyholders are living longer than expected, and mandated regulatory pricing models limited carriers' ability to raise premiums as their claims experience emerged.
In light of these difficulties, private LTC insurers are struggling to stay afloat. The number of insurance providers offering traditional LTC policies has dropped from more than 100 participants in 2002 to only about 15 today.
Meanwhile, the U.S. Department of Health and Human Services estimates that half of Americans turning 65 today will require LTC at an average lifetime cost of $138,000. Because only 8 percent of Americans have private long-term care insurance policies, we are looking at progressively larger increases in Medicaid payments for the millions of Americans who can't afford to pay for long-term care.
Annually, LTC insurers pay out approximately $8.6 billion and are expected to pay out between $150 and $180 billion over the next decade. The number of Americans receiving LTC insurance benefits is increasing each year, with more than a quarter of a million policyholders receiving benefits in 2016.
The current situation is untenable. To finance the rising demand for LTC, it is clear that a healthy, diversified public-private LTC insurance market is required. Such a multi-payer system delivers more affordable long-term care while alleviating pressure for increased taxes and federal spending.
Genworth Transaction
Of the remaining active LTC insurance providers, Genworth is the largest and the best positioned to advance the reform needed to revive the private LTC marketplace. However, the company has faced sustained losses in its legacy business over the last several years, due to the challenges that have plagued the entire industry and significantly impaired the company's financial flexibility.
There is broad recognition that a private LTC insurance market is needed and that the transaction with China Oceanwide would help support Genworth's long-term viability, particularly given the capital infusion the company would receive as part of the transaction. For nearly a year, the two companies have been actively engaging with regulators in several states and The Committee on Foreign Investment in the U.S. (CFIUS) as part of their review of the transaction. However, the necessary regulatory approvals are yet to be received and time may be running out.
Genworth has been clear: Without the Oceanwide transaction, the company would likely cease writing new LTC policies and potentially fully exit the LTC marketplace, which may cause other market participants in an already shrinking industry to follow suit, ultimately resulting in the elimination of the private LTC market. These potential consequences would place further stress on an already overburdened Medicaid program and on individuals and families across the U.S., with the middle class feeling the greatest impact.
The relatively recent Penn Treaty liquidation stands as a stark reminder of the challenges facing the industry and the repercussions for taxpayers, LTC policyholders and health insurance policyholders at large when those challenges are not addressed. Earlier this year, Penn Treaty Network America Insurance Co. and its affiliate were liquidated by court order. As a result, state government entities are now responsible for more than 70 percent of the up to $4.6 billion in projected LTC claims expected for 76,000 aging Penn Treaty customers nationwide. In turn, many of the costs from the Penn Treaty claims will be passed on to health insurance policyholders in the form of increased premiums and almost all Penn Treaty policyholders will have their benefits capped at amounts between $100,000 to $300,000.
While the costs of the Penn Treaty liquidation are significant, the costs of failure for Genworth's LTC business, with its more than 1.2 million policyholders (f15 times that of Penn Treaty) would be devastating for the other LTC insurance providers, state government entities, the taxpayers funding those entities and Medicaid.
We must wake up to this reality and support the value that LTC insurance provides to middle-class Americans and, by contrast, recognize the devastating void that would be left in the absence of a robust LTC insurance industry in our country. The acquisition of Genworth by Oceanwide is an important step toward ensuring the viability of a U.S. private long-term care insurance market for older Americans and their caregiving families.
Jesse Slome is director of the American Association for Long-Term Care Insurance, a national advocacy group located in Westlake Village, CA.