Getting wasted can be a lot more virtuous than you think.
At L.A. fine-dining mainstay Providence, beverage director Kim Stodel has created a new zero-waste cocktail program that uses kitchen scraps for infusions and garnishes. It's a fitting move for a sustainably-minded restaurant that focuses on responsibly sourced seafood.
Stodel's Muay Thai cocktail (yes, it's a riff on a Mai Tai) features lemongrass, kaffir-lime and ginger scraps. Another Stodel hit is the Peas and Thank You drink, a mezcal concoction that involves making a green oil out of pea-tendril scraps.
Zero-waste cocktails are trending in L.A. and beyond. Fords Gin has joined forces with London-based bartenders Iain Griffiths and Kelsey Ramage (formerly of Dandelyand and Mr. Lyan) on their Trash Tiki tour of the U.S., which concludes this Wednesday and Thursday at L.A.'s Honeycut bar after stops in New Orleans, Miami, New York, Toronto, Chicago, and Vancouver among other cities. Griffiths and Ramage's tricks include using leftover citrus husks to make stock. Trash Tiki's goal is to help bars and their customers understand how cocktail culture can become more environmentally friendly.
Trash Tiki had a May preview event at Broken Shaker in Chicago, so it's fitting that the new rooftop outpost of Broken Shaker at the Freehand L.A. hotel has a cocktail called the Trash-Tini. It's bar director Christine Wiseman's 21st century rendition of a martini that involves charring repurposed onions and using celery to make a shrub. Meanwhile, chef Alex Chang's egg rolls at the new Broken Shaker include parsley and celery scraps. Given that so many chefs celebrate whole-animal cooking, it's nice to see some whole-vegetable cooking as well. This, of course, is a reminder that repurposing garbage applies to so many levels of the food-and-beverage world.
At last week's The Taste, a yearly food festival presented by the Los Angeles Times, I enjoyed cacio e pepe pizza from Pizzana, blood clams from Holbox, panuchos from Chichen Itza, Hainan chicken from Side Chick, Szechuan dumplings from Fat Dragon, beef foldies from Locol, Phuket-style baby squid with ink from Crying Tiger, the Trudy's Special brisket slider from the forthcoming Slab BBQ and a mini three-course tasting from Scratch Bar, among other bites. And that was just on the opening night at Paramount Studios. It was all a reminder of L.A. food's wondrous diversity.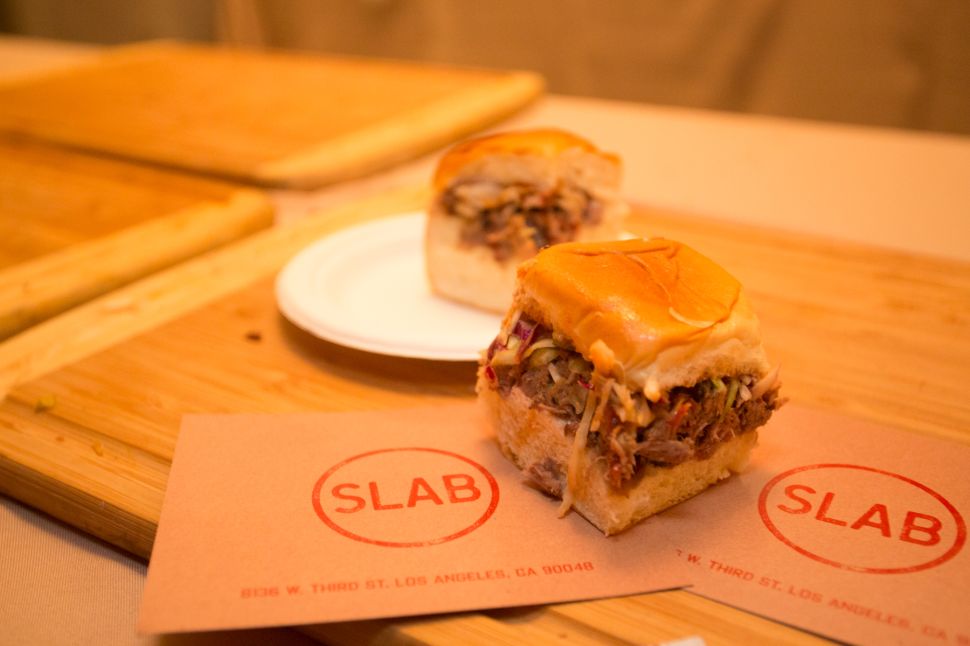 And while I ate all those great dishes, and the beer, wine and cocktails flowed freely, I felt better knowing that The Taste (which contributes money to the L.A. Regional Food Bank) had partnered with Midnight Mission to donate all excess food to those in need. That included food prepared by the restaurants as well as produce, canned goods and dry items.
Plus, there were compost bins all over the event because The Taste teamed up with Zero Waste Co. to make sure that discarded food and compostable plates, cups, bowls, napkins and paper towels would be re-used and become part of soil used to grow crops. The end is the beginning.