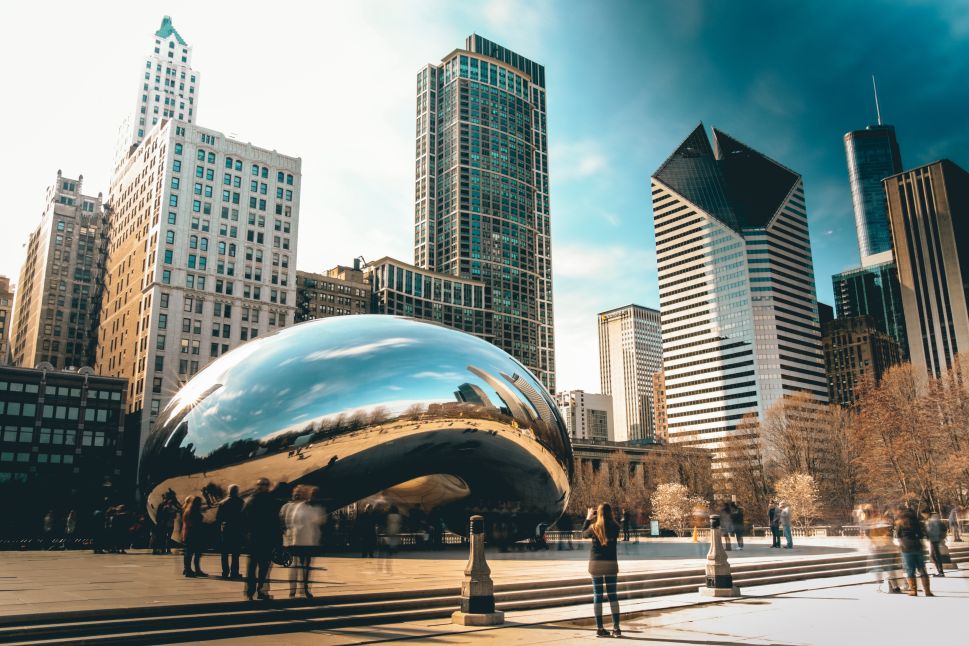 Though perhaps best known for deep dish pizza and the Sears Tower (which now goes by the less famous moniker, Willis Tower), Chicago is home to quite a few local gems. The city, which feels like a crossroads between the true Midwest spruced up with the cosmopolitan flair associated with a coastal city, has become a hotbed for all things local. Yes, "made in Chicago" is a big trend—and it happens to be both tasty and boozy. From extra hearty farm-to-table restaurants to a high scale cocktail club—plus hotels situated in landmarked buildings—there's more than just Instagram opportunities here, but also a chance to learn more about the history of the Windy City.
"You know, tourists don't visit Chicago to hike through our mountains or sunbathe on our beaches. They don't come for the perfect weather. They come to taste the food prepared by our master chefs. They come to gaze up at the buildings and skyline, imagined by our great architects," explained Scott Shapiro. As the co-founder and CEO of STATE Optical Co, Shapiro knows a thing or two about "made in Chicago," as he produces all of his own luxury optics at his factory in the city. He also incorporates minutes details from Chi-town, including names of the streets, in the designs of his frames.
Here's the Observer's city guide to Chicago's best local offerings. You'll have to look elsewhere, however, for a gooey slice of deep dish.
Where To Eat
Named as one of Bon Appetit's Americas Best New Restaurants in 2017 (coming in at number six as "the neighborhood joint every neighborhood wishes for"), Giant is not to be missed. The farm-to-table eatery seats only 44, but with the guidance of chef/owner Jason Vincent and his very knowledgeable waitstaff, it's pretty difficult to be disappointed by a meal here.
As the Logan Square eatery claims on their website: "We promise to make simple, delicious (slightly cheffy) food for people to eat."
The menu offers quite a few vegetable options, including sweet and sour eggplant, Thai chili sweet corn with shrimp and peanuts as well as broccoli with peach chutney and crescenza cheese, but a meal at Giant is by no means light. For one, you must order the the homemade biscuit—if only for a hefty pat of jalapeño butter—plus a few of the stunning pasta dishes like the tomato sortallini with guanciale, basil and pine nuts, or the chewy pici with jalapeño and bacon.
And on your way out the door, make sure to admire the art adorning the walls, made by local artist Nora Murphy Mills.
3209 W Armitage Ave
(773) 252-0997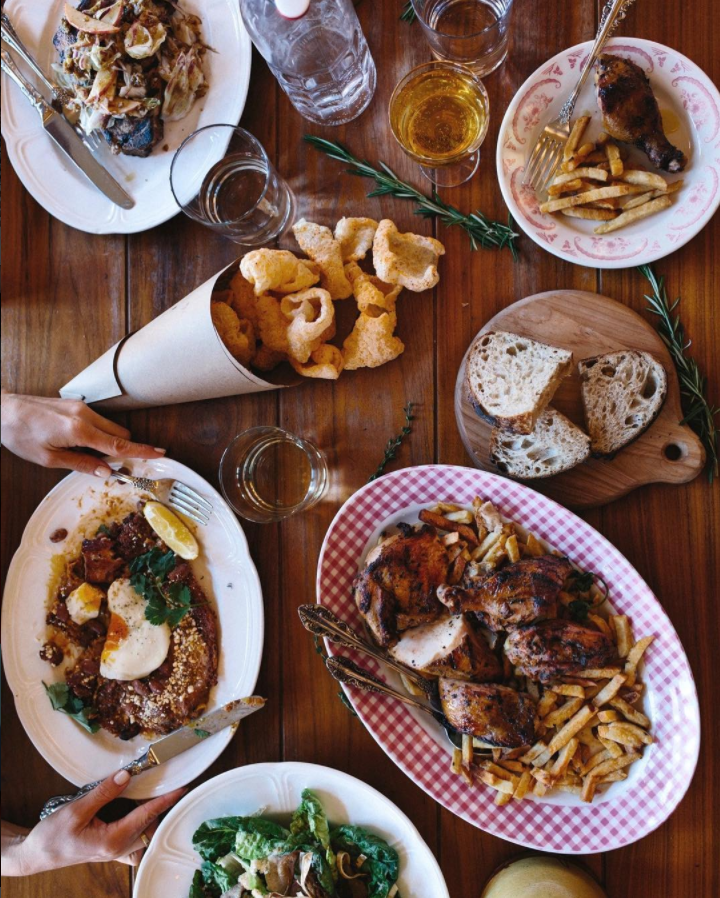 Chicago's Meatpacking District is worlds away from New York's, both literally and figuratively. For example, it's still actually packaging meat and it's home to The Publican, which is the destination for an ample Midwestern meal. And it's well worth braving the very loud bistro—mostly known for their oysters, pork and beer—for an indulgent but local experience.
Portioned into three sections—vegetables, meat and fish—plus the addition of a generous bread selection, the menu has something for everyone. Though it seems to be mostly catered towards meat eaters, as the extensive list includes smoked pork shank, beef heart tartare, a variety of aged ham and chicken liver paté. The farm or fishery of origin is listed alongside each dish, provided for your dinnertime chatter (or to recreate that infamous dining scene in Portlandia). Chef-Partner Paul Kahan, Executive Chef Cosmo Goss and Chef de Cuisine Jacob Saben pulled together this menu, with ingredients that originate from Illinois, though some come from Iowa, California and Michigan—and a few of the specialty fishes arrive from Japan.
837 W Fulton Market
(312) 733-9555
Where To Drink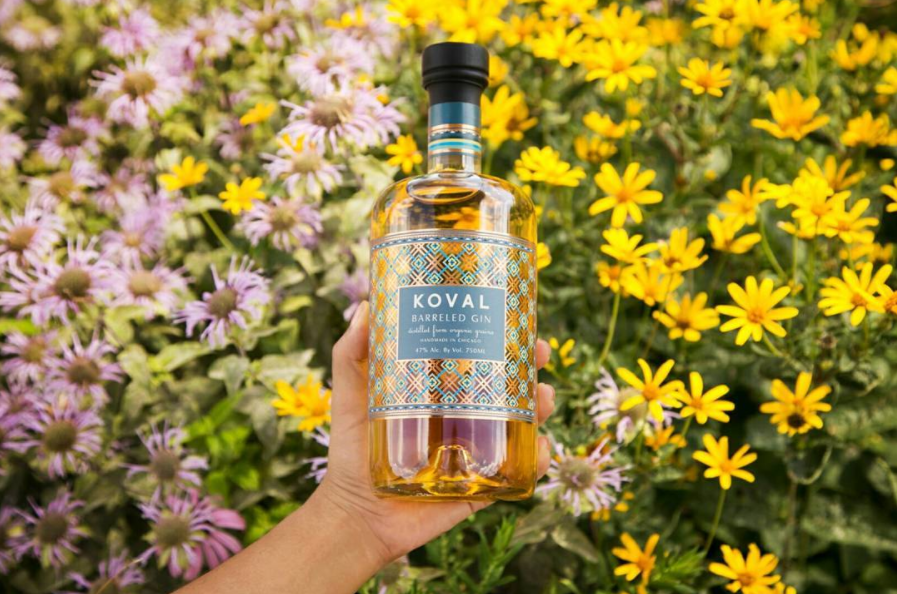 Chicago hasn't housed a distillery since the 1800s, so when Koval founders Robert and Sonat Birnecker set up shop in 2008, they were making waves. Now, the city is teeming with distillers, but there's something about this place that stands out from the rest—and it might have something to do with the gorgeously decorated bottles, each with a specially designed label for the smooth spirit it houses.
And for just $10, Koval will take an hour to teach you about the distilling process behind their organic spirits, created entirely with local ingredients, in their Ravenswood shop. Planning a visit to the distillery is a great Saturday afternoon activity, whether you're in town for a romantic tryst, a bachelor/bachelorette party or just to have a really great drink. Plus, you don't have to be a seasoned whiskey drinker to enjoy this experience, as Koval also produces gin, vodka and quite an extensive array of flavored liqueurs.
5121 N Ravenswood
(312) 878-7988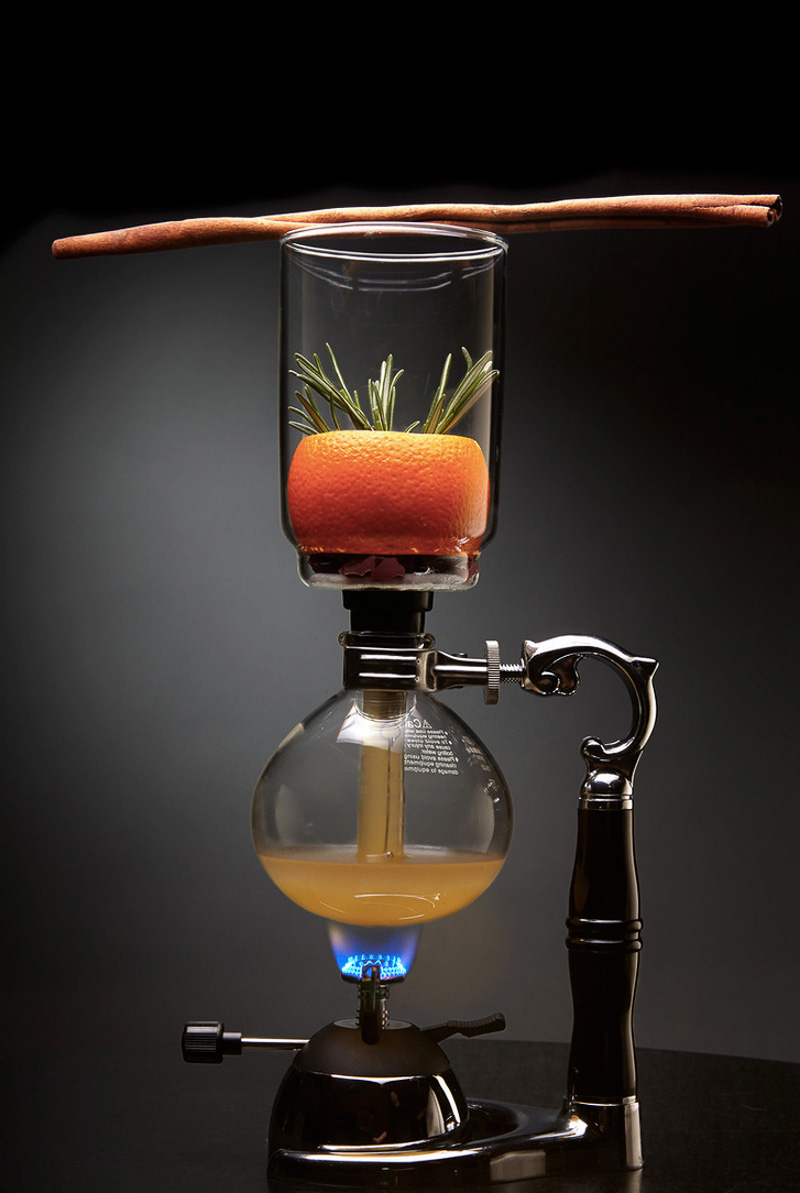 If you consider drinking to be an art, this cocktail bar is a must-visit in Chicago—so much so that it's become an institution in the city. Be sure to book a reservation, as this is not a cocktail bar you can just swing by for a drink, especially on a Friday or Saturday night. While making that booking, consider splurging on one of Aviary's tasting menus, where one can spend an entire evening sipping a curated menu of elevated beverages—alongside food, if you so desire.
Brought to you by the culinary geniuses behind Alinea, Nick Kokonas and chef Grant Achatz, their drinks are both inventive and delicious. And the presentation is really spot-on, even including the ice, which ranges from ginormous frozen spheres to specially flavored cubes that add dimensions to your tipple. Basically, this boozy spot is a thrilling experience, from start to finish.
For a really exclusive evening, see if you can get into The Office, located just one floor below Aviary. The only thing? You need to text the secret phone number to secure entry into the 14-seat speakeasy, known for their unique spirits and eye watering prices.
955 W Fulton Market
(312) 226-0868
Where To Sleep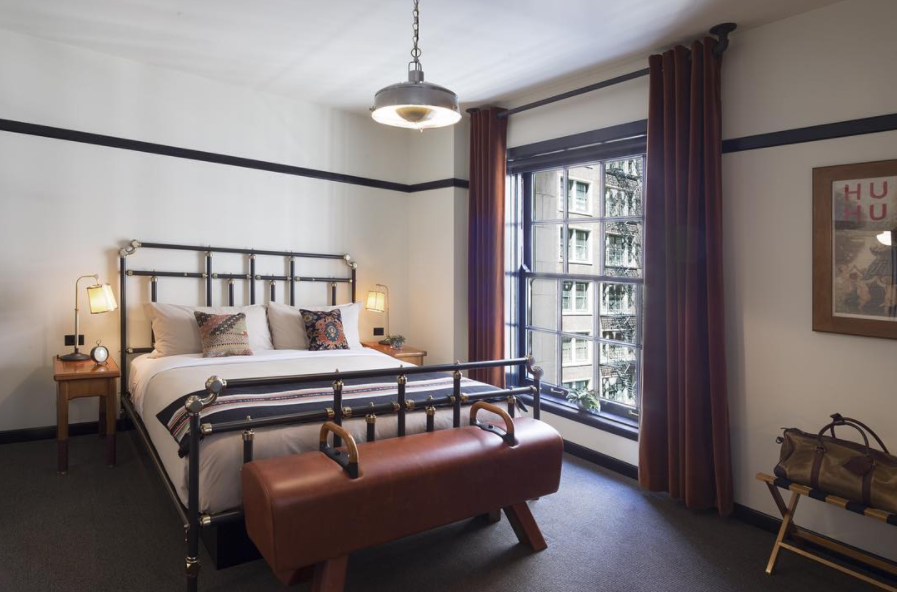 Come for the Shake Shack and Cindy's Rooftop (an outdoor bar with a stunning view of Millennium Park) and stay for the historic building, which is seriously overflowing with dining options. Originally a private men's athletic club that dates back to the 1890s, this history-seeped space has been transformed into a buzzing hub of nightlife, cuisine and, of course, 241 extremely cozy rooms and suites. Keep an eye out for rustic leather-accented furnishings, a few athletic accoutrements (like a horse vault at the end of the bed and leather tennis racket grips as decor) and gothic-style finishings throughout.
For avid players of shuffleboard and darts, there's a dedicated bar called Game Room, while indulgent brunchers will adore the Cherry Circle Room, and for serious drinkers, there's even an in-house speakeasy, called Milk Room. Truly, you don't have to leave the front doors of the Athletic Association hotel to get a good taste of Chicago.
12 S Michigan Avenue
(312) 940-3552

For another historic stay, this hotel located in the Loop district is a trustworthy pick. The Alise Chicago (formerly known as the Hotel Burnham) is situated in the Reliance Building, which is a National Landmark Building, dating back to 1895. The 14-story building once housed merchants and doctors, reportedly including a "dentist" that Al Capone frequented, but now contains 122 hotel rooms. There's also a restaurant, Atwood, located on the ground floor of the Alise, serving locally sourced American fare and plenty of hearty options.
1 West Washington Street
(866) 690-1986
What To See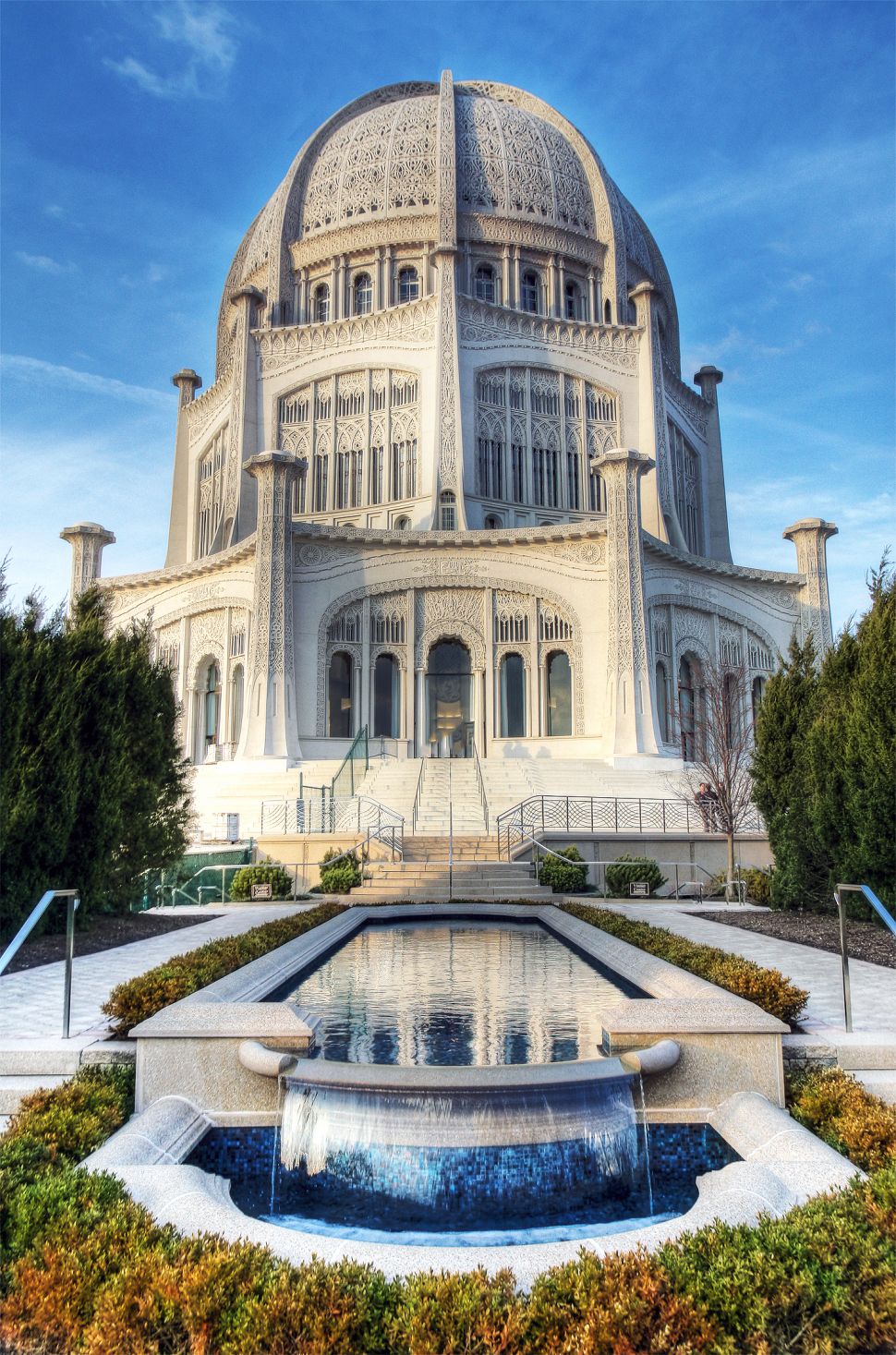 Located about 40 minutes from Millennium Park, this stunning religious center is well worth the trek. This is the oldest Bahá'í House of Worship in the world and the only one in the United States. The Bahá'í religion is welcoming to all faiths, believing in all the prophets and the freedom from prejudice. They also believe in the equality of all people, male or female. "In a tumultuous age, world peace is attainable through unity," they explain on their website.
During your visit, take note of the stunning architecture, as the intricate building is made entirely of cement and took over 50 years to build. Be sure to visit each of the nine gardens on the grounds and gaze at the gurgling fountains. While this spot is certainly Instagram bait, it's also a great place to simply sit, reflect and relax.
100 Linden Avenue, Wilmette
(847) 853-2300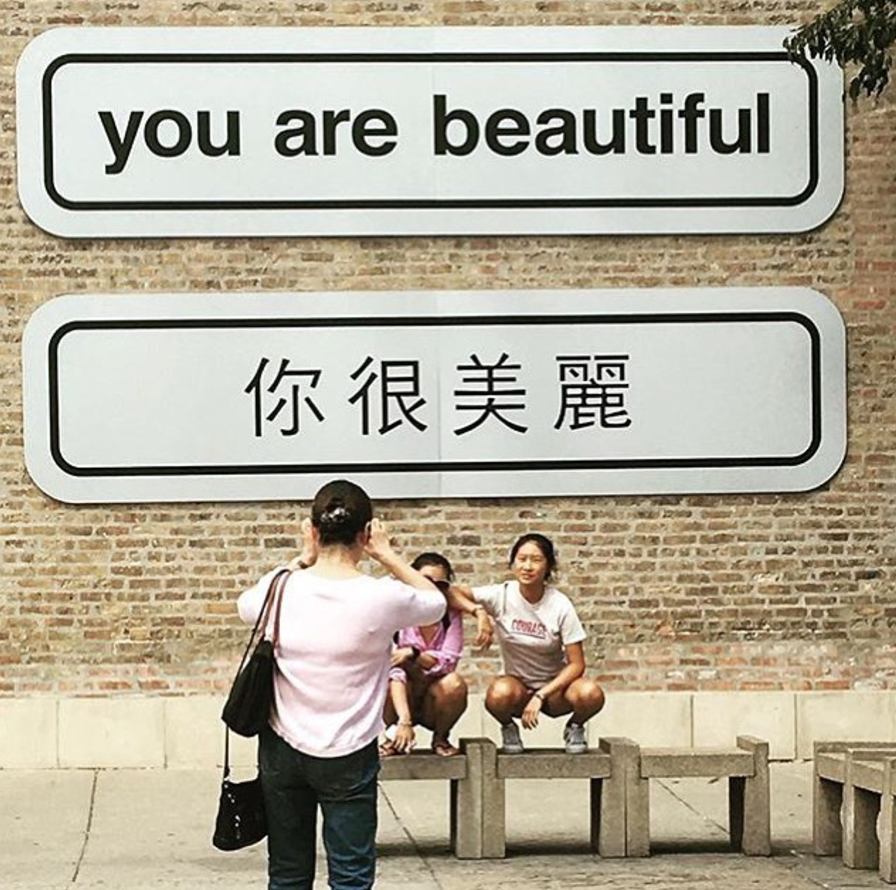 Looking for some positive reinforcement? Look no further than the streets of Chicago.
Artist Matthew Hoffman started this project in 2002 by handing out 100 little stickers that read "You Are Beautiful." Now, over 3 million stickers with that same message have been produced and are currently decorating every corner of the globe. Hoffman's simple but sweet message has also been transformed into over 30 outdoor installations in the Chicago metropolitan area. It reads "You Are Beautiful" on a fence in Englewood; that same phrase adorns a billboard at a school in Andersonville and is printed over and over again on a Morse Ave Metra Underpass.
Hoffman, who was born in Ohio, is now based in Chicago and he sends his loving messages out to the world from his studio in the city.