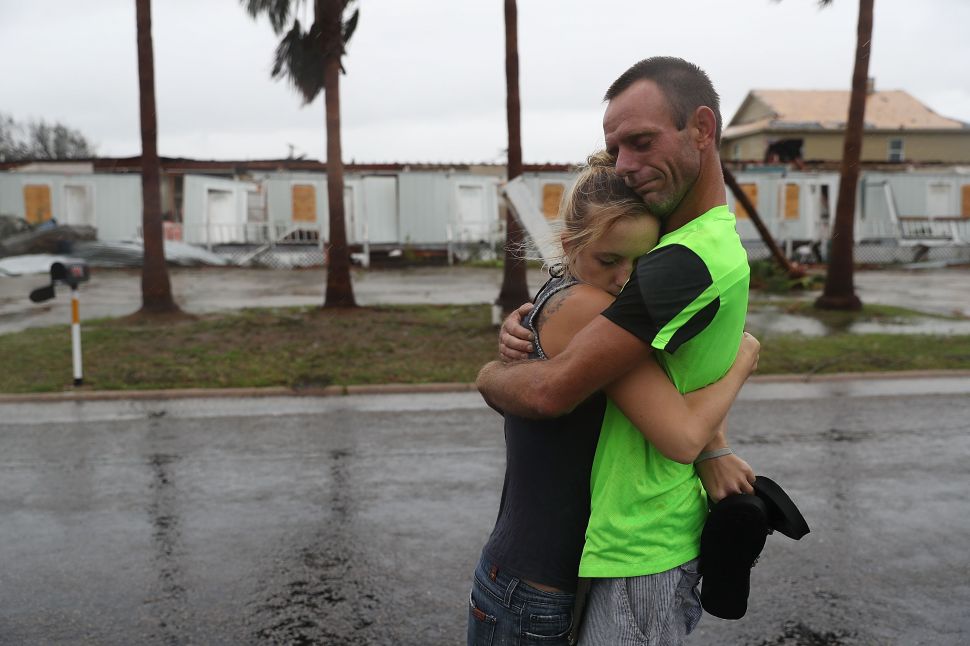 The long term prognosis is bad, but the short term is worse. The two headlines dominating the news are the ever-increasing risk of nuclear war with North Korea and the evidence of climate change's devastating effects in Hurricane Harvey. Sure, there are steps we can take to mitigate each—such as remembering the consequences next time we vote and doing everything we can to curtail our carbon emissions—but, as individuals, there isn't a lot we can do to meaningfully reduce the threat of extinction.
Other than hiding under the covers, how are we to cope with the existential threat of the end of the world? We probably can't—our intellect isn't sophisticated enough. But we can use our anxiety to remind us to do all the things we should be doing anyway.
It's possible that nuclear war with North Korea will break out and life as we know it ends in an instant. It's also possible you get hit by a bus this afternoon because you were crossing 23rd Street while texting and wondering if it's time to wear a fall jacket. It's possible that humans continue to emit more CO2 than the atmosphere can afford, in which case the "once every 500 years" storms become monthly occurrences. It's also possible your appendix bursts after lunch today.
We have no idea when or how our lives will end. If we knew for sure, most of us would change our behavior considerably. We would spend more time with our loved ones and less time complaining about them. We would let go of grudges. We would worry less about our pocketbook and more about our psyche. We would worry less about what other people think and more about making the most of our precious time on Earth.
But don't go hugging everyone if Kim Jong-un or Donald Trump decides they really mean it. (I tried this recently on the 6 train, and I don't recommend it.) And don't quit your job to follow your passion —unless it can pay the monthly minimum on your Visa. The end may not be so imminent that your savings and love of Phoenician literature will meet your earthly needs.
But the threats we live with should prompt us to ask some questions: Am I spending my time wisely? Am I happy with my life? Am I proud of myself? Am I doing the things I always wanted or am I procrastinating? Do the things I'm working matter to me or am I working to impress other people?
If there's any silver lining to the literal and metaphorical clouds hanging over our heads, it's perspective. No, most of us can't do anything to avoid war with North Korea and we can't singlehandedly change the course of global warming and climate change. But we can change the way we think. 
Humanity has navigated tough crises before and odds are we will again. But if the end is here—or even if the odds of the end are just a little higher—we should use it as an opportunity to make changes that will make us happier.
Worst case scenario, we're more at peace in our final moments. Best case scenario, we're more at peace over the next several decades. We can't control the world, but we can control our behavior and our outlook. And maybe that's enough.
Bradley Tusk is the founder and CEO of Tusk Holdings, the parent company of Tusk Strategies, Tusk Ventures, Kronos Archives, the Ivory Gaming Group and Tusk Montgomery Philanthropies. In 2009, he served as Mike Bloomberg's campaign manager, guiding Mayor Bloomberg to a third term.