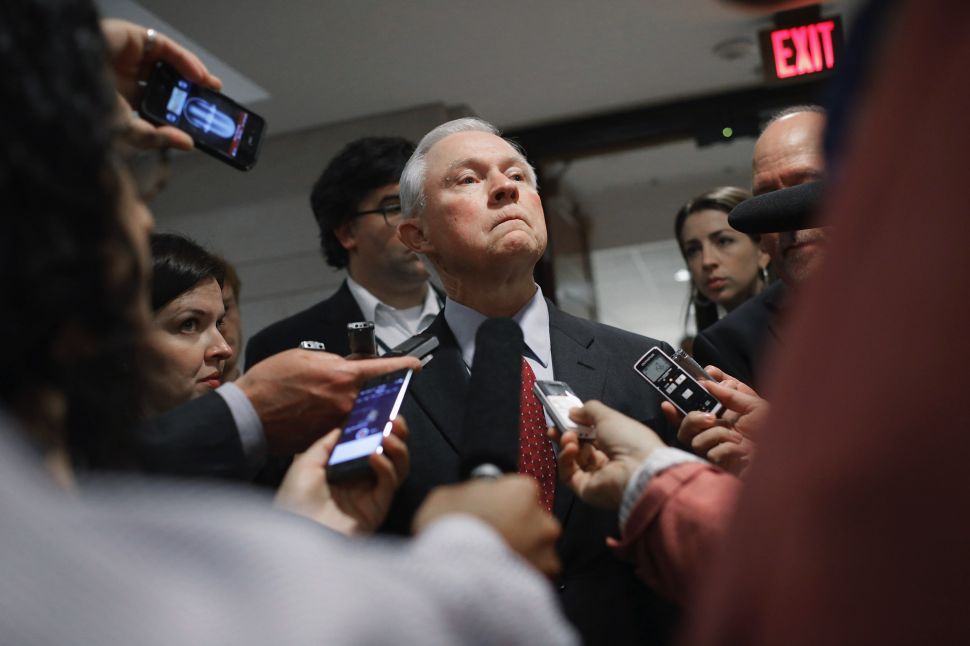 Because amateur President Donald Trump lacked the courage to announce his race-baiting news himself Tuesday, he delegated the dirty deed to Attorney General Jefferson Beauregard Sessions III, who appeared delighted at 11 a.m. to be on all the cable TV news channels.
The announcement must have reminded Sessions of his good old days down home in Alabama. Back then, as a U.S. attorney, Sessions tried to intimidate black voters of his once-Confederate state.
Now, by rescinding the national DACA policy that protects children of undocumented immigrants, Sessions gets to terrify 800,000 brown-skinned people with deportation threats—even if these otherwise law-abiding residents happened to have been brought to the United States from Latin America as children.
Although Sessions seemed eager for this opportunity, his boss didn't sound so sure.
"I have a great heart for the folks we're talking about," Trump said during brief comments to the media, at a different event. "A great love for them…"
Later at night, when the cable shows were buzzing about the negative reaction to his plan, Trump sent out a Twitter message that said, in part, that he would "revisit the issue" in six months if Congress can't decide on a new immigration law.
Even on Fox News Channel, which tends to support most of Trump's half-baked ideas, the truth seeped out on Special Report from conservative commentator Jonah Goldberg. He first agreed that Trump had the right to issue his executive order, rescinding a humanitarian policy of former President Barack Obama.
Then Goldberg examined the downside for Trump and the Republican Party.
"Politically, I think this is a hot mess," Goldberg said. "Donald Trump is setting up Congress for potentially disastrous failure… He wants to punt this so he doesn't have to make this very hard decision that puts him either on the wrong side of his base or the wrong side of everybody else."
Perhaps the best statement came in the middle of a lengthy and articulate written statement about Trump's policy that Obama posted on Facebook. In it were three little words shown on all three networks:
"It is cruel," Obama wrote.
Agreeing with Obama was anchor Jorge Ramos of Univision—a supporter of DACA people known as "Dreamers." Ramos appeared on both Anderson Cooper 360 on CNN and on Hannity on Fox.
Cooper allowed Ramos to speak.
"A cruel decision," Ramos said. "Cold-hearted. It benefits nobody."
It was different on Fox, where host Sean Hannity kept interrupting his guest.
"You cannot trust President Trump," Ramos told Hannity.
"Wait a minute," Hannity replied to Ramos. "You're not going to get away with that on my show."
In the previous hour, on The Rachel Maddow show on MSNBC, the host showed old film of Woodrow Wilson and other politicians of 100 years ago to make her long-winded—but excellent—point: The U.S. immigration policy set in 1924 was a product of the racist eugenics movement and antipathy toward "swarthy" foreigners in a high-tide era for the Ku Klux Klan.
As is often the case, Maddow showed off her homework. She played recordings of Sessions praising that 1924 law. In the hour before, on All In with Chris Hayes on MSNBC, conservative pundit Jennifer Rubin of the Washington Post wondered "whether Trump is dim-witted and being led around by the nose by Jeff Sessions, which is entirely possible."
In the show after Maddow, Last Word host Lawrence O'Donnell of MSNBC noted how Trump "handed the big public moment to his least favorite cabinet member," Sessions, who Trump has threatened to fire for not protecting him enough from corruption investigations.
His best guest was Democratic Senator Kamala Harris of California, who responded to Trump's written statement that said "We must also have heart and compassion for unemployed, struggling and forgotten Americans"—as if helping Dreamers or those other victims is an either/or proposition.
"That is a false choice," Harris said. "We've got to stop vilifying this population."
MEANWHILE, back in sports . . .
The New York Times sports section—famous for covering surfing in the Arctic Ocean along with tennis, tennis and more tennis—broke a major story on its web site Tuesday night.
It reported that Major League Baseball investigators have accused the Boston Red Sox of stealing signs from the New York Yankees with the use of an Apple watch to transmit televised information into the dugout.
The author was Mike Schmidt, who has scooped a lot of the Washington competition in recent months with stories about Trump, especially those involving Trump's firing of FBI Director James Comey. Schmidt frequently guests on MSNBC's Morning Joe.
I worked with Schmidt a decade ago in that very sports department. At the time, I covered some baseball (and a lot of other things). Schmidt (or, "Schmiddy," as he would be known around the ball yard) was a bright, young clerk.
Certainly, Schmidt knows that anyone watching a Yankees-Red Sox game would frequently check their watch because those rivalry matches tend to go as long as four hours.
And those aren't the ones delayed by elderly Yankees coach Don Zimmer charging the mound in 2003 to attack pitcher Pedro Martinez of Boston. Or Craig Nettles of the Yankees pounding the sawdust out of Red Sox pitcher Bill (Spaceman) Lee in 1976. Or the time in 1952 when young Billy Martin of the Yankees fought young Jimmy Piersall of the Red Sox under the grandstand at Fenway Park before a game.
Anyway, Schmidt has written the next great chapter in the rivalry and it was great fun to watch the web sites Tuesday night as the Daily News and the Post tried to catch up.
"The Yankees, who had long been suspicious of the Red Sox' stealing catchers' signs in Fenway Park, contended the video showed a member of the Red Sox training staff looking at his Apple Watch in the dugout," Schmidt wrote. "The trainer then relayed a message to other players in the dugout, who, in turn, would signal teammates on the field about the type of pitch that was about to be thrown, according to the people familiar with the case."
Of course, the Red Sox filed some counter-charges of spying against the Yankees. Trump, being a Yankee fan, will probably declare the Boston accusation "fake news."