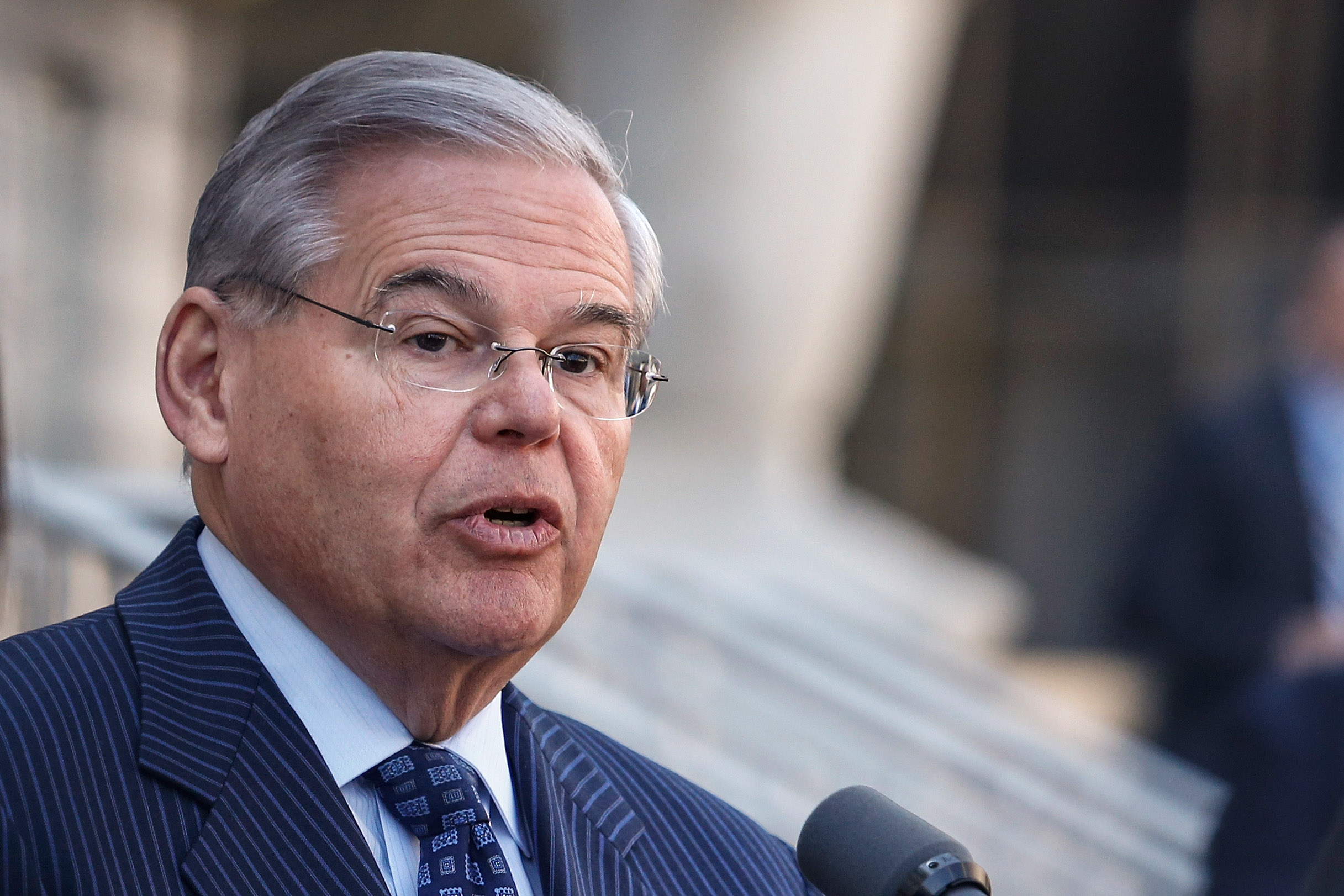 U.S. District Judge William Walls on the second day of Sen. Bob Menendez's corruption trial put court proceedings on hold to warn federal prosecutors not to veer into "tabloid trial" territory.
The admonishment by the judge in some ways went to the heart of the prosecution's case. In the narrative that the Justice Department lawyers are crafting for the jury, Menendez traded his influence and advocacy in Washington for a luxurious lifestyle — trips to Paris and the Dominican Republic — bankrolled by a top donor, co-defendant Salomon Melgen.
The pause came as prosecutors questioned their first witness, FBI analyst Jane Ruch, one of the members of a team that investigated emails Menendez exchanged with Melgen, a wealthy eye doctor from Florida. During opening statements on Wednesday, prosecuting attorneys described an expensive hotel room Melgen had booked for Menendez as evidence that there had been a quid pro quo arrangement between the two men.
Prosecutors showed Ruch an email chain between Menendez and one of his staffers, Robert Kelly, asking for prices for an April 2010 stay at the Park Hyatt Hotel in Paris. Kelly listed two room options, with the less expensive option on top. In an email sent by Menendez to Melgen two weeks later asking the doctor to use his American Express points to book the room, attorneys noted that the more expensive room was listed first.
Walls, a sharp-tongued jurist who also has scolded Menendez's attorneys, took issue with the prosecution for zeroing in on the wording of the emails. He asked jurors and Ruch to leave the courtroom before addressing attorneys. Walls said prosecutors were making a "heavy leap" by implying that Menendez listing the pricier room first means he was soliciting a bribe from Melgen. The only relevant piece of information was that the $1,500 per night room was paid for by Melgen, Walls said, not how Menendez worded his email requesting the booking. In the email, Menendez also told Melgen that he would repay him.
"I said to counsel during sidebar that I was not going to permit this within my discretion to be a tabloid trial," Walls said, adding that he would not entertain "irrelevant questions" from either side.
"The circumstances that you are reaching out to develop are so irrelevant that I had to interrupt," Walls said. The room in the Paris hotel apparently had a handsomely appointed limestone bath and a rain shower.
Referencing Menendez, Walls continued: "I don't think it is a sin for him to want a limestone bath per se. One of my favorite aspects is the rain shower. If anyone's been in a rain shower, they'd appreciate that."
When lead Menendez attorney Abbe Lowell was cross-examining Ruch, Walls again paused proceedings to question the relevance of one of his lines of questioning about the Paris hotel stay.
Lowell said he only asked because the government first brought up the emails leading up to Melgen picking up the Paris tab. Walls said that email "chit chats" were not relevant. "Even if you were writing a novel your editor would strike it," Walls said.
The second day of the trial also saw the conclusion of opening statements from Melgen's attorney, Kirk Ogrosky.
Ogrosky argued that the trial was an insult to prominent Hispanic Americans such as Melgen and Menendez who want to "pay it forward" and "help young Hispanic Americans improve their lives."
"Bob and Sal were part of a fellowship of Hispanic Americans," Ogrosky said. "This case isn't only an attack on those two men, it is an attack on that whole group."
Echoing Lowell, Ogrosky argued that the two men are close friends and showed jurors a copy of Menendez's book, "Growing American Roots," that the senator had given to Melgen. Menendez wrote a note on the inside cover of the book with the messages, "For my brother, Sal" and "Yes we can," alluding to their success as Hispanic Americans.
The trial will continue on Monday with more witnesses taking the stand.