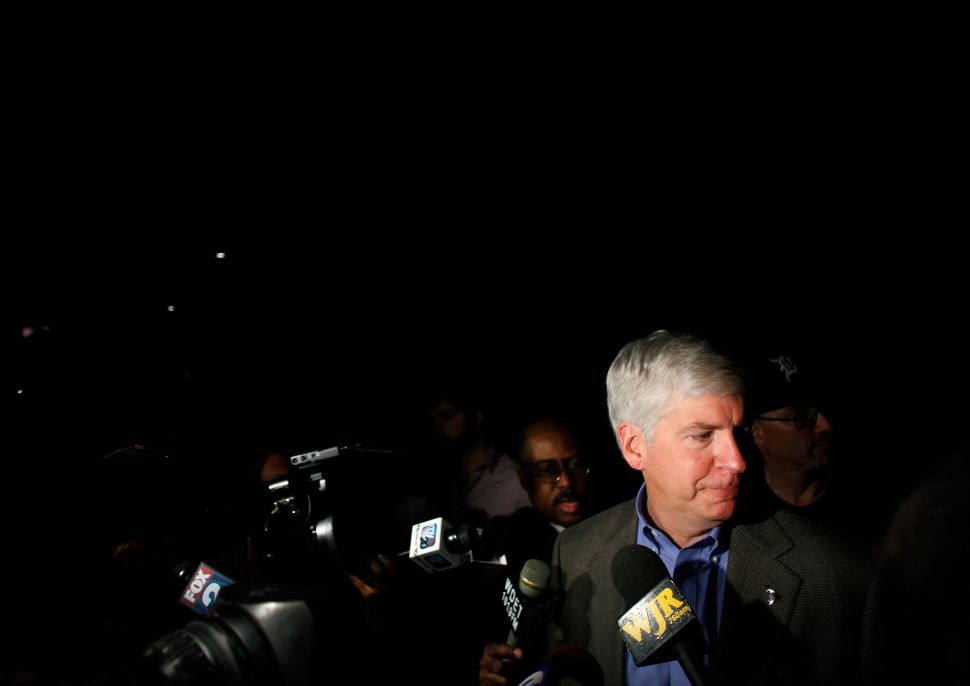 A new law recently passed by the Michigan State Legislature and signed into law by Republican Gov. Rick Snyder sets a statewide precedent in scaling back campaign finance laws. The deregulation stems from the 2010 Citizens United Supreme Court decision, which opened the floodgates for corporations and wealthy donors to pour unlimited sums of money into elections. Michigan's new legislation allows candidates to raise money directly for Super PACs to be spent on themselves or to fuel opposition against their rivals. The law permits consultants, vendors and attorneys to simultaneously work for a PAC and a political campaign, blurring the line between public and private activity. Finally, previously, individual donors could donate a maximum of $1,000 for a state House election, but the new legislation undermines those caps, which were enacted in the 1970s by Gov. William Milliken in response to Watergate.
The Intercept reported, "It's a brazen move for Snyder, who is term-limited out of office in 2018, to so fully embrace the post-Citizens United world dominated by big-money super PACs. Watchdogs warn that the law—which they have described as 'Citizens United on steroids'—effectively creates an end-run around the state's limits on campaign contributions and further obliterates the already-thin line that is supposed to maintain super PAC independence from candidates." Only two Republicans in the state Senate and one Republican in the state House voted with Democrats in opposition to the legislation. The passage of the law is a further setback in restoring democracy in the wake of Citizens United.
"Gov. Snyder rode into Lansing on the white horse of transparency but will leave cloaked in secrecy, driving a hearse carrying our democracy," said Lonnie Scott, executive director of Progress Michigan in a press release. "Today it has been made clear that Gov. Snyder is doing everything he can to cement his legacy as one of the least transparent and most spineless governors Michigan has ever had. He promised to clean up Michigan's campaign finance laws, but all he has done is soil them further with unlimited amounts corporate cash. Michigan ranks dead last in the U.S. for transparency and ethics, and if there's somehow a way to go lower on that list, the Snyder/Calley administration is doing their damnedest to get us there."
In every election cycle since Citizens United, more money from corporations and wealthy donors has filled campaign coffers. An estimated $6 billion was spent on the 2012 election, and that number jumped to $6.8 billion in 2016. Michigan has experienced a similar increase in money spent on influencing politicians and elections in the state. According to Open Secrets, $85.7 million was spent in Michigan during the 2015-2016 election cycle, compared to just over $83 million spent in 2011-2012. In both election cycles, the majority of funds were spent by Republicans. Between January and July 2017, lobbyists have spent $21.8 million in Michigan, a slight increase from 2016, which saw a record amount of lobbyist spending. This year, lobbyists are closing in on the record spent on food and drinks for Michigan's elected officials, so far totaling just under $550,000. Michigan's PACs have raised $12.2 million in 2017, an 11 percent increase from the same point in the last election cycle, and this new law is likely to exponentially increase the amount of money funding PACs in the state.
More by Michael Sainato:
Senate Obeys Special Interests, Increases Military Spending by $700 Billion
Harvard Rewards Disgraced Former DNC Interim Chair Donna Brazile
Out-Fundraised by RNC, DNC Suffers Another Embarrassing Month