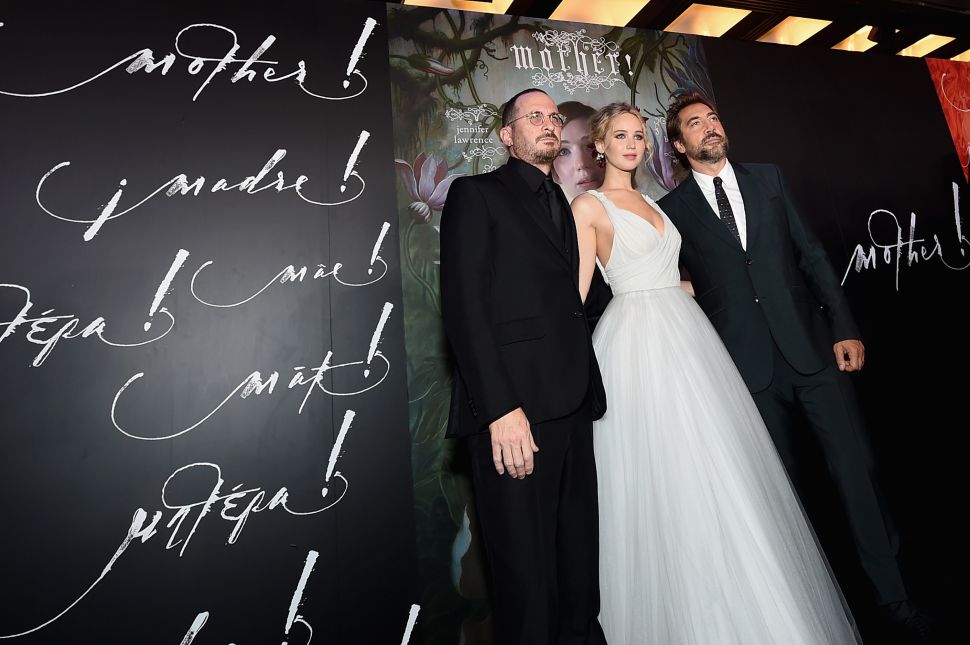 Darren Aronosky's films have always been divisive, which is why he's an interesting filmmaker. Rarely can his movies be put into one easily defined box as the director is always going for it. While this style tends to play well with critics, it can be a bit exhausting for fans. Perhaps that is why his latest feature, the Jennifer Lawrence-starring mother! is generating such mixed reactions.
Somehow, mother! has received an F grade from CinemaScore, an organization that has been polling moviegoers on opening night for nearly four decades around the country. In all that time, we can tell you it's pretty damn hard to "earn" an F grade. Aggregating scores of excited audience members almost always produces a relatively positive result. Even critical and box office flops like this summer's The Dark Tower and The Emoji Movie managed to earn B grades (how?!). In fact, mother! is the only new release since July that came in under a B-. Ouch.
We knew mother! wasn't going to be embraced by the masses, but we thought the intriguing debate the movie was stirring up would at least be of some interest to a handful of curious fans. Apparently, we were wrong.
Other films that have been slapped with the dreaded F grade from CinemaScore include George Clooney's Solaris, Nicholas Cage's The Wicker Man and the aptly named Disaster Movie. To throw a film by an Oscar-nominated director like Aronofsky in that group just feels wrong.
For what it's worth, mother! currently holds a decent 69 percent fresh rating on Rotten Tomatoes, though Observer's own Rex Reed wasn't a big fan, writing:
"Nothing about mother! makes one lick of sense as Darren Aronofsky's corny vision of madness turns more hilarious than scary. With so much crap around to clog the drain, I hesitate to label it the "Worst movie of the year" when "Worst movie of the century" fits it even better."
mother! failed to offer much of a challenge to It at the box office, with the Lawrence picture taking in $7.5 million domestically compared to the latter's $60 million, per Box Office Mojo.