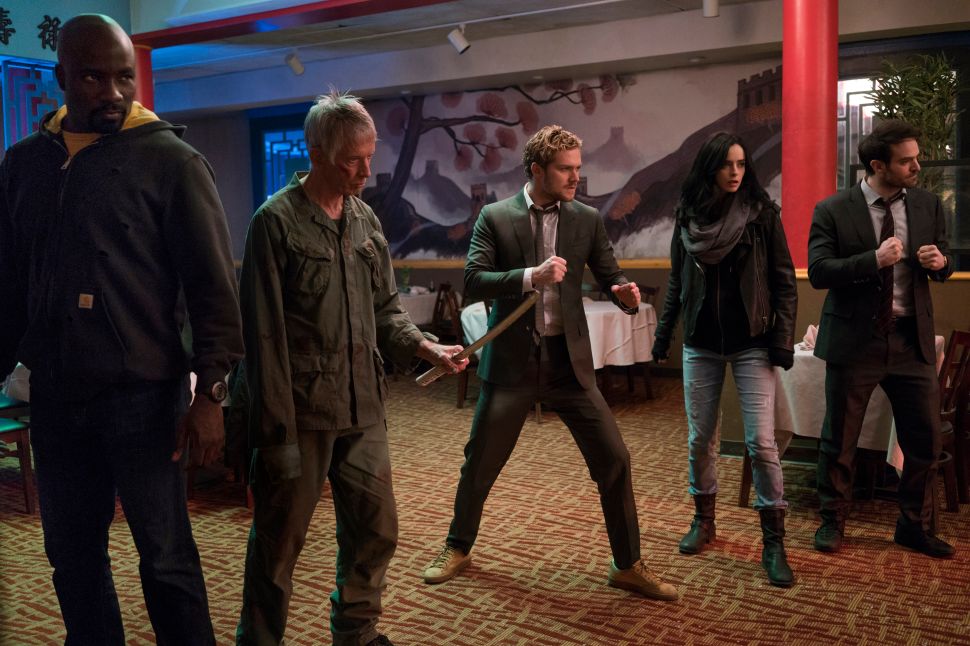 Netflix is notorious for the secrecy it shrouds its viewership numbers in. Seriously, you have a better chance at discovering the nuclear launch codes than digging up official ratings for a Netflix original. But third-parties have developed measures to make ballpark estimates, as marketing-analytics firm Jumpshot has done. According to them, Marvel's The Defenders—you know, the highly-hyped Avengers-style team-up between small-screen heroes Daredevil, Jessica Jones, Luke Cage and Iron Fist—may not have been the hit needed to justify such an expensive undertaking.
If Jumpshot's numbers are to be believed, The Defenders was the least-watched Netflix Marvel original series premiere in the U.S. through its first 30 days of viewership. Per Variety:
"For the comparison, Jumpshot created an index benchmarking each of the Netflix Marvel series against the top-viewed of the batch, which was Daredevil season 2 in March 2016. Following its Aug. 18 premiere, The Defenders clocked in with just 17% of the viewership that Daredevil season two received in the first 30 days. The study looked at Netflix U.S. subs who watched at least one episode of each series.

Compared with The Defenders, the previous premieres of Iron Fist, Luke Cage and Jessica Jones performed relatively equally in the first 30 days, accounting for 28%, 27% and 26% of Daredevil season 2's viewership, respectively. In addition to being the least-viewed of the group, The Defenders also had the largest week-over-week drop in viewership, declining by 67%, 48% and 41%, respectively, over the 30-day period, per Jumpshot."
It should be noted that Netflix gauges the success of its content on a much longer scale than 30 days, but early viewing trends tend to offer helpful projections for a series. Looking at Jumpshot's numbers, the big drop in viewers during the first month aren't a good sign.
Why didn't fans embrace the street-level team-up superhero series? For one thing, the show received mixed reviews from critics. But perhaps the answer lies more with audiences. According to a Netflix news release, different kinds of viewers who were new to the comic book genre were attracted to each of the four solo superhero series.
Daredevil viewers were sucked in by "anti-heroes and moral ambiguity"; Jessica Jones fans were attracted by its "sharp humor, strong females and dark crime"; Luke Cage garnered eyeballs thanks to "dangerous worlds and complex consequences" and Iron Fist was watched for its "edgy coming-of-age tales." (Side Note: nothing about Finn Jones' Danny Rand is "edgy"…or even good).
So what does this potentially tepid response mean for the streaming platform and for Marvel? Well it certainly doesn't help the brand image that Marvel can do no wrong. Both companies poured a ton of resources (perhaps even $8 million per episode) and muscle behind The Defenders so if it did flop, it means that the Marvel Cinematic Universe is indeed fallible. Netflix may think twice before bringing this crew together again. It also doesn't help as a lead-in for the Daredevil spinoff The Punisher. Everyone involved was likely hoping for The Defenders to help build additional anticipation for the upcoming series.
If The Defenders did fail to connect with audiences to the extent that Jumpshot is reporting, it could lead to a slight change in thinking in terms of MCU expansion. Until now, the entire franchise has been built around teasing what's next and throwing together multiple heroes in the same project. If that crowded looking-down-the-road approach is starting to wane, we could see the studios revert back to a more individualistic strategy.