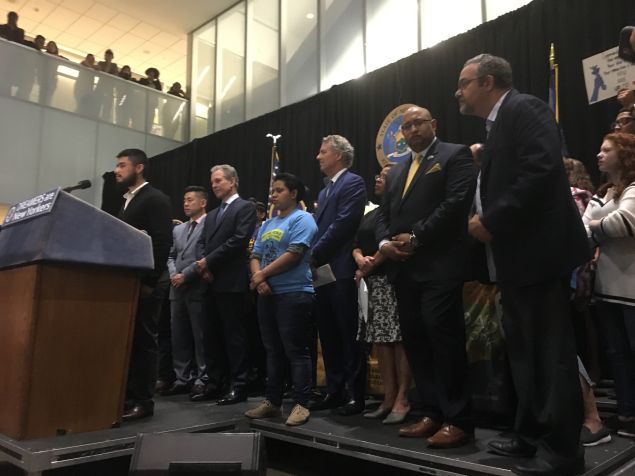 New York Attorney General Eric Schneiderman, along with 15 attorneys general throughout the country, filed a lawsuit against President Trump this afternoon over what they allege is the "discriminatory animus" of his decision to end the Deferred Action for Childhood Arrivals program for undocumented youths.
In a press conference on Tuesday morning, U.S. Attorney General Jeff Sessions said that the Department of Homeland Security will no longer process new applications for the program, only those that were already submitted. Trump called on Congress to pass immigration legislation within the next six months and said DHS would not prioritize DACA beneficiaries in deportation or enforcement matters. The program provides legal protections to nearly 800,000 people in the United States, including nearly 42,000 in New York.
The lawsuit, filed in the U.S. District Court for the Eastern District of New York, alleges that the Trump administration violated the equal protection clause of the U.S. Constitution by discriminating against DACA beneficiaries of Mexican origin, who make up 78 percent of DACA recipients. It also alleges Trump's decision did not give DACA beneficiaries due process and harmed the states' residents, institutions and economies.
"The core of this is you can't enact public policy based upon a discriminatory animus," state Attorney General Eric Schneiderman, a Democrat, said at John Jay College in Manhattan this morning, flanked by immigrant advocates.
"When bullies step up, you have to step to them and step to them quickly," Schneiderman said, referring to Trump and garnering roaring applause from the crowd.
Schneiderman said that he was "encouraged" by recent statements by Sens. Dick Durbin (D-Ill.) and Lindsey Graham (R-S.C.) in support of reigniting bipartisan efforts to bring about immigration reform. He believes the DACA decision will help boost momentum.
"This, I think, is going to provide more impetus," he said.
On Labor Day, Cuomo and Schneiderman, both Democrats, announced that they would sue the Trump administration. Mayor Bill de Blasio also said that the city would go to the courts and to Congress. City Council Speaker Melissa Mark-Viverito said the Council would pass legislation this week that would expand the role of the Mayor's Office of Immigrant Affairs.
Former President Barack Obama created DACA in 2012 to offer amnesty to undocumented immigrants who were brought to the United States in their early childhood. But during the 2016 presidential campaign, then-candidate Trump vowed to terminate the program.
Opponents of Trump's move — which has included New York's congressional delegation, numerous liberals, conservatives, unions and business groups — say it would force hardworking residents out of the only country they have every known as their home and that it would adversely affect the American economy. Legal scholars, however, contend that it was unlikely that DACA would be protected in the courts. Ten state attorneys general from Republican-controlled states are suing to end the program on the grounds that it does not have congressional authorization.
Hector Figueroa, president of 32BJ SEIU — which represents thousands of immigrant workers — said that Schneiderman is proving that New York "welcomes DREAMers," and also praised Cuomo for his role in the effort.
"When they made a promise that they would be looking after and defending these members of our community, they have shown it, they have done it," Figueroa said.
Steve Choi, president of the New York Immigration Coalition, a prominent immigrant advocacy group that has hosted a number of actions in response to Trump's immigration policies such as the executive orders targeting people from Muslim-majority countries, said that as a state legislator, Schneiderman was an early supporter of driver's licenses for undocumented immigrants. He also noted that he updated legal guidance for so-called "sanctuary cities" for undocumented immigrants and spoke out against U.S. Immigration and Customs Enforcement showing up in courthouses.
He called Trump's decision "incredible infuriating."
"This really lays bare what this administration is about: its inability to put common sense policy in front of ideology, its incompetence in rolling out this policy and the sheer insanity of ending this program that is providing DACA to 800,000 immigrants all across the United States and 50,000 New Yorkers," Choi said.
Choi added that immigrants, advocates and elected officials will have to "fight tooth and nail" in the streets, in the halls of Congress and in the courts.