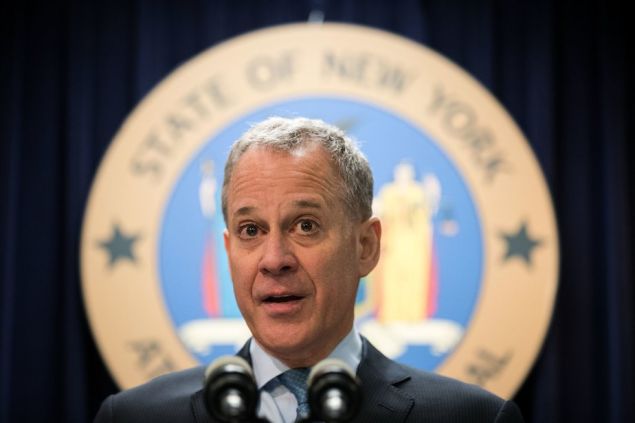 New York Attorney General Eric Schneiderman urged New Yorkers to look out for potential hacking and phishing attempts by cybercriminals following the Equifax data breach.
Last week, Equifax, one of the United States' three major credit reporting agencies, experienced a huge breach that affected 143 million Americans and more than 8 million New Yorkers. Hackers accessed names, Social Security numbers, birth dates, addresses and, in some cases, driver's license numbers. Roughly 209,000 people had their credit card numbers stolen.
In response, the attorney general issued a consumer alert in the wake of the report of the breach. As part of a formal investigation into the incident, he sent a letter to Equifax seeking additional information about the breach, which lasted from mid-May through July.
"In addition to taking measures to protect their credit cards and bank accounts, New Yorkers should also think twice before clicking on any suspicious links claiming to be from Equifax or financial institutions," Schneiderman said. "Hackers are resourceful criminals who are constantly looking to exploit vulnerabilities, and I encourage everyone to educate themselves about how to best protect their personal information."
Schneiderman said that possible attacks include phishing emails that claim to be from Equifax where people can check if their data was compromised and phishing emails alleging a problem with a credit card, an individual's credit record or other personal financial information. He also urged people to look out for calls from scammers that pretend to be their bank or credit union as well as fraudulent charges on any credit card because an individual's identity was stolen.
He said that his probe into the breach is ongoing.
Equifax is facing at least 23 class action lawsuits as a result of the breach, with more expected to come, according to USA Today. The suits were filed over the weekend. The Senate Finance Committee is also pressing for details about whether U.S. government records were compromised, and requested that the company indicate when the executives who sold stock in the company in August first found out about the breach.
The company took to Twitter to let consumers know that it has made some updates to keep them abreast of steps it has taken to provide support and address any issues that they are dealing with because of the incident.
Equifax adjusted its PIN generation for security freezes, noting that it will give all consumers placing a security freeze a randomly generated PIN. The company also said that it is ramping up agents quickly to replace agents impacted by Hurricane Irma and updated its website to make consumers aware of the situation.