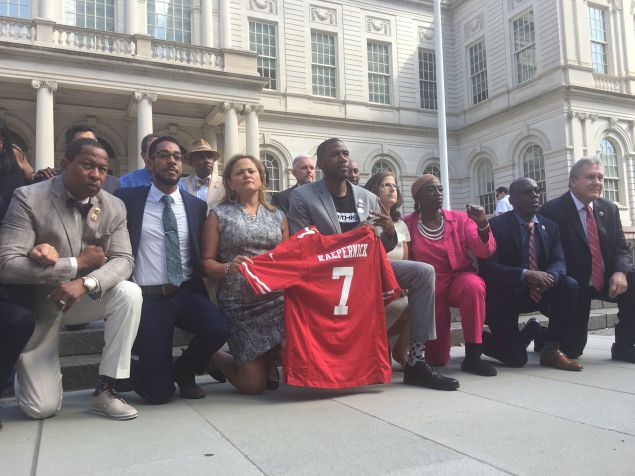 New York City Council members kneeled in front of City Hall on Wednesday afternoon in a show of solidarity with NFL players who kneeled during the national anthem over the weekend.
At a rally in Alabama last week, Trump said NFL team owners should fire players like Colin Kaepernick of the San Francisco 49ers, who has been criticized for kneeling during the national anthem to protest racial injustice and police brutality against black individuals. Trump referred to such players with heated language — "son of a bitch" — and suggested they be fired. He argued on Twitter that his comments had "nothing to do with race" and were about respecting the American flag.
Brooklyn Councilman Jumaane Williams said the protest is about "pushing back on a system of supremacy, a system of oppressive policies" that have been in place in the country for a "very long time."He said that they have seen Trump "continue to say outlandish things."
"We decided it was time again to show that one we believe in free speech and two, that protesting is probably the most American thing that one can do," Williams said. "It is in fact the only thing that has ever propelled this country to move forward. Everything that we enjoy about this country has been from protesting."
In September 2016, Williams refused to stand for the Pledge of Allegiance at the Council's monthly stated meeting to show support for Kaepernick.
The councilman said that he and the other Council members also wanted to bring attention to the plight of Puerto Ricans in the wake of Hurricane Maria and the United States Virgin Islands in the wake of Hurricanes Maria and Irma, noting that they are also "part of social injustice, colonialism."
"They are being ignored and the resources that should be going to them are not going, even as the president pushes back on this protest," he continued.
Other participating Council members were City Council Speaker Melissa Mark-Viverito, Harlem Councilman Bill Perks, Queens Councilman Rory Lancman, Queens Councilwoman Julissa Ferreras-Copeland and Manhattan Councilwoman Helen Rosenthal.
Brooklyn Councilwoman Inez Barron, Bronx Councilman Andy King, Staten Island Councilwoman Debi Rose, Queens Councilman Jimmy Van Bramer, Queens Councilman I. Daneek Miller, Brooklyn Councilman Brad Lander and Brooklyn Councilman Antonio Reynoso also partook in the protest.
The Council members linked arms and kneeled in front of City Hall, with Williams holding a Kaepernick jersey.
Perkins said that protest is "as American as apple pie, as the American flag" and that it is "anti-American" to denounce protesters, especially nonviolent ones.
He also noted that Trump has a history of engaging in "racist behavior," referring to the fact that he spent $85,000 on full-page ads in New York's four daily papers calling for the death penalty for five black and Hispanic men who were wrongly imprisoned for and eventually exonerated of the 1989 rape and beating of a female Central Park jogger.
The Council members also plan to sit during the Pledge of Allegiance at the Council's monthly Stated meeting. Staten Island Councilman Joseph Borelli said he, Staten Island Councilman Steve Matteo and Queens Councilman Eric Ulrich — all three are Republicans — as well as some others would stand.
De Blasio said he would continue to stand during the Pledge of Allegiance and salute the flag during the anthem but that he respects everyone's First Amendment rights and their reasons for protesting. He also proclaimed that Trump's comments were racially motivated. Staten Island Assemblywoman Nicole Malliotakis, de Blasio's GOP mayoral opponent, said that Trump is right to call for the firing of players but disagreed with Trump's description of the players.