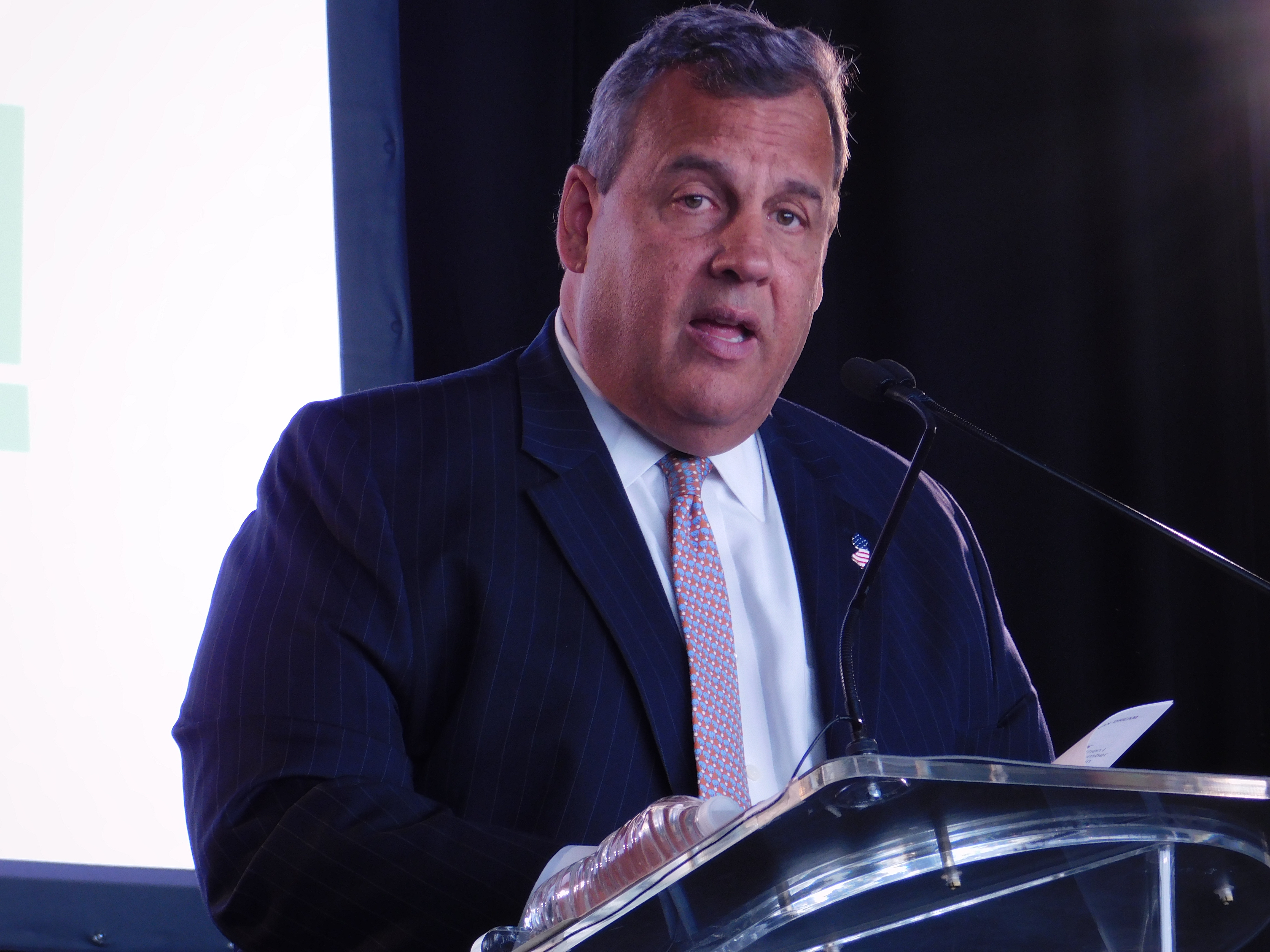 Gov. Chris Christie wants the two major-party candidates running to replace him to help lure Amazon's second headquarters to New Jersey.
Christie wrote a letter Friday to Democrat Phil Murphy and Republican Lt. Gov. Kim Guadagno asking them to support his administration's efforts to attract Amazon's "HQ2" project to the state. The letter, first reported on by the Associated Press, says Christie is pursuing legislation to expand the state's business incentive program, including allowing tax credits to be carried forward for up to 50 years. Guadagno replied on Tuesday and said she backs the state's efforts.
Murphy's campaign launched its first television advertisement of the general election cycle, putting up a 30-second spot that links Guadagno to Christie, who is deeply unpopular in New Jersey. The ad attacks the Christie administration for underfunding schools and giving large tax breaks to corporations.
And a State Department official claimed that Sen. Bob Menendez pressured the department to help resolve a port shipping issue facing Salomon Melgen, the wealthy Florida eye doctor accused of bribing the senator. Prosecutors argued Menendez's involvement in the port security dispute was evidence of a corrupt agreement between the senator and Melgen.
Quote of the Day: "The irony, apparently lost on Christie but nobody else, was that the investigation into my emails was over. But the investigation into the closing of the George Washington Bridge as an act of political retribution was ongoing and would eventually cause two of Christie's allies to be sentenced to prison." — Hillary Clinton on Chris Christie attacking her over her private email server.
Menendez Threatened to Call Senate Hearing for Melgen, Official Says
A State Department official claimed during courtroom testimony on Tuesday that Sen. Bob Menendez threatened to hold a hearing regarding a port shipping issue facing one of his donors, Salomon Melgen, in 2012.
Alyana Alfaro, Observer Read more
Murphy Launches First TV Ad for General Election
Phil Murphy links Lt. Gov. Kim Guadagno to Gov. Chris Christie in his first television advertisement of the general election cycle.
Christian Hetrick, Observer Read more
Christie asks governor's candidates to help attract Amazon
Republican Gov. Chris Christie wants the Democratic and GOP candidates vying to succeed him to help the state land Amazon's second home.
Associated Press Read more
N.J. Gubernatorial Candidate Wants To Boost Spending
New Jersey's Democratic nominee for governor, Phil Murphy, is campaigning on a platform to increase spending in one of the country's most highly taxed states, including for its long-underfunded public-pension system.
Wall Street Journal Read more
'Civic engagement' lesson at Newark public school turns into Murphy rally
What school officials say was supposed to be an exercise in civic engagement turned out to be — just as the Phil Murphy campaign billed it to us — a "pep rally" with Phil Murphy, Shaquille O'Neal, Lt. Gov. candidate Sheila Oliver and Newark Mayor Ras Baraka.
NJTV Watch
Former VP Joe Biden to Campaign Again with Murphy
Joe Biden will return to New Jersey next month to campaign for Democrat Phil Murphy as the contest nears Nov. 7. The event is scheduled for Oct. 12. Party sources say the Carpenters and Middlesex County Democrats have a large hand in finessing the details.
Insider NJ Read more
NJ Transit to increase inspections after falling concrete hits trains
A week after falling concrete crashed into at least two passing New Jersey Transit trains, the agency plans to inspect its old retaining walls every month to try to prevent further damage and potential tragedy.
NJ101.5 Read more
Officials turn to Hudson Yards developer to fund piece of Gateway project
A lack of funding for a small but important piece of the Gateway tunnel is complicating construction of one of the largest real estate projects in the nation, prompting public officials to turn to the private developer to cover some of the cost.
Politico Read more
Here's the timeline for NJ's possible expansion of medical marijuana
It will probably still be a few months, and possibly well into next spring, before a decision is made on expanding New Jersey's medical marijuana program to cover a range of additional conditions.
NJ 101.5 Read more
Trump may pick N.J. State Police leader for top DEA job
Col. Rick Fuentes, the long-serving superintendent of the New Jersey State Police, is in the running to head the federal Drug Enforcement Administration, sources tell NJ Advance Media.
NJ.com Read more
Christie official to join Trump administration
A member of Gov. Chris Christie's cabinet is poised to join President Donald Trump's administration.
The Record Read more
N.J. health commissioner heading to powerful hospital group
The head of the state's health department will leave Trenton next month to lead the New Jersey Hospital Association, the powerful lobbying organization for some 400 hospitals and medical providers.
NJ.com Read more
Hillary's response to Christie slam at convention: Remember Bridgegate!
Remember that time Gov. Chris Christie spoke at the Republican National Convention and put Hillary Clinton through a mock trial of sorts by asking the crowd if she was "guilty" or "not guilty" for a list of alleged crimes?
NJ.com Read more
Sex abuse, contraband, cover-ups? Inside a growing criminal probe at N.J. women's prison
A growing criminal inquiry into the sexual assault and exploitation of inmates at New Jersey's only women's prison has prompted prosecutors to call on the state's top law enforcement officials to intervene to stop the abuse, NJ Advance Media has learned.
NJ.com Read more
Jersey City council hopeful to bow out of Downtown race
Michael "Billy" Bisogno is dropping out of the crowded race to succeed Candice Osborne as Jersey City's Downtown council member, shaking up a key council election just 42 days before Election Day.
NJ.com Read more
EDITORIAL: Biggest Menendez question is 'When?'
New Jersey voters overwhelmingly agree U.S. Sen. Robert Menendez should resign his office if convicted during his ongoing corruption trial.
Asbury Park Press Read more