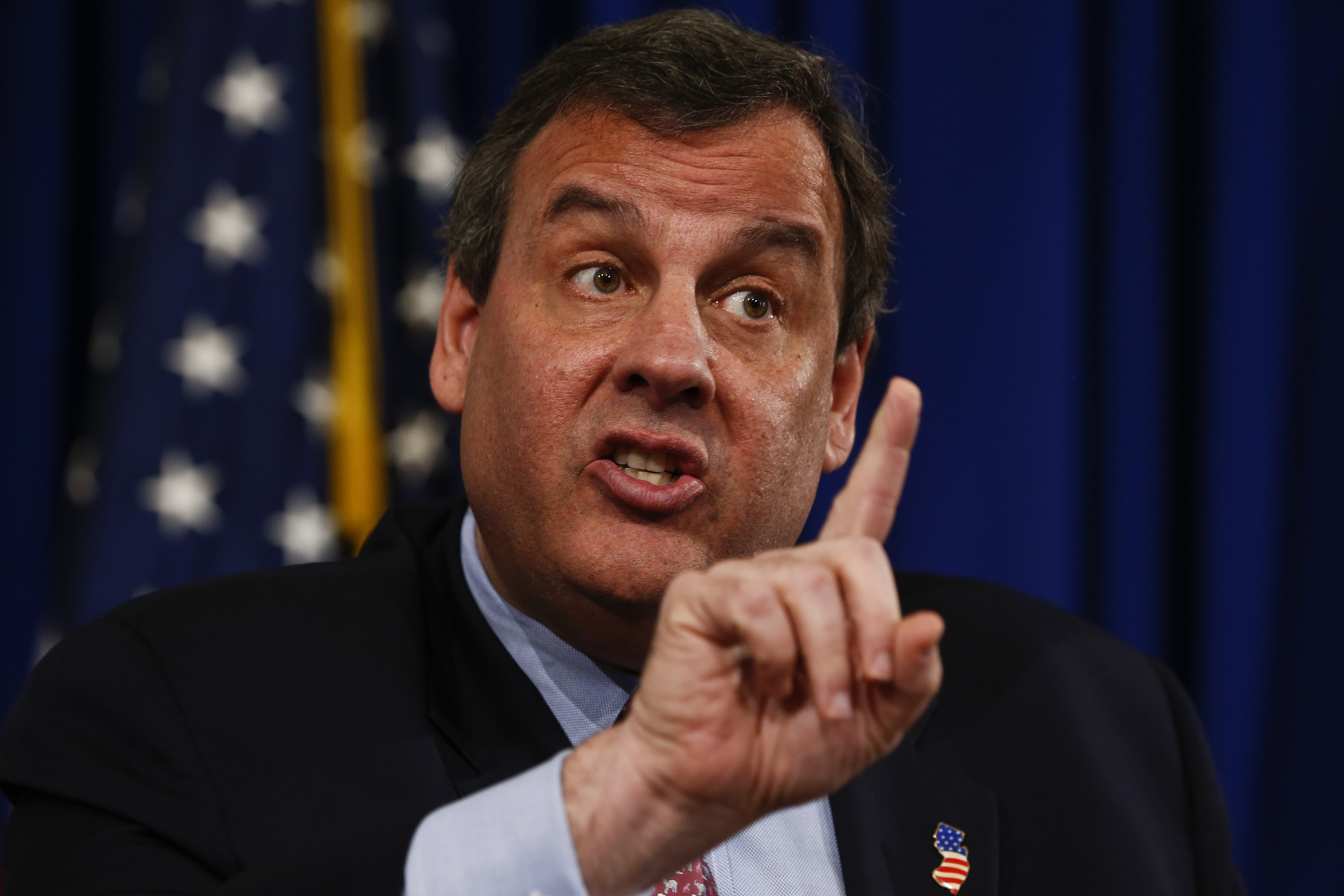 Gov. Chris Christie struck back at Steve Bannon on Monday evening and mocked the fired White House strategist as someone in "his last 15 minutes of fame."
Christie was responding to Bannon's claim that the New Jersey governor lost out on a cabinet position because he didn't defend President Trump when a video surfaced in October showing him making lewd comments about women. Bannon said he noted Christie's apparent lack of loyalty in his "black book."
"I suspect this little black book that Mr. Bannon is talking about, the only one who read that black book was Mr. Bannon himself," Christie said on PBS Newshour. "I know that no one else cared about it, and now that he's been fired, no one is really going to care about anything else Steve Bannon has to say."
Christie said he stayed with Trump during the aftermath of the video's release and noted that he was offered several cabinet positions once Trump was elected, but turned them down.
And on day three of Sen. Bob Menendez's corruption trial, a former foreign policy advisor to the senator testified that his team helped secure visas for the girlfriends of co-defendant Salomon Melgen, a wealthy Florida eye doctor who is accused of bribing the senator with expensive gifts and trips. Prosecutors claim that despite a friendship between Melgen and Menendez, acts like this were part of a quid pro quo agreement between the two.
Quote of the Day: "This, I suspect, is his last 15 minutes of fame. And that's fine. I hope he enjoys it." – Chris Christie on Steve Bannon's recent 60 Minutes interview.
Walker, Christie Team Up for RGA Fundraiser in NJ
Gov. Chris Christie and Wisconsin Gov. Scott Walker joined forces Friday to raise $2.1 million for the Republican Governors Association during an event in Monmouth County.
Christian Hetrick, Observer Read more
Top O'Toole Aide Joins Lobbying Firm
Al Barlas, an ex-chief of staff to former state Sen. Kevin O'Toole, is joining one of New Jersey's top lobbying firms, Princeton Public Affairs Group.
Christian Hetrick, Observer Read more
Former Aide Says Menendez Helped Melgen Secure Visas
A former foreign policy advisor for Sen. Bob Menendez testified on Monday that his team wrote letters and made calls to foreign officials on behalf of the senator to advocate for visas for the girlfriends of co-defendant Salomon Melgen, a wealthy Florida eye doctor who is accused of bribing the senator with expensive gifts and trips.
Alyana Alfaro, Observer Read more
An expensive grill and a Brazilian actress: Day 3 of the Menendez trial
Here are the highlights from Day 3 of U.S. Sen. Robert Menendez's federal corruption trial in Newark.
Politico Read more
Environmental groups, senator challenge $225M Exxon deal
New Jersey's $225 million settlement with Exxon Mobil short-changed the public, four environmental organizations and a Democratic state senator told an appeals court Monday, adding they should be allowed to push for more cash.
Associated Press Read more
Two more Democratic 2020 prospects back Bernie Sanders' single-payer bill
Sens. Cory Booker of New Jersey and Jeff Merkley of Oregon are the latest Democratic 2020 presidential prospects to announce their support for Sen. Bernie Sanders' single-payer health care proposal.
CNN Read more
Here's how much Cory Booker made on his book deal last year
U.S. Sen. Cory Booker received $325,000 in royalties last year from his book, "United," according to his most recent financial disclosure form.
NJ.com Read more
Every N.J. lawmaker in Washington just agreed on this
The entire 14-member New Jersey congressional delegation has lined up behind a request to designate Rutgers University's transportation center as a federal research center.
NJ.com Read more
Does NJ Have A Shot At Being Home to Amazon's HQ2?
Online retail-giant Amazon is looking to build a new corporate headquarters, and New Jersey, with several bustling Amazon warehouses already within its borders, could have an early jump on the competition for the billions of dollars in new investment the project is expected to generate.
NJSpotlight Read more
Air War Underway in LD11 as Operating Engineers Launch $240K Ad Buy Against Beck
The artillery war officially formally got underway this week in the most-watched legislative battleground in the state as the Operating Engineers launched a $240,000 cable ad buy against state Senator Jennifer Beck (R-11). The ad is running on CNN and MSNBC.
Insider NJ Read more
Assemblyman: I may sue Dems after backlash for Confederate flag pic
Assemblyman Parker Spence says he's considering litigation against his political opponents — saying the employees at his farm have been harassed in the weeks after he posted a picture of himself with a Confederate flag.
NJ101.5 Read more
Ex-Jersey City mayor wants councilman booted from ballot
Former Mayor Gerry McCann wants Ward B Councilman Chris Gadsden disqualified from running in November's municipal election, saying Gadsden submitted more than 100 nominating petitions that are invalid.
NJ.com Read more