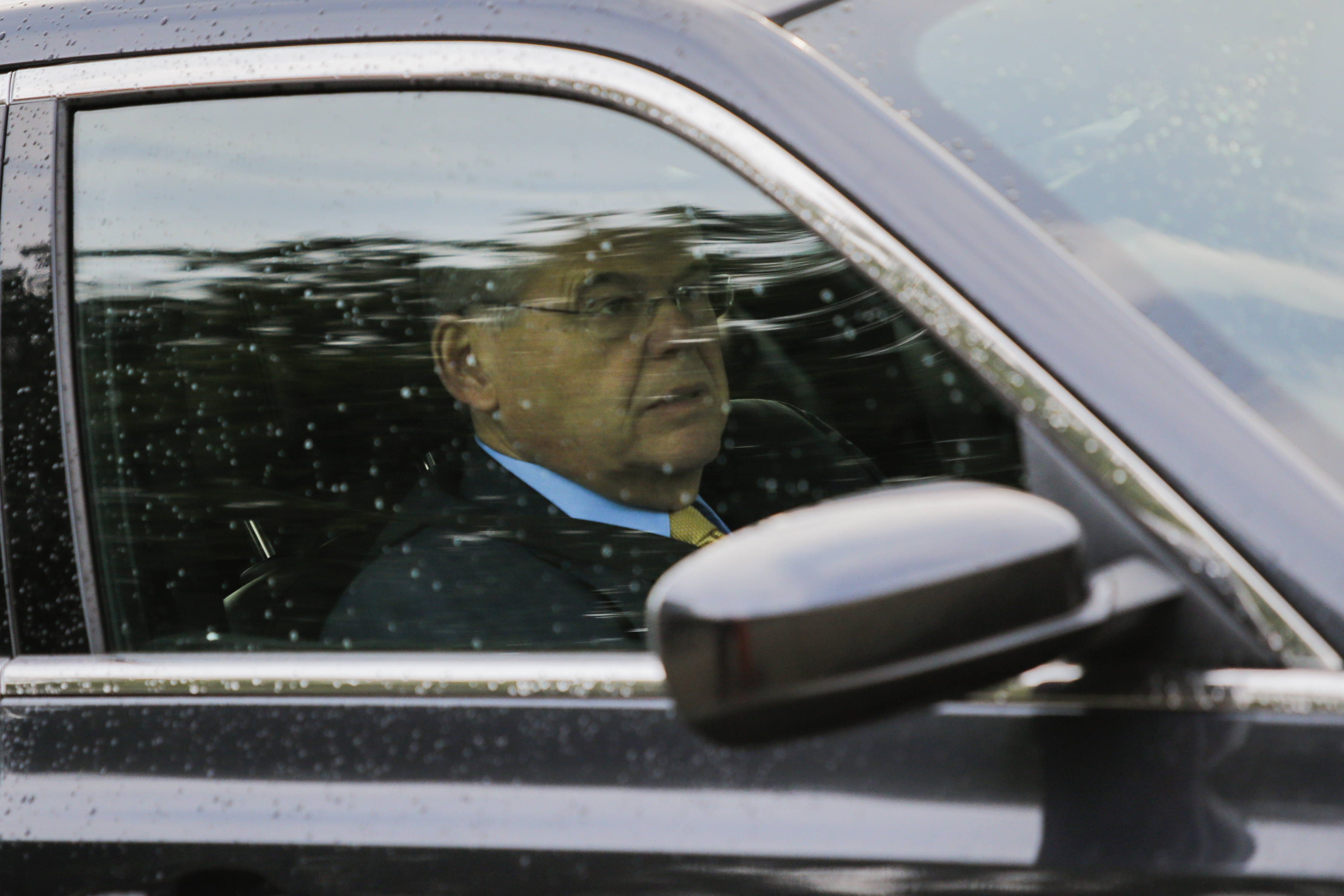 In a dramatic day more than two years in the making, U.S. Sen. Bob Menendez became the first senator in nearly four decades to go on trial on Wednesday, and the embattled Democrat declared his innocence as prosecutors painted him as a man who sold his office for a glamorous lifestyle bankrolled by his top donor, Salomon Melgen.
Less than a mile away, Democratic gubernatorial nominee Phil Murphy declined to say whether Menendez should stay in office if convicted, leaving himself some room to maneuver if Menendez is convicted and refuses to resign until a new governor takes office in mid-January. Republican nominee Kim Guadagno said Menendez must resign if the jury finds him guilty.
Quote of the Day: "I haven't really thought about it, to be honest with you." — Phil Murphy on whether a convicted U.S. senator should resign.
Recipe of the Day: Phil Murphy told Edible Jersey that he loves eating liver. "I grew up eating beef tongue with my dad's sandwiches," he said. Murphy also likes broccoli and Jersey wines. (Right.)
High Drama, High Stakes as Menendez Trial Begins
At the first day of his corruption trial, U.S. Sen. Bob Menendez, the Hudson County Democrat, declared his innocence once again and said he never "dishonored" his office.
Alyana Alfaro and Salvador Rizzo, Observer Read more
Guadagno: Menendez Should Resign If Convicted
Kim Guadagno, the Republican nominee for governor, said Wednesday that Sen. Bob Menendez should resign if he is convicted in his corruption trial.
Christian Hetrick, Observer Read more
Murphy Plays Cards Close on Menendez Trial
Phil Murphy, the Democratic nominee for governor, declined to weigh in Wednesday on Sen. Bob Menendez's corruption trial, telling reporters he has not thought about whether a convicted senator should leave office.
Christian Hetrick, Observer Read more
Jeb Bush Raising Funds for Guadagno in Miami
Former Florida Gov. Jeb Bush is coming to Kim Guadagno's aid in the New Jersey governor's race. Bush, the 2016 presidential candidate, was going to be at a fundraiser in Miami for Guadagno and her running mate Carlos Rendo next week, according to an invitation obtained by Observer. But the event has been postponed due to Hurricane Irma.
Alyana Alfaro, Observer Read more
Burlington County Freeholder Ryan Peters picked to run for 8th District Assembly seat
The Hainesport resident was picked by the Burlington County Republican Committee to replace Assemblywoman Maria Rodriguez-Gregg on the party's 8th Legislative District ticket.
Burlington County Times Read more
Bribery trial prosecutor: Menendez acted as 'personal senator' for rich doctor
The bribery trial of Sen. Robert Menendez began Wednesday with a federal prosecutor charging that the lawmaker sold his office in exchange for luxury getaways, private jet flights and hundreds of thousands of dollars in campaign cash.
Washington Post Read more
Feds: Menendez sold Senate office 'for a life of luxury he couldn't afford'
U.S. Sen. Robert Menendez used the power of his office to advance the "financial interests and personal whims" of a wealthy Florida eye doctor who bribed the senator with access to a lifestyle that read "like a travel brochure for the rich and famous," a prosecutor said Wednesday in federal court.
Inquirer Read more
Murphy slams Guadagno's 'deafening silence' on Confederate flag photo
Democratic gubernatorial nominee Phil Murphy hammered Republican rival Kim Guadagno Wednesday after she did not condemn a New Jersey lawmaker who embraces the Confederate flag.
NJ.com Read more
What McGreevey says the next N.J. governor should do to help ex-prisoners
Jim McGreevey gathered with three other former New Jersey governors Wednesday to unveil a report suggesting how the next governor's administration could help former prisoners better re-enter life on the outside — and save the state tens of millions of dollars a year in the process.
NJ.com Read more
As Amtrak's Gateway funding comes under attack, N.J. House members mobilize to save it
New Jersey lawmakers mobilized on Wednesday to protect $900 million intended to jump start Amtrak's Gateway project, which includes replacing a rail bridge in the Meadowlands and building a new tunnel under the Hudson River.
The Record Read more
WFAN host Craig Carton arrested in multimillion-dollar ticket fraud Ponzi scheme, reports say
Craig Carton, the popular co-host on WFAN's "Boomer & Carton" and a longtime friend of Gov. Chris Christie, was arrested early Wednesday morning in a multimillion-dollar ticket fraud Ponzi scheme to help pay off gambling and other debts.
The Record Read more
Immigrant groups occupy Frelinghuysen's Morristown office
About 100 people, some beneficiaries of the Deferred Action for Childhood Arrivals program, stood in the rain outside Congressmen Rodney Frelinghuysen's office Wednesday to hold him accountable for President Trump's announced end to the program.
Daily Record Read more
In Trump era, immigrant rights are top concern for new ACLU-NJ chief
Nearly eight months after President Trump assumed office, the American Civil Liberties Union remains one of Trump's chief antagonists.
NJ.com Read more
Will House Republicans take away Sandy funds after helping Harvey victims?
U.S. House members who approved almost $8 billion to help Texas and Louisiana recover from Hurricane Harvey now are being asked to eliminate $900 million to help repair damage caused by Hurricane Sandy.
NJ.com Read more
Newark Celebrates Soon-to-End State Control
In the shadows of one of the city's most successful high schools, the beginning of the end of New Jersey's long-contentious oversight of Newark public schools unofficially started yesterday.
NJSpotlight Read more
Pro-Israel group slams Booker in new ad
The first attack ad of the 2020 election cycle has landed.
The conservative Committee for Israel nonprofit group is launching a television broadside against Democratic New Jersey Sen. Cory Booker on Wednesday, assailing him for voting against a measure that would scale back funding to the Palestinian Authority.
Politico Read more