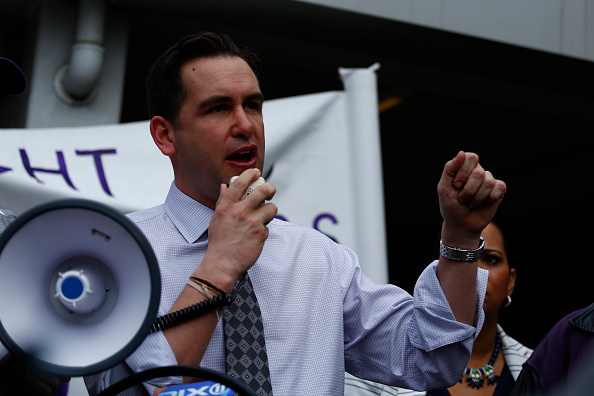 Top aides to Jersey City Mayor Steve Fulop tried to steer a city contract to an energy consulting company in 2014 and were accidentally recorded talking about their effort to rig the bid, two city workers claimed in depositions, according to reports.
The depositions, first reported by Politico, were included in a lawsuit seeking to force the city to turn over the recording that was inadvertently left in the voicemail of the city's business administrator. The city workers claim Fulop heard the recording but didn't take disciplinary action. Fulop responded on Twitter Thursday and said the city took the allegations "seriously," cancelled the bid and "reported 2 authorities."
Gov. Chris Christie and legislative leaders plan to offer up to $5 billion in tax breaks to Amazon if it builds its second headquarters in New Jersey. Top Democrats and Republicans in the Legislature agreed to pass a bill expanding a controversial program that's awarded more than $8 billion in economic subsidies since 2010.
And former Sen. Tom Harkin (D-Iowa) testified in the corruption trial of Sen. Bob Menendez. Harkin said he took a meeting with Melgen, the wealthy Florida eye doctor accused of bribing Menendez, but said he never followed up on a Medicare billing issue Melgen was facing.
Quote of the Day: "I never worked for Good Energy, bad energy, solar energy, don't use energy drinks and having turned 60 yesterday I have little energy for this nonsense." — Tom Bertoli, a former Fulop political operative, on his name showing up in depositions claiming top city officials tried to steer a contract to Good Energy.
Democrat Seeks to Unseat Chris Smith in NJ
Spurred by President Trump's election last year, Democrats are lining up to challenge several longtime Republican congressmen in New Jersey, even in districts considered safe GOP territory.
Christian Hetrick, Observer Read more
Environmental Rankings Up for NJ Democrats, Down for Republicans
Democrats were strong supporters of legislation to protect the environment while Republicans typically voted against bills backed by conservationists, according the New Jersey League of Conservation Voters.
Christian Hetrick, Observer Read more
Christie, Lawmakers Plan to Offer Amazon $5 Billion Tax Break
Gov. Chris Christie and legislative leaders will offer tax breaks worth $5 billion to Amazon if it builds its second headquarters in New Jersey, a plan that would expand a controversial subsidy program.
Christian Hetrick, Observer Read more
Tom Harkin Testifies in Menendez Trial About Meeting With Melgen
Former Sen. Tom Harkin (D-Iowa) took the witness stand on Wednesday to testify in the ongoing corruption trial of Sen. Bob Menendez, the New Jersey Democrat facing charges that he accepted bribes from wealthy Florida donor Salomon Melgen in exchange for political favors.
Alyana Alfaro, Observer Read more
Overturned Convictions Loom Over Menendez's Corruption Trial
They were two of the most notable corruption convictions in recent political history, two entrenched New York power brokers seemingly brought to justice, their cases reverberating well beyond the wood-paneled walls of the Statehouse in Albany.
New York Times Read more
Menendez staffers pushed back on Medicare overbilling, witness testifies
Florida ophthalmologist Salomon Melgen kept overbilling Medicare despite a warning from the agency, a witness in the federal bribery trial of Sen. Robert Menendez told jurors.
NJ.com Read more
Top Fulop allies on tape trying to steer city bid, court depositions say
The top aide to Jersey City Mayor Steve Fulop accidentally recorded himself and another Fulop ally discussing their efforts to steer a city contract to an energy consulting company in 2014, according to depositions of two city employees.
Politico Read more
Ad Watch: Do Gubernatorial Candidates Play Fast and Loose With Truth?
With the 30-second format of today's political ads, viewers aren't going to get more than sound bites — with little or no context. That makes it tough to decipher if there's anything to the claims candidates are making. The latest TV ads from Democrat Phil Murphy and Republican Kim Guadagno are a good case in point, and deserve a closer look.
NJSpotlight Read more
NJ gubernatorial foes put campaign aside to make desperate plea
New Jersey is gearing up again to help with hurricane recovery as the Democratic and Republican gubernatorial candidates came together to support a new charitable group to help Puerto Rico recover from the devastation of Hurricane Maria.
NJ101.5 Read more
N.J. governor candidate Phil Murphy just said this about taxes
Phil Murphy, the Democratic nominee to succeed Gov. Chris Christie as New Jersey's governor, suggested Wednesday night that he wouldn't raise taxes beyond the $1.3 billion hike he has already proposed on wealthy residents, corporations and legalized marijuana.
NJ.com Read more
Pharmaceutical executives bring concerns and recommendations to Christie-led opioid panel
Pharmaceutical companies around the country have begun developing a range of non-addictive treatments in response to the country's deadly heroin and opiate crisis, but executives told the panel led by Gov. Chris Christie that they face financial, regulatory and insurance obstacles that could delay meaningful progress toward curbing the abuse.
The Record Read more
Trump tax plan would end key break for N.J. residents battered by high property taxes
President Donald Trump and congressional Republican leaders rolled out a proposal Wednesday to overhaul the U.S. tax code and cut taxes while eliminating a key deduction for New Jersey taxpayers.
NJ.com Read more
These N.J. companies reveal which politicians get their cash. Why won't others?
Political spending by outside organizations that can keep their donors hidden, such as trade associations and nonprofit groups, has been on the rise since the U.S. Supreme Court struck down limits on corporate and union spending in its 2010 Citizens United decision.
NJ.com Read more
Golf tournament in N.J. to host 3 former U.S. presidents
It'll be a tee-off like no other. Three former U.S. presidents are scheduled to open this year's Presidents Cup tournament at Liberty National Golf Club in Jersey City on Thursday, the PGA announced today.
NJ.com Read more
Why is the N.J. prison population shrinking? (It's not just about less crime…)
The big house is getting smaller.
Fewer people are going to prison in New Jersey these days and the numbers continue to drop, according to an analysis of state Department of Corrections data over the past five years.
NJ.com Read more
Paterson: Official in OT scandal among those on mayoral list
A candidate being considered for interim mayor took more than $15,000 in improper overtime when he was Paterson's business administrator and ended up getting suspended for two months.
The Record Read more