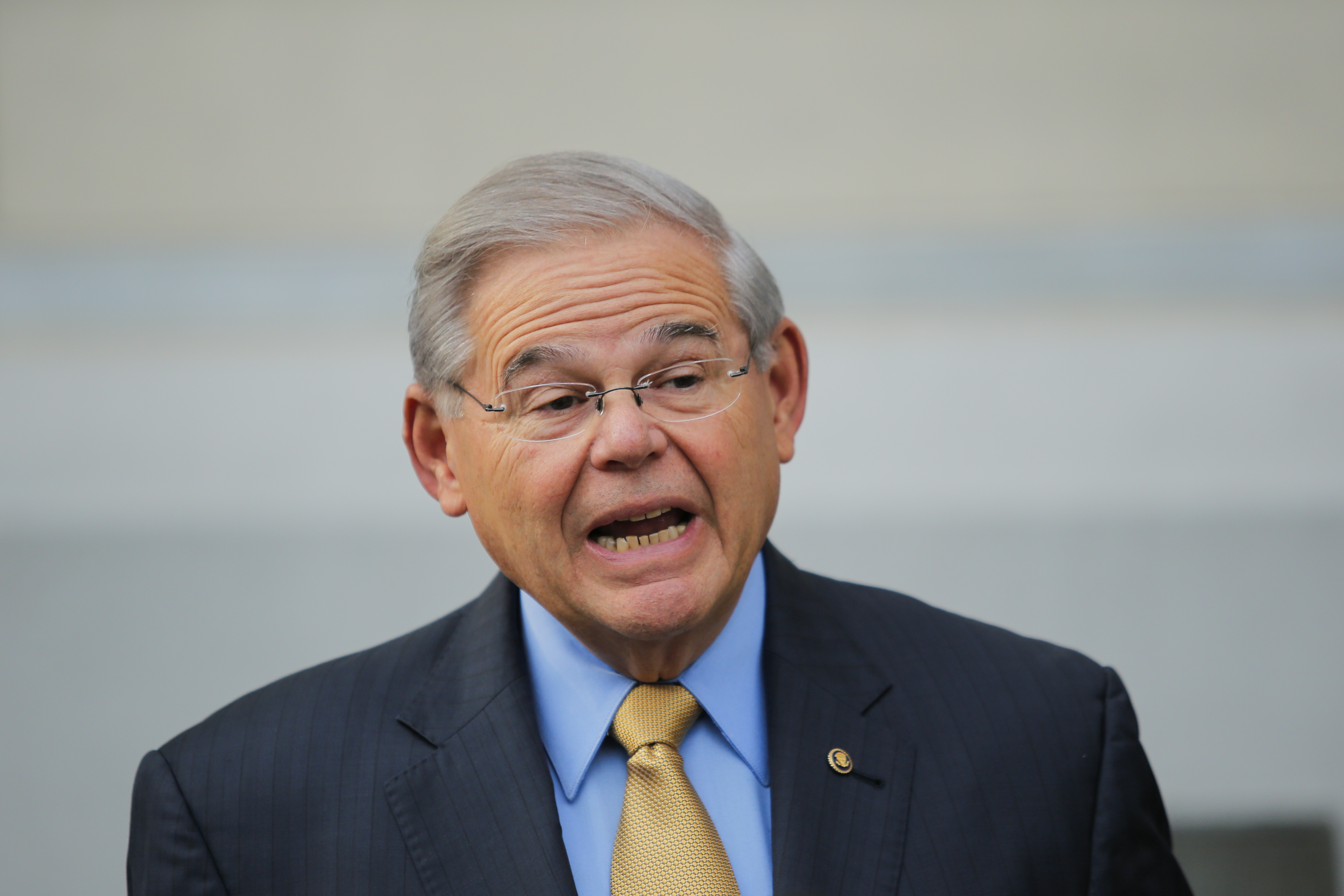 Discredited claims that Sen. Bob Menendez hung out with prostitutes in the Dominican Republic won't be discussed in front of the jury during the senator's corruption trial, a judge decided Tuesday.
Judge William H. Walls forbid attorneys from talking about the "smears" that came from right-wing media and were never supported by any evidence. Walls said the claims were irrelevant and could poison the jury about the bribery allegations Menendez is currently facing.
Republican Assemblyman Parker Space called one of his Democratic opponents a "bitch," according to a recording obtained by Politico. Space (R-Sussex) was already in hot water for posing for a picture with a Confederate flag and posting it on social media.
And former President Barack Obama could be coming to New Jersey to campaign with Phil Murphy, the Democratic nominee for governor. Murphy's campaign confirmed an event with Obama is in the works.
Quote of the Day: "Kate's a bitch" — Assemblyman Parker Space referring to his Democratic opponent, Kate Matteson.
Christie Unveils Opioid Plan That Could Cost $240 Million
Gov. Chris Christie unveiled a plan Tuesday to spend up to $240 million on combatting the opioid crisis, taking money meant for other state programs after he failed to get the funds from the state's largest health insurer, Horizon Blue Cross Blue Shield.
Christian Hetrick, Observer Read more
RGA Attacks Murphy In New TV Ad
The Republican Governors Association on Tuesday launched its first television advertisement for the New Jersey governor's race, committing funds toward a race where the GOP candidate, Kim Guadagno, is trailing by massive margins in the polls.
Christian Hetrick, Observer Read more
Obama May Campaign With NJ Gubernatorial Candidate Murphy
Former President Barack Obama may soon join Democratic candidate for New Jersey Governor Phil Murphy on the campaign trail, Murphy spokesman Dan Bryan confirmed on Tuesday.
Alyana Alfaro, Observer Read more
Judge Bars Discussion of Prostitution Claims from Menendez Trial
Judge William H. Walls on Wednesday forbid attorneys from discussing claims that U.S. Sen. Bob Menendez frequented prostitutes in the Dominican Republic, claims that were investigated by the FBI in 2012 and never supported with any evidence.
Alyana Alfaro, Observer Read more
Menendez may face choice between voting on health care plan or attending his trial
U.S. Sen. Bob Menendez may be grappling with a tough choice in the coming days: return to Washington, D.C., for a major vote or sit at the defense table during his own corruption trial. The possibility is arising for the first time in the federal court proceedings in Newark, which began earlier this month, as Senate Republicans continue fine-tuning their latest pitch to replace the Affordable Care Act.
Newsworks Read more
Confederate flag assemblyman recorded making crude comments about opponent
A state assemblyman from Sussex County already facing intense criticism for posing with a Confederate flag refers to one of his opponents as a "bitch" three times in a 33-second recording from August obtained by POLITICO New Jersey.
Politico Read more
We owe HOW much? Why NJ has worst taxpayer burden in nation
Here's a real shocker. A new report gives New Jersey a grade of "F" for having the worst finances of any state in the nation.
NJ101.5 Read more
Norcross: Here's how Trump tax cuts could hurt NJ taxpayers
Though details are still under wraps, President Donald Trump has hinted that his plan for middle-class tax relief would be paid for in part by reducing federal deductions for state and local taxes and mortgage interest.
Asbury Park Press Read more
Harvey and Irma disasters could lead to tax refunds for Sandy victims
It is far from certain, but hurricanes Harvey and Irma could lead to tax refunds for some Superstorm Sandy victims.
The Record Read more
Christie opens up about Bridgegate, Trump in new interview
As MSNBC's "Morning Joe" celebrated 10 years on the air Tuesday, the show's hosts got Gov. Chris Christie to reflect upon his 2,800 days as New Jersey governor — including the infamous Bridgegate scandal — now that his tenure is winding down.
NJ.com Read more
Christie rips Hillary Clinton, calls her a 'sore loser'
During an appearance on Fox News last night, Chris Christie ripped into former Democratic presidential candidate over her claims that Russia interfered in the 2016 election, according to reports.
Asbury Park Press Read more
Trump made an honorary NJ State Police trooper as thanks for support
President Donald Trump was made an honorary member of the New Jersey State Police during a private ceremony in May at the White House.
NJ101.5 Read more
Frelinghuysen Says He's Got Clout, And It's Good For NJ
Congressman Rodney Frelinghuysen (R-11th), says his chairmanship of the House appropriations committee allows him to do a lot that benefits New Jersey. As an example of his clout, he points to $900 million in funding for the construction of a new train tunnel under the Hudson River that was included in the recent House spending bill.
NJSpotlight Read more
Is Senate run in Fulop's future?
Sen. Steven M. Fulop?
Fulop is still 49 days away from asking Jersey City voters for a second term as their mayor, but his allies across the city — and his foes statewide — are already planning for him to jump into a potential race to succeed Sen. Bob Menendez next year.
NJ.com Read more
Guadagno cancels appearance at NJ.com town hall
Lt. Gov. Kim Guadagno, the Republican nominee in this year's race to succeed Chris Christie as New Jersey's governor, has canceled a scheduled appearance next week at a town hall on the campus of Rutgers University in New Brunswick.
NJ.com Read more
Mulshine: Read Kim Guadagno's lips: No new tax cuts for many suburban voters
That's because the plan aids only those whose school taxes exceed 5 percent of their income. If your income is too high – or your school taxes too low – then you won't see your property taxes drop in a Guadagno administration.
NJ.com Read more
EDITORIAL: How will Murphy, Guadagno pay for their ideas?
If Murphy and Guadagno want New Jerseyans to buy into their hopes, they need to map out in some detail the potential paths to get there.
Asbury Park Press Read more