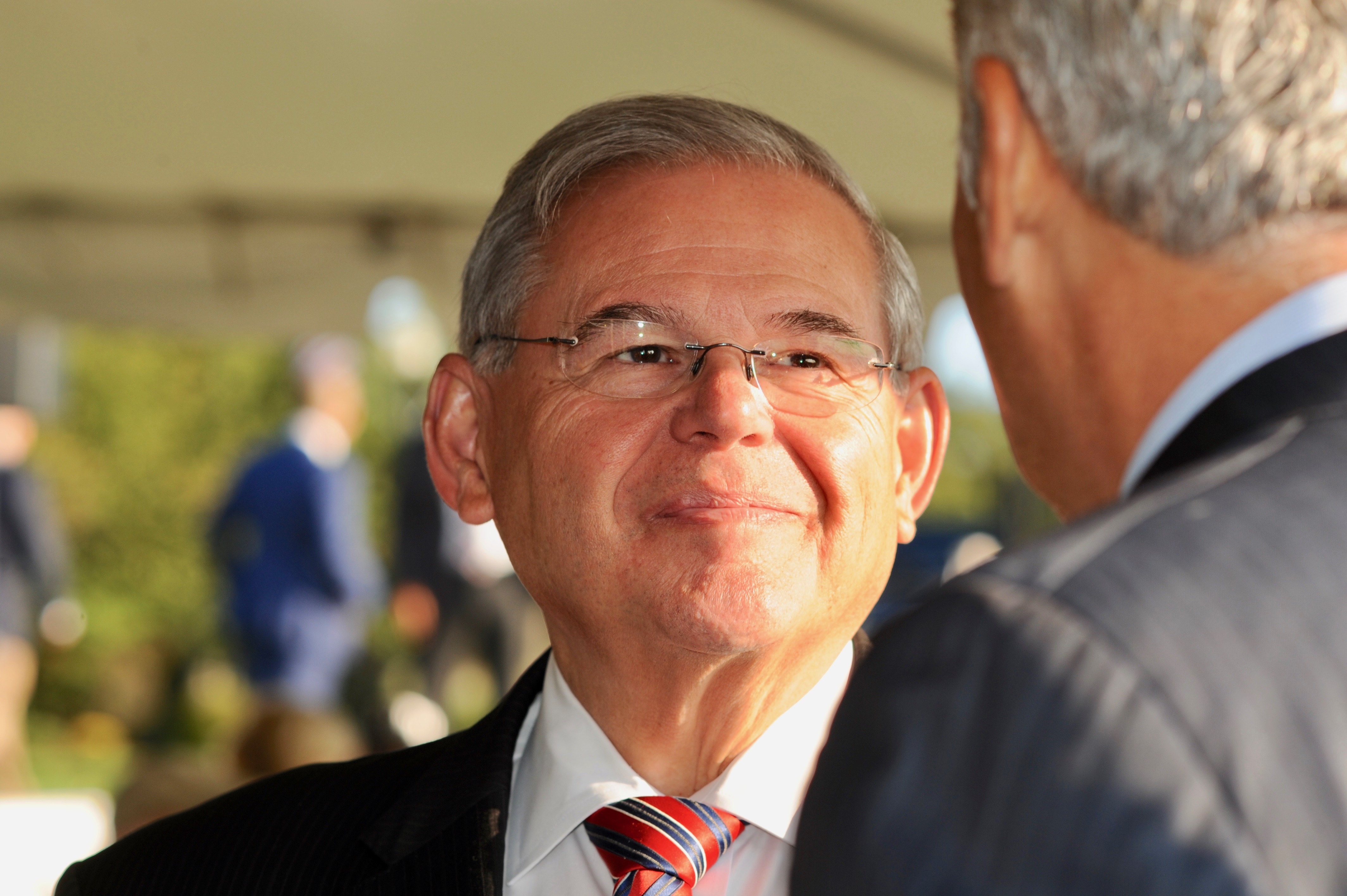 Even if Sen. Bob Menendez isn't forced to resign after his corruption trial, the embattled Democrat will still likely face a tough re-election bid, a new poll shows.
Half of New Jersey voters don't think Menendez deserves re-election in 2018, according to a Quinnipiac University poll released Thursday. That's up from 44 percent in June. He also received a 31 percent approval rating, his lowest since 2008. But hey, he's still more popular than Gov. Chris Christie, who had a 16 percent approval rating. Nearly nobody (3 percent) wants Christie to appoint himself to the Senate seat should it be vacated.
Menendez's trial continued Thursday as prosecutors questioned the timing of flight reimbursements Menendez made to Salomon Melgen, the wealthy Florida eye doctor accused of bribing the senator. Emails showed pay backs for plane trips didn't occur until after a reporter asked about them.
And Kim Guadagno, the Republican nominee for governor, tried to make an issue out of Amazon's search for a place to open a second headquarters. She said New Jersey has a shot at luring the company — but only if she's elected governor.
Quote of the Day: "The Whale stood tall in Atlantic City, and it had nothing to do with his physical height, but the content of his character. He made decisions that were right for the city that he loved." — Atlantic City Mayor Don Guardian remembering the late state Sen. Jim Whelan.
Whelan Remembered as Atlantic City's Champion
The late state Sen. Jim Whelan was remembered Thursday as a friend, mentor and longtime public servant who spent his career fighting for Atlantic City's success.
Christian Hetrick, Observer Read more
Norcross Raising Funds for Sweeney Super PAC
South Jersey power broker George Norcross will raise money next month for a super PAC supporting Senate President Steve Sweeney, New Jerseyans for a Better Tomorrow, upping the ante in what is already an epic spending war with a teachers union focused on defeating Sweeney's bid for re-election this year.
Christian Hetrick, Observer Read more
Poll: Half of NJ Voters Say Menendez Not Fit for Re-Election
Half of New Jersey voters say U.S. Sen. Bob Menendez does not deserve re-election in 2018, according to a new poll that shows declining public support for the embattled Democrat standing trial on bribery charges.
Alyana Alfaro, Observer Read more
Menendez trial: Prosecutors question timing of flight reimbursements
U.S. Sen. Robert Menendez did not reimburse his friend, Florida eye doctor Salomon Melgen, for two round-trip flights on his private jet until a reporter started asking questions, according to testimony presented in federal court on Thursday.
Politico Read more
DACA prompts Menendez to talk outside trial
Menendez broke his silence, not to talk about the ongoing trial, but about DACA negotiations between President Donald Trump and the Democratic senator's fellow members of Congress.
NJ.com Read more
N.J. has 'fighting' chance for Amazon HQ – but only under a Republican, Guadagno says
Amazon's widely watched decision on where it will plant a flag for its second headquarters may be influenced by voters here in New Jersey, Lt. Gov. Kim Guadagno, the Republican nominee for governor, said Thursday.
The Record Read more
'Nobody' in New Jersey Is Paying Attention to Race for Governor
The Democratic candidate for New Jersey governor opened his post-Labor Day blitz accusing his Republican opponent of abdicating her moral leadership. The Republican challenger retorted with accusations of race baiting.
New York Times Read more
Pot at Poker Tables? Democrats Push Weed to Boost New Jersey Finances
New Jersey reaped billions from slot machines and blackjack tables in the decades before casino fever jumped state lines. With Atlantic City's gambling heyday now past, politicians in the Garden State are aiming to grab marijuana's riches while neighbors again play catch-up.
Bloomberg Read more
New Jersey household incomes up a strong 4 percent in 2016
After years of struggling to keep up with economic expansion, New Jersey posted one of the country's best improvements in household incomes last year, according to the U.S. Census Bureau.
The Record Read more
Controversial Pinelands pipeline gets final approval
The Pinelands Commission approved the Southern Reliability Link, a transmission line proposed by New Jersey Natural Gas that will pass through the forest's protected area — although it will be mostly contained within the Joint Base McGuire-Dix-Lakehurst.
Asbury Park Press Read more
What the House just did with spending on Gateway Tunnel for new rail lines to NYC
Funding for the Gateway Tunnel project was included in the $1.2 billion spending bill that the House passed on Thursday.
NJ.com Read more
Gottheimer is trying to work with House Republicans. Can he also work with Trump?
As a Democrat in a Republican-leaning district, Rep. Josh Gottheimer has looked for ways to cross party lines since he took office in January.
NJ.com Read more
Trump could return to Bedminster this weekend
President Donald Trump, who spent much of August at his Bedminster golf club, may be planning a return visit to New Jersey this weekend. The Federal Aviation Administration has issued a temporary flight restriction running from Friday to Monday for the area around Bedminster. Such announcements usually have been accurate predictions of a presidential visit.
NJ.com Read more
Jersey City mayor's anti-Christie ad pulled from YouTube
Mayor Steve Fulop won praise from Democrats nationwide for his new campaign ad lampooning Gov. Chris Christie's infamous day at the beach, but the cheeky spot was yanked from YouTube over a copyright claim.
NJ.com Read more
Cory Booker's Burden: Senator deflects talk of a presidential run — for now
Cory Booker sits in the back seat of a black Chevy Suburban. It is a pristine, sunny Sunday in late July, and New Jersey's junior senator is on the move.
The Record Read more
The chilling mistakes that left N.J. mom's 3 sleeping babies dead
One New Jersey mom risked everything when her babies slept next to her and other family members. She paid the ultimate price. Three times. A two-year NJ Advance Media investigation uncovered how such a chilling tragedy came to pass, also revealing a series of missed opportunities that culminated with the state child welfare agency's failure to act on a potentially life-saving call to its child abuse hotline after the third child's birth.
NJ.com Read more