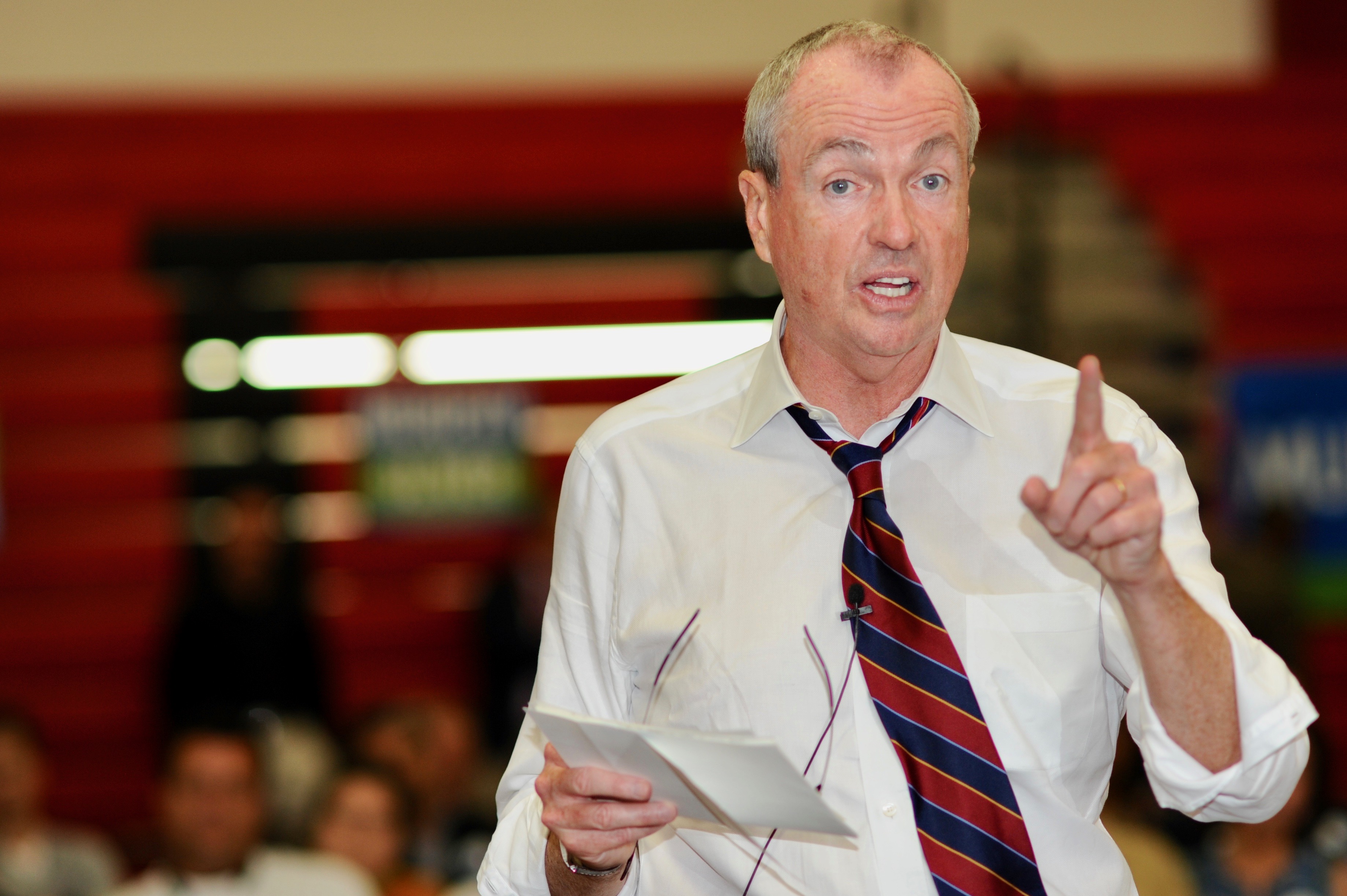 Phil Murphy is crushing Kim Guadagno in the New Jersey governor's race with less than two months to go until Election Day, according to a new poll.
Murphy, the Democratic nominee, has a whopping 25-point lead over Guadagno, the Republican nominee, a Quinnipiac University poll found. It was the first survey of likely voters in the gubernatorial race, and it brought bad news for Guadagno. Nearly half of voters view her connection to Gov. Chris Christie negatively, and her favorability ratings are underwater.
Federal prosecutors tried to poke holes in the defense of Sen. Bob Menendez, whose corruption trial continued Wednesday. It turns out Salomon Melgen, the wealthy Florida eye doctor accused of bribing Menendez, also called his pilot "hermano"– the Spanish word for "brother" – despite their strictly professional relationship. Melgen had called Menendez his hermano, and the senator's lawyers cite that as proof that gifts and favors between the two were due to a close friendship, not a bribery scheme.
Quote of the Day: "Public polling is garbage and often uses flawed methodology that favors Democrats." — Ricky Diaz, a Guadagno campaign spokesman dismissing the Quinnipiac poll.
Murphy Leads Guadagno by 25 Points in New Poll
Phil Murphy trounces Kim Guadagno in the first public poll taken of likely voters in the New Jersey governor's race.
Christian Hetrick, Observer Read more
Attorneys Home in on Friendship Between Melgen and Menendez
The defense of U.S. Sen. Bob Menendez (D-NJ) hinges on his attorneys' assertion that he and co-defendant Salomon Melgen were close friends and that exchanges of gifts and favors between the two stemmed from that friendship, not a long-standing corrupt transactional agreement.
Alyana Alfaro, Observer Read more
Report: Add tolls, raise fees to fund transportation projects, stabilize NJ Transit
New Jersey's next governor should consider adding tolls on interstate highways, tapping into motor vehicle fees and using revenue from real estate development to fund infrastructure projects and help stabilize the state's transportation agencies, a nonpartisan public policy group said in a new report on Wednesday.
Politico Read more
Will N.J.'s gas tax go up again soon?
Before last fall, New Jerseyans hadn't seen a change in the state taxes they pay on gasoline in 28 years. But the next new tax at the pump could hit much sooner.
NJ.com Read more
Republican support for 2 vulnerable N.J. lawmakers could come with strings attached
There's apparently no free lunch for two New Jersey Republicans who may be vulnerable in next year's elections. A new ad campaign by a nonprofit advocacy group could pressure the lawmakers, even as they are getting support for their re-elections from its affiliated super political action committee.
NJ.com Read more
This N.J. congressman wants to change the way lawmakers are elected
Rep. Josh Gottheimer is one of 36 current and former members of Congress asking the U.S. Supreme Court to limit the ability of state legislators to draw district lines favoring one political party.
NJ.com Read more
Gottheimer talked taxes, immigration with Trump in bipartisan White House meeting
Democratic Rep. Josh Gottheimer met with President Donald Trump at the White House on Wednesday afternoon to discuss elements of what the Republican administration says is one of the most ambitious legislative agendas in years.
The Record Read more
Getting Beyond All The Talk About NJ Taxes
Tax reform is becoming a hot topic in Washington, D.C., as President Donald Trump is looking for Congress to cut both corporate and personal income-tax rates. Similarly, the future of New Jersey tax policy is also expected to become a key issue in Trenton once the state welcomes its next governor early next year.
NJSpotlight Read more
Jacob Nabs Justice Democrats Nomination in Crowded CD7 Democratic Field
Moments before Senator Bernie Sanders (I-VA) introduced the Medicare for All Act of 2017, Justice Democrats, a National Progressive organization endorsed Peter Jacob, who seeks the 2018 Democratic nomination to run against U.S. Rep. Leonard Lance (R-7)
Insider NJ Read more
N.J. lawmakers propose renaming an iconic site to honor the late Jim Whelan
The late state Sen. Jim Whelan may soon be honored with his name on one of Atlantic City's most iconic buildings. A group of Democratic lawmakers announced Wednesday that they plan to introduced a bill that would dedicate Boardwalk Hall in remembrance of Whelan, the longtime Atlantic City politician who died unexpectedly last month of a heart attack at age 68.
NJ.com Read more
US, New Jersey town agree on beach flooding fix
The federal government has agreed to clean up the mess it created on a New Jersey beach, where flooding from a dune construction project forced beachgoers to wade through vile water or take blocks-long detours to reach the ocean.
Associated Press Read more
2 Newark employees solicited, accepted bribes, AG says
Two city employees are facing stiff jail sentences after authorities said they solicited and accepted bribes from a nightclub owner.
NJ.com Read more
Roosevelt: 3 new council members mean town has government again
Weeks after the mayor and three council members resigned citing infighting and improper code enforcement, Gov. Chris Christie appointed three new council members.
Asbury Park Press Read more
Former Atlantic City police chief Mooney settles lawsuit for $2.3 million
A former city police chief has settled his lawsuit with the city for $2.3 million, following allegations he was wrongfully demoted from his position.
Press of Atlantic City Read more